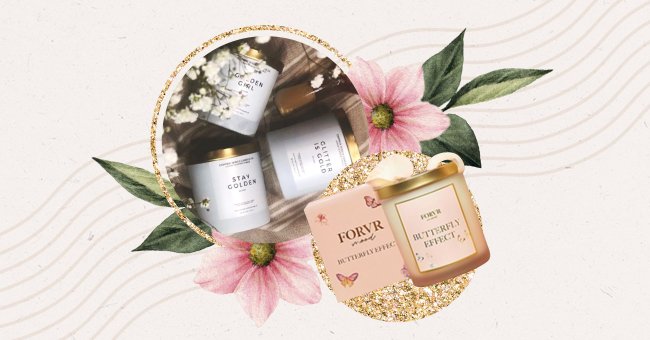 10 Black-Owned Candle Companies We're Adding To Our List
We don't know about you, but there is no makeover, piece of furniture, or cozy rug that can replace the feeling of a delicious scented candle burning throughout your room. It brings a room together, lifts your mood, and the fastest way to relax after a chaotic day at work.
However, candles are not one-size-fits-all. We all have different needs (and budgets), so a vanilla scent will not work for everyone. Indeed, why burn something fruity when you are in a spicy mood?
With that in mind, we've curated a list of ten of the best black-owned candle companies so that you can peruse through their gorgeous catalog for whatever suits your fancy. Ready your wallets and thank us later.
Forvr Mood
From the mind of mega beauty content creator Jackie Aina comes this line of luxury candles guaranteed to leave you feeling your best. Aina is a self-professed fragrance and perfume enthusiast, and she brings her know-how and, dare we say, luxurious aesthetics to you.
Copper Wings Candle Co
The owner of Copper Wings Candle Co. took the opportunity to start her line after an unfortunate incident with a candle left almost left her friend hurt. After looking into what makes candles so dangerous, she crafted her line of non-toxic candles that smell good and are safe even within their ingredients.
Candlessentials
Tashah Johnson took her inspiration from the idea of spreading light into the lives of others. Moreover, she loved the idea of filling a space with delightful scents. The candles at Candlessential are all handmade in Los Angeles and packaged in plantable packaging.
Furthermore, the products are crafted with coconut wax and high-quality fragrances infused with essential oils.
Colossal Candles
The owners of Colossal Candles, Will & Anjelica, are a married couple who took their passion for burning candles during their dating days and turned it into a business. We love the wide girth of their candles and the shabby chic style of the candle tubs. Also, they are perfect for indoor or outdoor settings.
Terrramater Studio
Terra Mater's mission is to create natural, non-toxic, ethically sourced candles that er safe for you and your pets. The candles are 100% vegan and do not include pathalates. Plus, they are cruelty-free and have a lead-free wick for a long, clean burn.
The best thing about their candles is that customers can customize them. How about that for specific? Overall, Terra Mater is also serious about giving their clients a warm, fun experience that is uniquely theirs.
Beyond Interior
Beyond Interior has gained a cult-like following for its gorgeously sculpted candles. The body type on all their candles matches with their mission to represent diversity. However, note that the candles sell out fast, so grab them while you can.
Joe and Monroe
Joyaa is an IT Project Manager by day and Chandler by night. However, through her scent profiles and luxury aesthetic, you might be surprised to learn that she started making candles as a hobby.
Due to her love for luxury candles, Joyaa launched her business, naming it after her daughter and grandfather. The gold accents will glam up any room, and the scent will leave you feeling all kinds of fancy.
Harlem Candle Company
The Harlem Candle Company has one of the lushest inspirations ever. It was founded in 2014 by travel and lifestyle expert Teri Johnson, who wanted to bring her profound enthusiasm for fragrance, jazz, and Harlem.
Johnson, spurred by her aunt's exotic perfumes and travel stories, inspired her to travel around the world before making Harlem her permanent home. But Harlem's rich history filled with jazzy icons like Billie Holiday drenched the vibrant Harlem nights in iconic clubs like the Savoy Ballroom and more. Now with their equally elegant scents Johnson would like you to celebrate with her a Harlem Renaissance.
Winding Wick Candles
How cute are these unique candles? Tiana Coats, the owner of Winding Wick, started her business in 2015 after realizing that her weekly candle buys offered nothing special. It was then she decided to experiment with her designs, waxes, and scents.
And Winding Wick Candles was born. The line includes realistic snack-looking candles that smell as delicious as they look. Watch out, though; they are so yummy looking you might be tempted to take a bite.
La Botica
La Botica is a super chic luxury candle studio and chill-wear brand located in New York City. It was founded in 2018 by Afro-Latina artist Dawn Marie West. She seeks to combine her black and Afro-Dominican culture with her experience in art direction and luxury perfumery through her handmade candles.