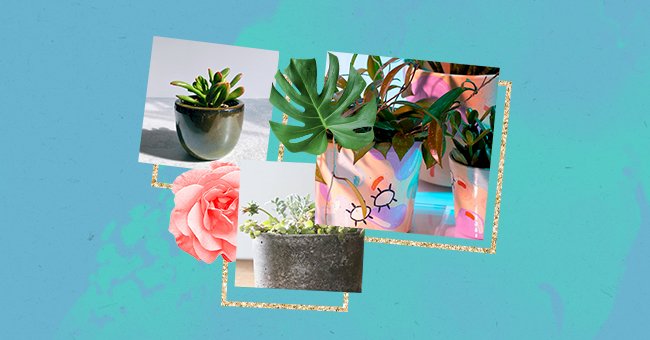 10 Black-Owned Plant Businesses To Support
Plants breathe oppositely to humans, making them the perfect partner. They release oxygen into the air and absorb carbon dioxide. Higher levels of oxygen make it easier to concentrate and think clearly. Plants also reduce the levels of humidity, which means that we can reduce air conditioning use.
Besides purifying the air, having plants in your home is one of the few ways you can elevate the way your home looks. It adds beauty to a dull room and creates a different ambiance for your space.
These Black-owned businesses are using their business to add beauty to our homes. If you were never a lover of plants, these brands' offerings are sure to make you have a rethink. Are you ready to delve into a world of plants?
1. Tal & Bert
Tal & Bert was founded in February 2020 by husband & wife duo Ray & Val Talbert. Their creations combined their love of the outdoors, recreational mining, and art.
Their work is inspired by the Japanese philosophy of wabi-sabi, finding the beauty in imperfections. We take the cracks and breakages in the concrete and turn them into designs inspired by minerals we mine.
2. Planting With P
Planting with P will provide the tools for anyone looking for a relaxation station in their own home! They have always sought out ways to create positive energy in any small space.
To relax your soul and ease your mind of any worries, you need to get one of these plants. Not only will it beautify your space, but you'd also be happier for it.
3. PepperPalm
Pepper Palm is for every plant-lover with a green thumb out there. Because plant accessories are an absolute must, you have to check out this shop's cute and colorful pieces.
The brand's primary focus is to create unique designs for pottery and plant displays. The brand works a lot with recycled materials like wooden logs, mannequin parts, clay, and flowers.
4. Plant & Vessel
Ceramicist Traci Ward runs this Austin-based shop, so not only does it have beautiful plants available for purchase, but it's also got some stunning ceramic planters and holders. You can also find fun tumblers, pots, and jewelry.
These beauties are often in high demand, so check back for restocks regularly! The brand also generates revenue for Black Lives Matter and has a list of sites for different causes you can donate to.
5. The Nice Plant
The Nice Plant is for the seasoned plant lover and the newbie looking for any shade of green thumb. They set out to make gifting easier and planting stress-free! Their curated selections have been carefully designed to elevate your energy and enhance your lifestyle.
The Nice Plant brings you plants and products that help increase mindfulness through vehicles of meditation and ritual practices and thoughtfulness by caring for your growing, thriving plant!
6. Grounded
Grounded was created to help you disconnect and decompress through plants' appreciation in the spaces we occupy. Their selection of plants has a plethora of benefits designed to elicit a sense of tranquility and mindfulness. From boosting your creativity and concentration to reducing stress and purifying the air, plants' influence has proven to be advantageous within a given environment.
Introducing plants to your space can improve your health and overall happiness. Sometimes, when the world around you seems chaotic, the synergy between plants and humans is a natural progression in helping us remain grounded.
7. The Zen Succulent
The Zen Succulent is a modern terrarium and plant craft business based in beautiful Durham, North Carolina. The brand was created by the mother/daughter team Margaret and Megan George.
Ther living landscape creations are a modern take on traditional terrariums inspired by our natural surroundings, our love for urban planting, and our delight in color. The brand hand mixes their soil and uses locally sourced plants.
8. Bradford Botanical & Co.
Bradford Botanical & Co. claims to be one of the fastest growing online botanical stores in the US. They are believed to be the best in class because they always put the customer experience first.
Established in 2019, this Atlanta company run by Ryann Bradford sells plants and offers up a gorgeous rose collection. The mobile boutique hosts pop-ups in Atlanta and Dallas, but you can still shop online all over the United States.
9. RootedInBlk.co
Rootedinblk.co is a company that creates conversational plant pots and stationary centering African American history and culture. Their mission is to inspire more representation and engagement of black people outside of typical spaces, specifically in gardening.
They also seek to educate their community on both history and how plants tie into that history. Furthermore, they seek to build a brand and community heavily involved in giving back and grassroots efforts.
10. LeafMe
The Leaf Me plant lovers are caregivers who feel that everyone should have a healthy relationship with the earth and plants specifically. LeafMe encourages their fellow plant lovers to prioritize self-care for them to thrive.
They do this by offering their plants and services as a reflection of our whole selves. The brand urges you to think of yourself as you examine the needs of your plants. They also take all the work out of leafing your life so that you can focus on the mood-boosting, air purifying, radiation-absorbing, space warming elements of your new green friends.