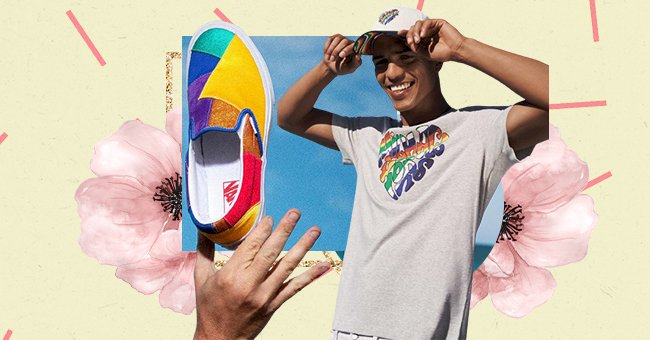 10 Cute Gift Ideas For Pride Month
Pride month isn't a typical gift-giving occasion, but these cute gifts might be a good excuse for you to go shopping.
In June, we celebrate Pride Month. And even if we don't really need a month to treat ourselves or our friends with a cute gift, the festive vibe is a great moment to do so.
Of course, you can supply your pals with tons of rainbow flags, but what about being a bit more creative this time? From aprons to pride cakes to fun pride tees, we've rounded up ten cute gifts to spread love and celebrate with your beloved ones.
40 mm Pride Edition Braided Solo Loop
The Pride Edition Braided Solo Loop band features a design that's comfortable and fashionable. It's inspired by the colors of the various pride flags and brings representation and inclusivity in a different way. Apple supports the LGBTQ+ community and organizations that work towards equality.
Happy Pride Cake
Baking is by no means the same as attending or participating in pride events, but it's a fun and creative way to celebrate and show your support. If you don't have baking skills or simply don't want to venture into the kitchen, you can order your cake online.
MK Pride Collection
Michael Kors released a Pride capsule collection that features cool pieces like bucket hats, backpacks, T-shirts, and hoodies. All profits made with the tees will go to support OutRight Action International. So, wear this tee with pride!
Vans Checkerboard Slip-On
Another brand that supports a more equal and inclusive society celebrates the LGBTQ+ community with the Vans Pride collection. Also, Vans is donating a total of $200k to four organizations from around the world.
UGG Disco Stripe Slide
Even if you look down, you'll still find a rainbow. And what a stylish, comfy, and cute rainbow! For every pair of the new Disco Stripe in Pride Stripes Combo and Pride Rainbow Combo purchased on Ugg.com, they'll donate $25 to GLAAD.
Soul Cycle Pride Collection
Soul Cycle is also partaking the Pride month and releasing a Pride capsule collection with cool stuff. From socks to beautiful hoodies, you will walk into the room with pride and style. Soul Cycle is donating a portion of the proceeds to our Pride partners at Destination Tomorrow.
Brahmin Confection Melbourne Collection
In celebration of Pride Month, Brahmin partnered up with GLSEN, an organization working to transform all schools into LGBTQ+ inclusive communities. They'll donate 10% of the pride collection to help them continue their excellent work.
The Essential Apron - PRIDE
Do you have a Masterchef queer friend? I'm sure they'll fall in love with this apron! This fabulous and high-quality apron comes with rainbow colors in the shoulder straps plus two-toned waist straps. The brand also partnered up with an LGBTQ+ organization and will donate a portion of the sales.
Lord Jones Limited Edition Pride Hemp-Derived CBD Gumdrops
You're not so sure what to gift your friends? What about these gumdrops? They'll surely be quite a hit. Lord Jones offers them in three flavors: tropical mango, honeyberry, and pineapple. 50% of the profit made with the gumdrops will benefit LA Pride.
The Accessory Junkie, Jill Phone Bag, Rainbow
Satchel Lee, an artist, and LGBTQ+ activist, has curated a unique 15-piece capsule collection to celebrate pride. Five of the 15 pieces will be available for the month of June, and 15% of the sale support the Human Rights Campaign.