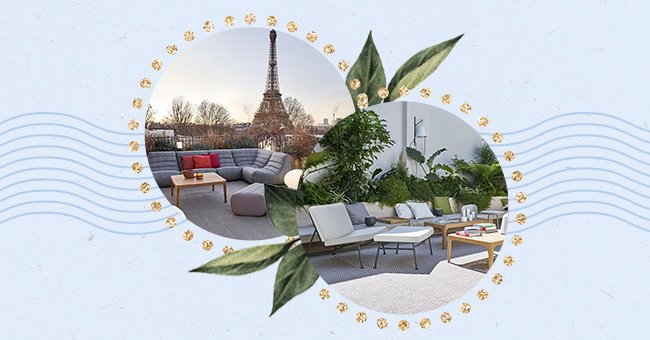 10 Design Ideas To Upgrade Your Patio
Are you looking for some inspiration to change your patio or backyard? Here are ten design ideas for you.
As warmer and longer days are making their approach, the time to dust the furniture off and, maybe give some love to the spot you'll spend most of your summer days has come.
Whether you have a tiny patio or garden, whether you want to make a complete makeover on your patio or just would like to add some small decorations, find some inspiration in our design ideas.
Light and Lean
Designed by Lucidi Pevere, a studio based in Italy, these cushions aren't only comfy; they're removable and light enough to easily pick up and move it into the shade when you've had enough sun for the day or if the weather is changing.
Waterproof Sofa
If you'd love to have a sofa outdoors, but you're worried that the weather will ruin it, we've just found you a solution. This sofa is waterproof and comfortable to feel like you're lying down in your living room, but you're outside enjoying nature.
Sunday Brunches
If you're hosting late Sunday brunches, this dining table is such an inspiration for small garden parties for closer friends and family. This garden is from the designer Madeline Stuart, in her home in Santa Barbara. Add as many flowers and plants (why not?) to bring life to your table.
Parisian Lamps
If you're lucky enough to have a backyard or a garden overlooking the Eiffel Tower, the furniture and decoration you're using will be just a tiny detail. In any case, the round lamps are perfect for both outdoor or indoor decoration.
Garden Estate
"Garden Estate by Robson Rak is a tour de force in the materiality of rammed earth, married with a stunning, long-established garden to create an oasis of greenery and calm," said the writer Marcus Baumgart at the Houses Magazine about this special garden designed by Robson Rak.
Modern Patio
Another incredible design by the Australian and Melbourne-based Robson Rak. Every part of this modern courtyard is lovely. From the cool marble tiles to the light brick walls and terrazzo stool, Rak used striking and high-quality materials only.
Pink Summer
Are you looking for new colors for your patio or garden to match the colors of nature, just like these pink lounge cushions and deep plum Japanese Maples? Spending a sunny day in this cozy scenario will make you addicted to it.
Timber Elements
This design was carefully made to ensure that the elements would complement the surrounding lavish green landscape. Chelsea Hing's unique touch is seen in every part of this picture — from the polished plaster walls to sandblasted timber elements.⁠
Traditional Style
This house based in Sydney's eastern suburbs was finished in 2020, yet it has incredibly beautiful and elegant in traditional style. The predominant white on the walls, doors, and ceiling contrast with the garden and green plants.
Chic Gray Garden
Your garden can have pastel and neutral hues and still look chic and comfortable. Bright and vibrant colors aren't a synonym for an outdoor design, and the purpose of this outdoor-indoor space with its own fireplace is to be enjoyed all year round.