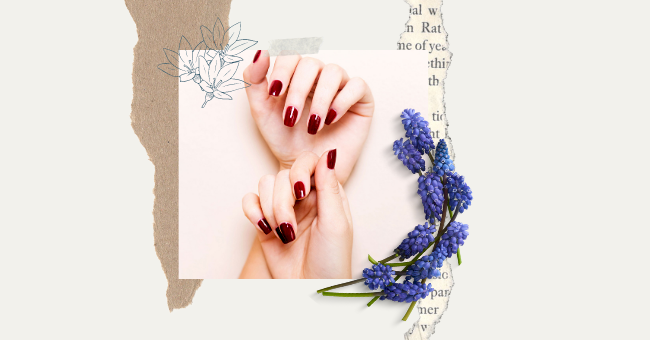 10 Fall Nail Trends We're Loving
Everything that feels nice has to do with pumpkin spice. We aren't referring to the drink (that needs its award). We are talking about fall. Fall is a cozy season full of warmth, with falling leaves, stunning shades, and fashion inspiration.
The best part of fall is its incredible color palette. From the sweaters to the makeup, the list is endless. If you're looking to upgrade your fall fashion, consider adding some of the season's palette to your nails.
From the runway to Instagram, the cool girls are all setting nail trends for fall. Go experimental for 2021 and play around with colors. Moreover, the french manicure has been reimagined, and cranberry is so in. Check out these ten fall nail trends we are loving.
Tortoiseshell
Tortoiseshell has been a consistent trend for a while. Their lasting power is due to the immediate cool-chic the style gives off. Moreover, they make the perfect statement to peek from through your sweater.
Take this trend to the max during fall. It is the perfect D.I.Y as the more imperfect it is, the better. Furthermore, be creative and have fun with it. Play around with colors for a statement look this fall.
Sparkles and Stars
It's all about the whimsical this fall. Sparkles and stars are taking over. Moreover, the style is taking on new life, and we love a reinvention. Despite the glitter feeling a little too young, mature the look with some gorgeous nail art.
Begin your sparkly nails on a neutral manicure. Additionally, experiment with the placement of the sparkle. Our fave trend uses the sparkle as a strip or beside a warmer tone to play up the contrasts of the textures.
Short Manicure
Move over long nails. The shorties are here to shine. The trend first caught our attention when it debuted on Anna Sui's runway. Decorated with lovely jewel tones, the short nails were neat and rounded.
Moreover, the style appeared on several runways. This sweet fall nail trend created the perfect easel for experiential nail art. Also, we love how accessible the style is, so do not be afraid to try it this year.
Press on Nail Art
Press on nail art is pretty nostalgic and sometimes pretty tragic in its result. However, it is not something unfixable. All you need to get started on press-on nails is to learn to prep. First, use the included nail pad to wipe off the excess oils.
Next, use the sticky tabs to stick the nail onto your fingers. However, make sure to match it to the nail bed so it can reach the length of your fingernails. Voila, instant manicure! Press on come in exciting colors. For fall, add some deep plum press-ons to match the season.
Monochrome Nails
Go monochrome for an incredible fall-inspired transformation. There are no rules here. Simply choose the color you like and pair it with neutral nail polish for a quick timeless, and effortless look.
However, a favorite trend to copy this fall is to go monochrome with green. First, decide your shape. Next, use tape to section the area you wish the green polish to sit. Lastly, finish the look with clear nail polish. Easy-peasy.
Nude Nails
It is not yet the end of an era of millennial pink or Kardashian tan, or whatever you want to call it. Like previous seasons the trend has been a mainstay. This phenomenon is due to the versatile wearability of nude nails.
Nude nails are reliable. Moreso, it is simple and sophisticated, adding luxury to any look with minimal effort. Try out the look in a tan, a neutral brown, a light brown, or a pale pink. If you want to add on the drama, add some nail art for a high fashion finish.
Negative Space Nails
It's all about the naked nail. Negative space nails are trending this fall, as witnessed on runways. Moreover, it pays homage to abstract art. All you need is some clear polish for a base, and let's begin.
The bare nail shall offset the look, so go with some modern shapes. Add some upside-down teardrops, dots, or lines. However, if you wish for some familiarity, add a juicy ombre shimmer or marbelize your manicure, leaving space for bare nails to peek through.
French Tip
French tip manicures are not going anywhere. However, note that this classic style has gotten an upgrade. The tips are now teeny tiny, highlighting the thin strip of nails. Moreover, nail artists are now switching up the original for some drama.
Add more color to the tips for an artsy french tip. Additionally, play around with the warmth of fall and add a rusty brown color to your tips. If you are looking for more color, do the same look in neon.
Mustard Nails
There is something so retro about mustard yellow that agrees with fall. The trend loves a fall debut. Moreso, it does compliment the season's shades of muted yellows and deep plums. Also, this green-toned yellow is perfect for various skin tones.
Upgrade the look with some funky 70s stripes like nail artist Savannah Walker. Take burgundy, orange, and yellow stripes and curve them in neat lines on your mustard polish. The result is perfect for fall.
Jewel Toned Nails
Shimmy up, ladies. This one is for the statement maker. Jewel tones look great on both short and long nails. Simply choose your favorite color and use it all over the nail. No nail art is needed. We love these fall trend done up matchy, matchy.
Choose some rich emerald greens or burgundy to match the season of fall. Alternatively, you can choose to make it a little more interesting. Add some magic to fall with a magnetic polish to recreate a mesmerizing celestial look.