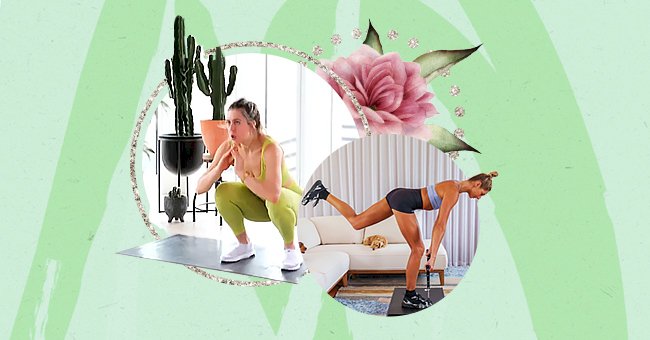 10 Inspiring Fitness Accounts To Follow On Instagram
Are you searching for some inspiration to keep up with your fitness routine or just want to start a new one? Follow these 10 inspiring Instagram influencers to keep up with your motivation.
These girls love to share their fitness routine — whether they're yogis, ballerinas, or weight lifters — and share with their followers what works for them, what doesn't, give fitness advice, workout motivation tips, what they eat in a day, you name it.
We've rounded up our 10 favorite fitness accounts to keep you inspired and upgrade your Instagram timeline with beautiful photos and fitness ideas.
Roz The Diva
Roz is not only an incredible personal trainer, but she is also a Pole diva and she has been featured at the NY Times, ESPN, Glamour, and so on.
Learn some more about lifting and pole with a good amount of humor. Roz's videos and posts will make you smile while sweating.
Megan Roup
The Fitness Society founder utilizes fun dance moves mixed with high-rep toning exercises during cardio classes.
You can workout with Megan from everywhere with the TFS app and join the TFS fam too! Try the 14-free trial and see if it's a match!
Shona Vertue
Shona is an author, speaker, yoga teacher, PT, and an ex elite gymnast. She still finds time to share her fave workout tips and routine on her IG account with all these credentials.
With a mixture of yoga, cardio, HIIT, and strength training, Shona adds her own style to her routines focus on overall health and mobility.
Natacha Oceane
Natacha Oceane doesn't only share her workout routines and tips but also approaches most topics from a scientific standpoint.
On her Instagram and YouTube channel, Natacha shares her strength-based workouts, diet, experiments, challenges, and daily vlogs.
Amanda Bisk
Amanda Bisk is a former pole vaulter with a cute Aussie accent. She is also a yoga teacher, elite athletic coach, physiologist, and Pilates instructor.
She shares a bit of both outdoors and indoors routines with her followers, mixing yoga, Pilates, strength, and HIIT workouts.
Tone It Up
Nutrition, diet, meal ideas, delicious recipes, workout routines — you can find it all with the best friends Karena and Katrina.
The Tone It Up Community helps women build up motivation and confidence while helping them achieve their fitness and health goals.
Kaisa Keranen
Don't get intimidated by Kaisa's strength — yep, her routines and moves are insane! — because she really makes us believe they're easy to replicate!
Kaisa co-founded an app called Just Move, a movement community meant to bring movement "for everyone and every body".
Caitlin Turner
As described on her Instagram profile, Caitlin is a yoga teacher, entrepreneur, innovator, traveler, lover, fighter, dreamer, and realist.
Do you want to get your yoga practice to the next level? Follow Caitlin and get inspired by her flexibility and beautiful yoga pics.
Nude Yoga Girl
The Natural Magazine Founder, the Nude Yoga Girl is an anonymous yogi that shares yoga postures with nude people.
Jen Selter
With more than 12 million followers, Jen is an entrepreneur also known as the best butt on Instagram. Get inspired by her stunning body, beautiful photos, and daily motivation.
In between colorful gym apparel and bikini pics, Jen also shares a bit about her diet and fitness tips.