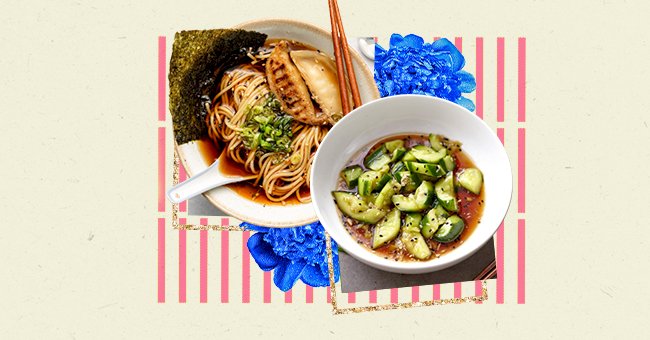 10 Korean Dishes That Are Vegan Friendly
It isn't only KPop or Korean skincare products that are trendy at the moment. We're falling in love with Korean food too! From Mung bean pancakes to kimchi, here's a list of the ten best Korean dishes you should try today.
Korean food isn't only delicious but healthy too. It's primarily gut-friendly and most Korean dishes are rich in vegetables like cabbage, spinach, carrots, pepper, broccoli, and so on.
Even though Korean food is quite meaty, we vegans always find ways to make any recipe vegan. But aside from the crazy amount of meat they add to some dishes, you can keep some of them vegan-friendly and skip the meat. We've rounded up 10 Korean dishes that are vegan-friendly and vegan versions of traditional Korean meaty recipes.
Vegan Japchae
Is there something more Asian than stir-fried noodles? When I was living in Asia, I was constantly searching for different ways to eating (as well as cooking) my noodles.
This vegan japchae is an excellent alternative for traditional noodles, as they use glass noodles. For a healthier version, opt for 100% sweet potato starch noodles.
Vegan Kimchi
Kimchi is a fermented and pickled mix of vegetables, being cabbage the most common vegetable used to make kimchi.
Besides the vegetables, there a spicy and sour combination of ingredients like fish sauce, ginger, and garlic. In Korean culture, kimchi is served with almost every meal (including breakfast).
Vegan Bibimbap
In my opinion, this is the most delicious Korean dish and super nutritious too. There's avocado, broccoli, tofu, quinoa, and more things that will make a typical Buddha bowl lose the battle with a bibimbap bowl. To make the traditional bibimbap vegan, you can just eliminate the egg.
Vegan Sushi Bowl
Rose Lee of Cheap Lazy Vegan teaches us in this video how to make a traditional sushi bowl vegan-friendly.
This is a 10-minute recipe challenge, so if you're short in time but savoring some delicious Korean food, try this vegan sushi bowl.
Korean Cauliflower Wings
Chicken wings veganized? Hell, yes! This Korean twist is rich in flavor so we recommend you to eat it with rice.
What makes these vegan chicken wings so delicious is the exotic gochujang glaze. But if you can't find gochujang glaze, replace it with chili paste.
Beoseot Jeongol (Mushroom Hot Pot)
When we're talking about Korean vegan food, we can't forget about the veggies hot pot. Is there something more vegan than that?
Easy to make it at home, you just need a few ingredients and a pan with hot water. Perfect for cold weather and winter days!
Mung Bean Pancakes
Forget about the traditional sweet pancake you have in mind. The Korean mung bean pancakes are crispy on the edges and chewy in the middle. and yes, they're savory.
The mung bean pancakes (also known as Bindaetteok) is popular street food in Korea and it became worldly famous after Netflix's series "Street Food: Asia."
Sweet Korean Lentils
This recipe is actually a vegan version of the traditional Korean bulgogi. In the original recipe, there's beef instead of lentils.
Sweet yet salty and spicy, this vegan version of bulgogi is delicious and it takes 15 minutes to make it. Ah, and they're super filling too!
Vegan Joomuk-bap (Fist Rice Balls)
The Korean rice balls, aka Joomuk-bap, are a great option for healthy snacks that both adults and kids will love.
Joomuk-bap is picnic food for Koreans and the Korean version of a sushi roll without the fish. It's also quite nutritious and easy to prepare.
Vegan Rabokki
Ramen + Tteokbokki, cabbage, carrots, onions, gochujang and gochugaru are the main ingredients to this vegan version of Korean Rabokki.
Most of the ingredients are easily found in Asian shops and you can add tofu to add a bit more of a plant-based protein to your vegan Rabokki.