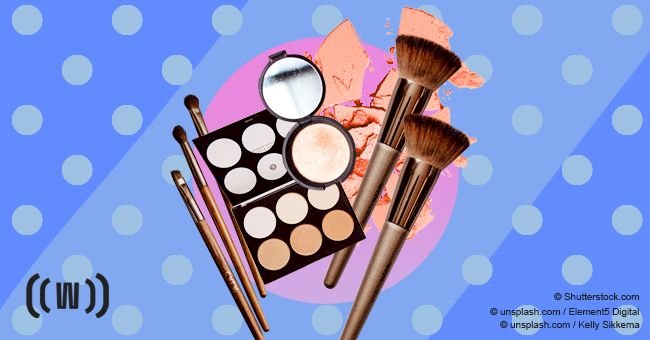 10 Makeup Brushes You Need In Your Kit
"Whenever you are creating beauty around you, you are restoring your soul," says Alice Walker. Consequently, you need the best tools available to create beauty.
Having the right makeup brushes allows you to make the most out of your makeup and present yourself in the best way possible. With the right brushes, you have the upper hand at playing to your best features while toning down any imperfections you have.
There are three types of people in makeup: Those who own an all-around beauty blender, those with a gazillion makeup brushes, and those who opt to use their bare hands for makeup.
While neither is wrong, the key to professional-like and flawless makeup application lies in having quality makeup brushes. Luckily, this roundup will take the guesswork out of your makeup routine.
1. Eyeshadow Shader Brush
Having an eyeshadow brush guarantees you a reliable and evened-out layer of color on your eyelids. These brushes usually come in flat rounded tips dense enough to pick a fair amount of cream or powder.
For the best results, pat the eyeshadow onto your eyelids while swirling the brush to get the powder to the edges. Similarly, misting the brush will increase the degree of the opaqueness of your powder eyeshadow.
2. Blending Brush
With a tapered shape and somewhat fluffy bristles, the blending brush will help you blend your powder eyeshadows for a more sheer finished look. For a diffused look, swipe the soft bristles into the eyelid crease in a back and forth motion.
Like with the eyeshadow brush, a gentle swirl around the edges will give you a sleek transition between colors. Or when layering multiple colors on top of one another for a blended look.
3. Foundation Brush
While you can apply your liquid makeup with a blending sponge or clean fingers, it doesn't hurt to have a specialized brush for your powder or mineral foundation. Moreover, your fingers cannot blend makeup as well as a would.
Most of these are either flat and pinched or full dome-shaped and come with the option of natural or synthetic bristles. The type of foundation you use will dictate the best strands to choose.
For an evenly blended look, start with your T-zone and cheeks moving outwards to avoid the odd-looking makeup lines around your jaw and hairlines. Remember to buff the bristles when using a powder foundation to work the product into your skin.
4. Concealer Brush
Whether you want to conceal an acne blemish or eye-bags, these downsized foundation brushes are designed to target the smallest and most specific details. Even with the option of using a doe-foot applicator, a concealer brush is more hygienic.
A small amount on the tip of the brush will conceal any blemish with the most gentle tap. Once entirely covered, blend out the edges carefully without wiping off the rest of it. You can also use it to achieve a feathered lipstick edge.
5. Powder Brush
Do you have creases under your eyes or a shiny T-zone? It's time to enlist the help of setting powders and, with them, powder brushes. These powder brushes are designed to work for both loose and pressed setting powders.
You can choose the size you want depending on the areas you want to cover, or you can go for a one size fits all type of brush. With long and dense bristles, the brush will set your liquid foundation or blend out powdered ones.
6. Blush brush
Blush and bronzer brushes are similar and can be used interchangeably. However, who has the time to clean while halfway through their makeup routine?
Get yourself one with dome-shaped fluffy bristles to evenly spread out your powder. Remember, the softer the bristles, the lesser powder you will use.
7. Contour Brush
Contour brushes come in various shapes, making it a tricky one to pick from a crowd. For some, the bristles are cut straight across, while others have a more "S" shaped design to match your cheekbones.
Unlike the "S" shaped design, the diagonal one is more versatile with a more effortless blending beneath the forehead, jawline, and cheekbones. Therefore, a sharp-edge will give you a sharper sculpt.
8. Kabuki Brush
The kabuki brush is known for its chubby look and firm dome-shaped bristles. It will give you a seamless liquid foundation application and is ideal for medium to full coverage body makeup.
The density of the bristles makes it perfect for setting with some superfine setting powders. Remember to put on a slight amount of pressure while working fine powders onto your skin.
9. Multitasker Brush
As the name suggests, the multitasker brush will help you pull off several makeup applications. This, however, means that you will have to clean it a little often than you would other brushes.
You will especially love this one as a beginner to apply and blend your favorite liquid, cream, or powder foundation. But it also does a great job at contouring and buffing your powders.
10. Bronzer Brush
Where bronzer application is concerned, how you use the brush is as important as the brush itself. Loosely sweep your bronzer brush in a trio pattern from your forehead to your cheekbones, then back out to your jawline.
While most of us have found ways to improvise and make do with what we have. However, you can never go wrong with having some specialized and quality makeup brushes.