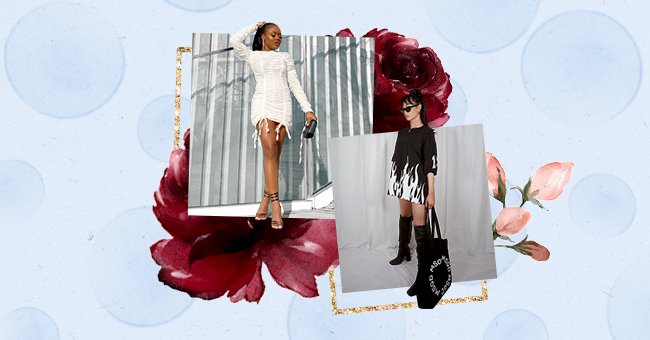 10 Missguided Outfits We're Saving Up To Buy
One of the first things to do if we want to save on clothing is to buy at the time of the sales, taking advantage of those at the end of the season and the promotional sales that stores often organize during the year. So keep an eye on the bargain corner, where you can find beautiful items at a low price.
Missguided is always having sales, with 50% off and extra percentages of up to 25% when using specific codes. Besides that, Missguided is known to stock several beautiful pieces that your wardrobe will thank you for.
We have seen some items on the site that we would love to shop for, and of course, we are saving up for it and sharing these with you.
1. The Co-ord Set With Ruched Bralet
The lilac poplin cotton mix features a strappy ruched bralette with a tie front and a skirt and matching shirt. It is made from 65% polyester and 35% cotton.
2. Scarf Print Denim Co-ord
This co-ord piece consists of printed denim shorts in a floaty style with pleat detail and pockets. The bralet features a cup with a zip behind it while the shorts sit at the upper thigh.
3. Floral Print Milkmaid Skater Dress
Want a milk fix? Get it now without worrying about dairy in this floral print milkmaid dress featuring a ruched bust, puff sleeves, and back zip.
4. Jordan Lipscombe X Missguided Black Flame Oversized T-shirt
If you're going to sit at home all day and just chill, then the oversized t-shirt is the perfect outfit. Also, you can wear it out with bum shorts depending on the length of the t-shirt on your body.
5. Poplin Ruched Gathered Mini Dress
Ruched outfits, a hallmark trend of the 80s, resurfaced again in the 2010s and have taken over the scenes. Why not join the trend in this mini dress that will flatter your curves.
6. Playboy X Missguided Waffle Classic Sweatshirt
A Playboy and Missguided collaboration is one every fashionable girl wants in her wardrobe. The sweatshirt is the perfect way to introduce this collab into your looks, and you can style it with almost every piece you own.
7. Helena Twist Cut Out Blazer Dress
We all want a chic and elegant-looking blazer dress in our wardrobe. This lined blazer dress with a twist cut out at the waist, padded shoulders, front pockets, and a concealed back zip are as chic as we can get from Missguided.
8. Dobby Puff Sleeve Tea Dress
This lined wrap dress is a cute addition that is perfect for summer as it isn't thick and is sure to go well with the summer heat.
9. Bandage Mesh Corset Style Crop Top
If you've been longing to wear a crop top and a corset top, this is the perfect piece to combine the two trends while keeping your look stylish.
10. Ruched Sleeve Shirt Dress
It is not your classic white shirt and can not really be called a full dress either. The shirt dress sits perfectly at mid-thigh and might be too short for some people. You can pair it with any bottom of your choice to suit your style.