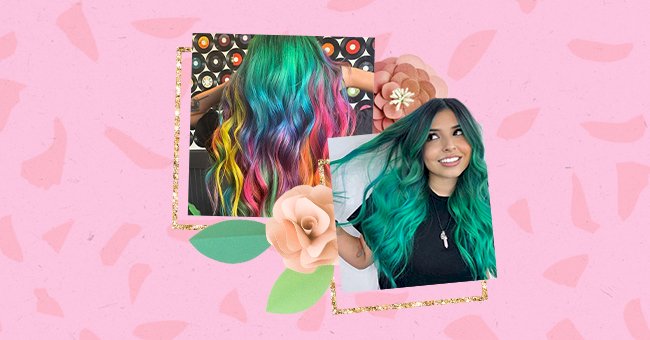 10 Multi-Colored Hairstyles To Try This Summer
Rainbow hair is the newest summer trend. If you want to try a hair refresh, now it's the time!
For those who love new hair trends as a way to give new vibrant energy and a fresh look to an old hairstyle, summer is here to open all doors.
The combination of fun and colorful vibrant shades all at once is a charming way to do a makeover. Take your inspirations to your colorist, and don't forget to have some fun!
Neon In The Dark
That sounds too crazy? Maybe yes. But we can't deny that it's awesome! The #glowinthedarkhair has taken over Instagram and many people's hairs. You can have your neon hair glowing in the dark with either semi-permanent dye or blacklight-sensitive ones.
Rainbow Hair
If you wish to embrace rainbow hair fully, take a look at this beauty. We recommend you not try to DIY at home for a more sophisticated color pallet, but instead, ask for a professional colorist to do it. That'll take a lot of work, so let the pro do it for you!
Bi-color
If you don't want too many colors hanging around your head, you can pick one hue and take a lighter or darker shade of it and play around and see what you get (with the help of a colorist, of course). In the picture, she used two shades of pink (Cupid and pale pink).
One Side Bang
High contrast colors are definitely a trend within the colored hair trend. Also called skunk hair or money piece, this trend is up for more than a year now and will continue throughout 2021 so it's a great way to change your hair color and not need to bother with constant maintenance.
Gray Hair
Another trend that isn't going anywhere soon, and it's a significant beauty now. It seems that most people fell in love with gray hair last year; now it's all over Instagram. But let's admit: a shimmering, glowy white-gray hair is so charming, isn't it?
Bi-color Twist
Whether you're blond or brunette and don't know which hair color you wish to embrace fully, now you can have both! Get inspired by Cruella Deville and the beautiful hair above, and why don't you try a twisted ponytail half updo?
Watercolor Rainbow
Join the trend with the cutest option. This is a softer version of the rainbow hair trend. With lighter hues, aiming to mimic the transparent effect of a watercolor painting, while it uses the hair as a canvas. It's an authentic artwork, isn't it?
Colored Ombré
Ombré and highlights don't necessarily have to be between blond and brunette hairs. This ombré work is here to show otherwise. The nicest thing about this option is that if you don't want to dye your hair, you can use clip-in extensions too (that wasn't the case here).
Hidden Rainbow Hair
If you can't go full rainbow color hair, you can "hide" your highlights. That's right, whether your workplace doesn't allow it or maybe you aren't comfortable enough to fully embrace the change, you can start by taking it just halfway.
Rainbow Bangs
Just dying your bangs is a stylish and modern punch to the multi-colored hair trend without going too radical. The style works quite well for all hair types, but especially for short hairs, as the less hair that you have to lift, the better and more consistent result you'll get.