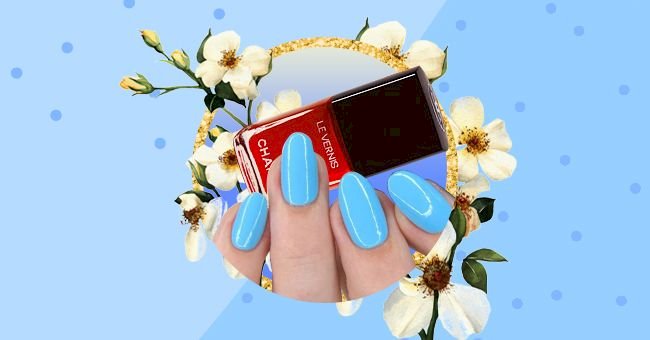 10 Nail Colors Endorsed By Manicurists & Editors
Like many, if you've taken your nailcare into your own hands, then taking notes from those who know the best brands and shades may be just the tips you need to hear.
The color of your nails can be so much more than just a color. It can boost your mood or your look in a significant way. Details are everything.
These are the nail polish shades that manicurists and editors are all for. There are some expected classics and some to add to your list of next to try colors.
Classic Red
Price: $28
If this isn't the most iconic color for nails, there is. Red nails, particularly red with blue undertones, stay trendy because they work in any season or look.
Glitz
Price: $18
Faith Xue, editorial director, told "Byrdie" that they're fond of this sprinkle fest because of its versatility. She says it can "be worn as a magnificent nail accessory on its own or on top of a cherished nail polish."
Cool Blue
Price: $20
Top editorial nail artist Miss Pop told "Allure" that this Deborah Lippmann Gel Lab Pro polish in the shade Above the Clouds is a fave because it dries with full opacity with just one coat.
Deep Burnt Orange
Price: $18
Ariana Yaptangco, social media editor, shared their favorite shade of theirs with "Elle." This shade was heavily in for fall last year, and understandably so. Does it not make you think of cinnamon and pumpkins. Mmhm.
Ballet Pink
Price: $9
"If you get your nails done in this color, you'll leave the nail salon feeling 10 pounds lighter and like your whole life is in order. I know it seems silly, but try it! There's just something about this timeless color that makes me feel like my best self."

Aimee Jefferson, social media editor told "Byrdie."
Lavender
Price: $11
OPI's Polly Want a Lacquer is the perfect pastel lavender, says Nuñez to "Allure." While it may take about two or three coats to get a good payoff, Nuñez figures it's worth it.
Bold Blue
Price: $14
"This ocean blue is great on toes for all skin tones."

says Mar y Sol Inzerillo to "Allure."
Pearlescent Pink
Price: $10
Erin Jahns, assistant editor at "Byrdie," loves the fall appropraite shade Maryann from Zoya. She's especially drawn to the subtle specks of shimmer.
Pink
Price: $8
"Among my regular brown, gray, and burgundy polishes, I've added this rosy fall pink. It's neutral enough to go with any cozy outfit, but less basic than typical fall nail colors. Since I won't be visiting the nail salon anytime soon, Olive & June's manicure kit makes my at-home paint job look as professional as possible."

Says Ariana Yaptangco "Elle's" social media editor.
White
Price: $9
Another classic nail polish color has to be pure white. Manicurist Betina Goldstein tells "Allure" that the white from Essie is "your best bet for a highly pigmented and opaque white."