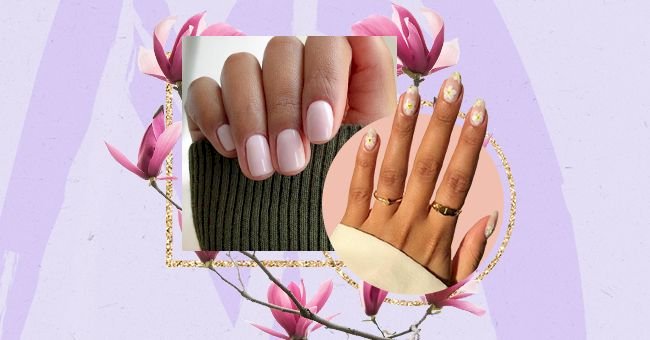 10 Nail Trends To Try In 2021
Whether you're a claws kind of gal or a simple, short and soft nail woman, most women don't feel fully dressed until their nails are done the way they like them.
Salon appointments appear in women's diaries all over the world for the simple fact that usually, when a woman's nails are done, she feels better about her overall appearance.
Some women do a simple shine and polish each time they go to the salon, and some women leave with nails so bejeweled they can barely lift their fingers. Whichever woman you are, you'll find a nail trend here to suit your fancy.
Whether it's lines, dots, or triangles, geometric nails are making a comeback. This nail trend that first surfaced a couple of years ago is resurfacing but more muted this time. Out with the sass and in with the class.
All you need is a nude nail and a statement color to stamp some geometric shapes to achieve this look. The trend gives you all the sophistication of a french manicure, with all the fun of an edgy manicure.
A trend that comes and goes each year is the classic short and nude or soft pink nail. It's not hard to see why women keep returning to this old favorite, even after having bejeweled claws.
These nails are classy and beautiful as well as easy to workaround. This trend will be infinitely recurring because of its reliability and beauty. A favorite for new moms and beauty therapists everywhere, this trend can stay.
A stark departure from the short and sweet trend, these nails bring all the fun, all the drama, and all the color. This trend can be worn in hundreds of different ways, each as gorgeous as the last.
Ariana Grande hopped on this trend in 2019 with her cow print nails, and the trend has blossomed since then. Some women wear the trend in the animal print's natural colors, while others go bolder with colorful prints. Either way, this is a trend to try.
The Not-So-Classic French Mani
The french manicure is a firm favorite of women everywhere. It's reliable, it's classy, and best of all, it matches every outfit you wear! French manis have taken a slight turn in the past couple of months, though.
The new french mani trend is to have the usual nude or pink french manicure base, paired with a more colorful or exciting tip. The colors can be different on every finger, or you can have every tip be one bold color.
Over the past couple of years, minimalism has been a trend in every aspect of life, from decor to design, and now nails! It seems only fitting that if you have a minimalist lifestyle, your nails should match.
Kylie Jenner perfectly carried out this trend; while the full set seems quite busy, each nail only has a few design spots, while the rest is a clean nude color. This trend might not be for everyone, but it certainly is beautiful.
Another take on the minimalist design, the negative space trend is a simple nail with a solid base color, with graphics of another color painted over the top.
With this trend, you can undoubtedly be creative as each solid base color nail is essentially a blank canvas on which to work. You could fill it with swirls or other blocks of color, as long as you leave some space to see the base color underneath.
A beautifully simple nail trend. The flower nail trend shows natural nails painted with clear or very light polish, with one or two flowers painted over the top at various points on the nail.
This trend can be simple, white flowers like Hailey Baldwin-Bieber once sported or a bolder colored flower, like a red or purple. Whichever you choose, the flower power will make your nails stand out in a crowd.
Not for those who like quiet order; these nails are here to cause a stir and disrupt all order here. This trend shows every nail is different, with either hand matching or all ten fingernails being different.
This trend is better for those with shorter nails as the colors are so loud on their own that they don't need any help from the length to catch the attention of everyone in the room.
Another trend popping up from kitchens to beauty rooms is that marble is here to stay. It's now time to hop on this trend and put the marble on your fingernails.
Marble adds a luxurious feeling to any space, which is the perfect reason to add it to your nails. Imagine how elegant it would make you feel to look down at your hands and see marble every day. This trend can be worn in any shape, color, or length.
This trend is beautiful in its simplicity. Adding swirls to your natural nail color gives them that effortlessly glam feeling. This look can be achieved in half the time of bejeweled nails and looks just as good.
You can wear this trend with any color or even multiple colors of swirls. The main thing to remember is that you should keep the nail base simple so that the swirls get their time to shine.