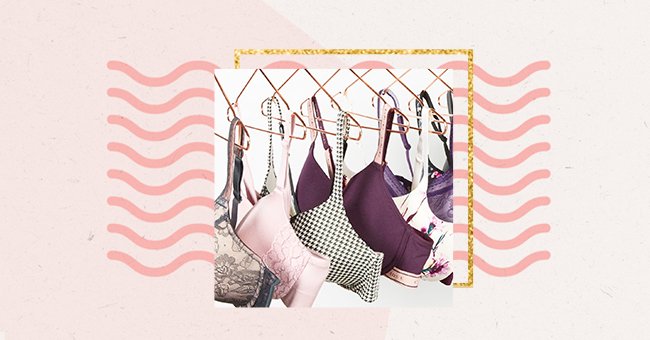 10 Plus Sized Lingerie Sets Worth The Investment
There is something about lingerie. Wearing a matching set of ordinary underwear is fantastic, but a sexy, well-crafted, luxe set of lingerie can raise your confidence level to 100. Even if you put some jeans and a t-shirt on, walking down a street will have you believe it's a runway.
However, this privilege should not be reserved for the few. Every woman deserves to feel like they are at the top of the world. However, finding and well-fitting comfy lingerie set is somewhat an extreme sport.
When heavy hitter like Savage x Fenty made a splash in the lingerie scene, offering diverse options, the ripples were felt through the industry. These days the spotlight is firmly size-inclusive brands. Therefore, scroll below for ten plus-sized lingerie sets worth every penny.
Savage x Fenty Puff Daisy
As usual Savage x Fenty does it again, bringing style, comfort, and sexiness to this whimsical piece with a bustier, garter, and bikini undies that go up to a 3x. The see-through mesh and minty pastel color with floral accents are enough to open up our wallets.
Gabi Fresh x Playful Promises Marina Pink
This pink set brings out the Madonna's Material Girl vibes in us. The bra comes with adorable pink fur with cute bows, and the panties are high-waisted. This playful burlesque-like set runs up to a 38J for the bra and a US 24 for the bottoms.
Cacique by Lane Bryant
Next up are the seriously sexy sets from Lane Bryants intimates line Cacique. The embellished collection is from the Seriously Sexy line (we didn't plan it) is a massive fave—the bras run up to 50DDD, and the bottoms a size 28.
EveFancy Sexy Strappy Bra and Panty Lace Set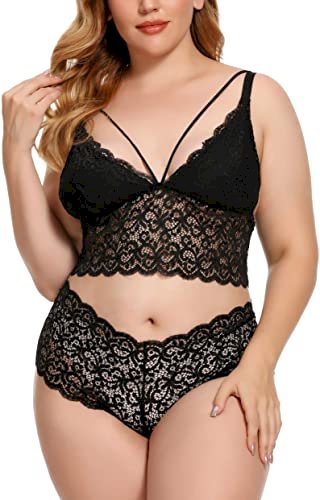 amazon.com
If you are looking for an affordable option that still delivers, this strappy set from EveFancy does the trick. It offers quality and support much like its pricier counterparts and is easy to put on. Also, this set will give you fantastic support from dusk till dawn.
Mapalé Lace Cage Bra and Garter Set
There is no denying that this red hot set did not come to play. This standout sheer lace set makes a statement with its suspender belt and garters, which you can hook onto your stockings. It also comes with a G-string to top of its sensual aesthetic.
We Are We Wear Every Night Bright Green Set
This bright green set includes a padded bra and Brazillian briefs with straps. Moreover, this beautiful set runs until 44FF for the bra and 3X for the bottom. A fun fact, green represents the heart chakra, so this piece might be your next fav.
We Are We Wear Curve Black Lingerie Set
We are not biased, we swear, but We Are We Wear is incredibly size-inclusive and boasts some fantastic pieces. This black strappy lingerie set comes with a comfy non-padded bra, lace undies, and a waist-high strappy garter.
Elomi Sachi Full Figure
This delicate mesh detail one is for the full-figured and bust-heavy girls. It gives ultimate support as it is crafted with 3 cups with sizes running from 32GG to 46DD and panties to 4XL. Moreover, this delicate mesh detail wonderfully highlights your decolletage.
Lavinia Lingerie Lavinia Mia
If you didn't know of Lavinia Lingerie before this, consider yourself now in the know. The brand makes well-designed and affordable pieces that deserve a space in your closet. Sizes run to H fro bras and 5XL fro bottoms. This particular set has teasing mesh on the undies for a nice subtle sexy effect.
JBC Lingerie We Were Lovers Bra
The lace and mesh sets offered by JBC are stunning. The body-positive brand is dedicated to being size-inclusive, and the We Weer Lovers collection proves just that. Sizes in this collection go to a 2XL for both bras and bottoms.