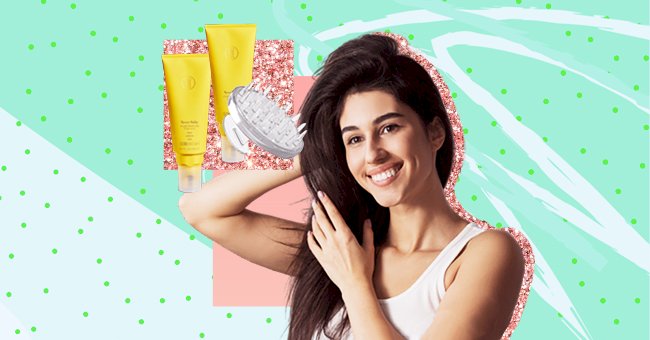 10 Products To Try That Encourage A Healthier Scalp
Optimize the conditions for healthy and happy hair by giving your scalp the attention it deserves. Here are ten excellent products for your scalp.
We tend to treat or even hide symptoms instead of going to the root of it all, much like concealing a skin condition with makeup or spritzing on perfume after gym. It's not all that useful, and at worst, ignoring the source of your problems may exacerbate matters.
That's why were chuffed that an increasing number of people are starting to pay more attention to their scalp to maintain healthy, happy hair.
Detox Scalp Mask
Get a thorough clean of and clear any product build-up that may occur. Recommended by Harper's Bazaar, the gel foams up when applied to the scalp to exfoliate dry skin.
Scalp Treatment Wash
Price: $15
TPH by Taraji P Henson offers three elongated nozzles that make it a dream to apply through your protective style to ensure a healthy scalp even when your hair is braided. In addition to riding your scalp of buildup, this product soothes any itchiness.
Anti-Flake II Relief Shampoo
Price: $42
A good wash is essential, and that's why you need a shampoo that will do that trick. But be careful not to over wash your hair because that can strip your hair of its natural oils and throw your pH balance off, notes Biologique Recherche co-owner and head of creation Philippe Allouche, MD. to Byrdie.
Revitalizing Fortifying Serum
Price: $195
Serums have wowed in the realm of facial skincare lately, delivering the vital ingredients need to the skin. A serum for your scalp promises just that to promote
Rejuvenating Scalp Massager
Price: $10
Use a scalp massager on wet hair to massage your products like a shampoo while also stimulating the hair follicles to stimulate blood flow to the scalp, encouraging hair growth.
Scalp Revival Charcoal + Peppermint Oil Cooling Jelly Conditioner
Price: $36
Briogeo's Scalp Revival Charcoal + Peppermint Oil Cooling Jelly Conditioner is specifically formulated for flaky, dry, and especially sensitive scalps. Allure's hair editor, Jihan Forbes, tried it out and was delighted by the smell and overall result.
Dry Scalp Treatment
Price: $34.23
Living Proof's Dry Scalp Treatment is a lightweight treatment that's also suitable for fine hair, unlike many other leave-ins.
Relaxing Scrub
Price: $50
Kérastase Relaxing Scrub ingredients include jojoba and sweet orange peel, and it's great for hydrating dry and sensitive scalps.
Lotion P50 Capllaire
Price:$106
"Biologique Recherche Lotion P50 Capillaire helps restore hair strength and vitality starting at the root."

says Allouche to Byrdie.