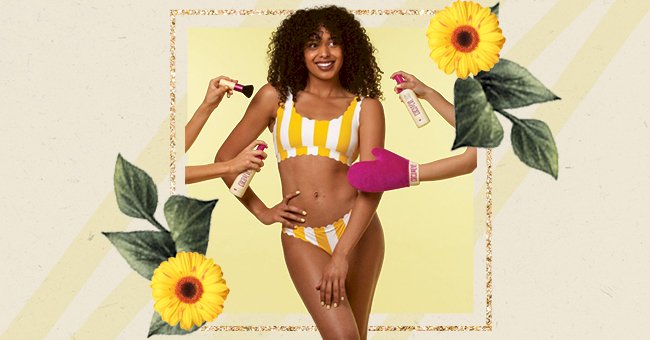 10 Self Tanner Hacks Worth Knowing
Want to achieve that natural-looking bronzed color? Self-tanner can help with that, but you'll need some prep so that you can apply your self-tanner like a pro.
With so many good self-tanners available on the market, it might be tricky to choose one. But even tougher is mastering the art of DIY tan. There are so many things that can go wrong if you don't know what you're doing; so many people are scared of trying self-tanner.
Like any beauty routine, there are a few steps that you need to follow to ensure that everything mixes together. From moisturizing your skin to know how to clean up your mistake, here are ten hacks you must know before applying your self-tanner all over your body.
Self-care First
Whatever you need to do, just do it before starting your DIY tan project. Manicure, waxing, eyebrows, or touch your hair color — because all of those treatments can remove the self-tanner. So book everything else first.
Choose The Right Self-tanner For You
The second step is to choose the self-tanner that suits your needs. Self-tanners come in different forms such as spray, cream, foams, towelettes, color correction, graduation tanning, etc. If you're a newbie, try a few of them and see what's the best choice for you.
Exfoliate
The last thing you want is to get dark patches that can ruin your tan. That can happen when the skin is dry. The best way to moisturize and remove any dead skin is to exfoliate before applying your self-tanning. Choose oil-free formulas as those with oil can leave a barrier against the skin that won't allow the tanner to adhere evenly.
Dry Off and Apply Moisturizer
For the self-tanner veterans, this sounds quite obvious, right? After showering, towel off but wait 10 minutes until you're completely dry. You don't want any water left as it can dilute the tan. After drying off, apply a bit of moisturizer. These two steps are crucial, so don't skip them.
Apply In Sections
Apply your self-tanner in sections, and make sure to massage the product onto your skin in a uniform circular motion. The best way to do it is to use a self-tanning mitt applicator to avoid any stains on the palm of your hands.
Don't Forget Small Spots
Small spots shouldn't be neglected when applying your self-tanner. Hidden and small areas such as your ears, top of your feet, and neck are equally as important as your back, legs, and arms. If your mitt applicator doesn't work, apply with a cotton swab.
Add Moisture To Dry Spots
More on small spots: joint areas such as ankles, knees, and the joint regions can also be tricky to apply your self-tanner as they tend to soak up the color and might leave an uneven finish. If you're using a self-tanner lotion, mix a bit of a moisturizer when applying it to these areas.
Don't Forget Your Face
Before tanning your body, experts recommend tanning the face first. It's easier to apply with bare hands, then wash them immediately to prevent a dark finish and stains. Apply to your face and tan everywhere, from your ears to your eyelids, nose, and neck.
Get Your Hands on Baby Powder
This is a pro tip — applying talc-free baby powder right after you're done with your self-tanner can prevent the tanner from creasing and it helps with locking the product in specific areas, especially the elbows and armpit.
Start At The Bottom
It's easier to start at the bottom and slowly work your way up and finish with your hands. Tanning experts recommend tanning the lower leg first, from the ankle up, skimming over the knee. Then, tan your feet with any excess self-tanner that is left from the initial application.