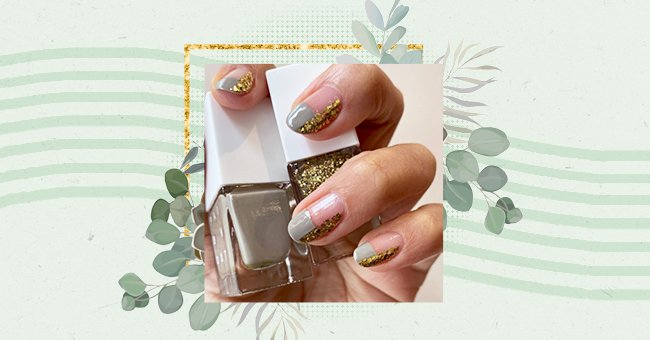 10 St Patrick's Day Inspired Nail Art Designs To Try
St. Patrick's Day is approaching, and amongst all the drinking, singing, and dancing, there has to be some style. Some will style their hair or their outfits, but we're styling our nails in styles St Patrick himself would toast to.
Holiday nail designs can often be kitsch or oddly specific. Some special occasion nails are beautiful up until the event is over, and you've still got a rabbit painted on your ring fingernail from Easter brunch.
We have compiled a list of ten St. Patrick's Day nail ideas that will last beyond the day and still look good.
The internationally recognized symbol for the luck of the Irish, this design is simple and sweet and will last you far beyond St. Patrick's Day. Start with a simple base color and a tiny four-leaf clover in the corner of one nail.
If you wanted to make this design even more simple, you could do a nude base color and merely outline a four-leaf clover in the corners of one nail. This would look sophisticated while remaining fun.
All the parties going on all over the world on St. Patrick's Day would be lost without at least a little bit of confetti. If you arent pulling glitter out of your hair for at least two days after a party, did you even go?
These nails are the perfect mixture of the party and the green color that symbolizes St. Patrick's Day. You will also be able to wear these nails long after the party is over as they are cute and classy.
Every nail feature has to include a different take on the french manicure. It's an old faithful that we will always be able to return to, so we had to include it in this article. You could do this look on long or short nails.
With only the end of your nails being green, by the time St. Patrick's Day is over, you can file your nails down so that you don't have the green tip anymore, and all of a sudden, you have a totally new manicure.
If you're the type of girl that doesn't like to "fit in," ditch the traditional St. Patrick's Day green and go for a rainbow instead. The rainbow is still in keeping with the day's theme but in a much more unique way.
You can get an actual rainbow painted on your nails, or you can add rainbow dots to a nude base color on each nail. Either way, you'll be able to wear your nails even after all the pubs have closed.
These nails are for all the girls who love a lot of color and action on their nails. Having nude nails with emerald, gold, and white accents is a subtle way to say, "I love to party, but I'll definitely be drinking champagne while I'm doing it."
You will also be able to wear these nails long after St. Patrick's Day is over because they are elegant and stylish.
These nails are so fun and elegant that even if you had to, you wouldn't want to get rid of them after St. Patrick's Day. The perfect mixture of fun and sophistication to ensure that you have the best nails at the party.
Having these nails will make you feel elegant and sophisticated while still appealing to the mischievous nature that St. Patrick's Day has.
Moving away from the quirkier side of nails, having each of your nails a slightly different shade of green is a subtle way to say "I'm still celebrating" without having your nails be too loud or colorful for your liking.
These nails can be worn over and over for all different types of occasions. Having your nails in slightly different colors of the theme color is a fantastic way to celebrate without getting sick of your nails by the third day.
This is such a cute and fun way to celebrate the day. Having plaid on your nails is like having tiny leprechaun clothes on your hands. It's cute and mischievous and fits perfectly with the theme for the day.
These nails are a little bit more themed than all the rest and might therefore get to be a bit much after a while. However, if you're someone that loves loud nails, these just might be the ones for you!
Beautiful use of negative space and a subtle way to celebrate the occasion, these nails will have you going back to get a set in every color. The clear base with a tonal green painted over the top is gorgeous.
Definitely nails for the minimalist gal, these are gorgeously simple and will last forever as you won't be able to see how much they have grown out because of the transparent base.
An almost geometric nail, perfect for the edgier girl who wants her nails to last her far beyond St. Patrick's Day. Nails like these will have the compliments rolling in long after the last piece of gold is collected from the end of the rainbow.
Green and gold complement each other so well, and these nails are no different. The shades match gorgeously and are the perfect nod to St. Patrick's Day.