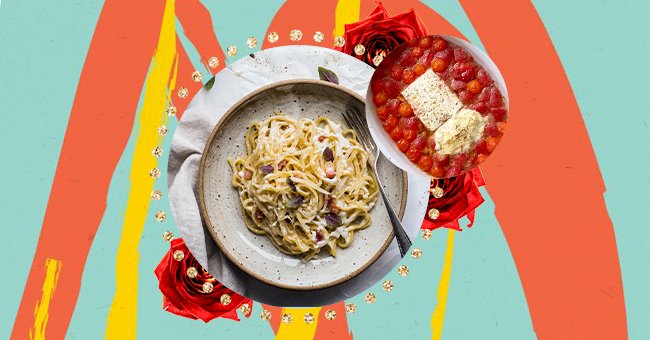 10 Variations To The Viral TikTok Feta and Tomato Pasta Worth Trying
The latest phenomenon that has gone viral in the world of recipes on TikTok is baked feta pasta. That is pasta seasoned with a base of feta and cherry tomatoes. It may seem absurd for purists, but according to the TikTok public, it is delicious and looks inviting and easy to prepare.
Recipes are certainly among the video categories that are most successful on TikTok. The savviest users know how to propose preparations and dishes by compressing them in sixty seconds of video.
Viewers feel encouraged to submit variations and reruns to be published in turn. This trend has generated videos with over seven hundred and sixty-six million views and has even spilled to other social media platforms.
1. The Viral Recipe
Preparing the pasta with feta and cherry tomatoes is straightforward. The base is a pan consisting of a central block of feta surrounded by cherry tomatoes and dipped in abundant olive oil. During cooking, add ingredients such as garlic, chili, and fresh basil.
When almost cooked, mix the ingredients and add the cooked pasta to mix it with the preparation. The recipe is not new. On the contrary, it has been circulating online well before TikTok existed. However, the instructions' ease and flexibility made pasta with cherry tomatoes and feta a success on TikTok.
2. Baked Feta Buffalo Chicken Style
TikTok creator, @thehungerdiaries, has shared a new take on the viral feta pasta recipe, and it's taking off as well. The dish combines mac and cheese and feta with buffalo chicken seasoning.
Popping this combination into a baking dish, mixing, and throwing it in the oven results in a creamy "perfect" pasta dish that will seemingly leave hungry bellies satisfied and dairy-intolerant bellies cramp-ridden.
3. Baked Feta Strawberry
Rather than use tomatoes, @thehungerdiaries made another variation with strawberries. She used fresh strawberries and added a splash of balsamic vinegar. Like tomatoes, strawberries release tons of juices as they cook, combining with the cheese to form a rich, luscious sauce.
And, with a liberal sprinkle of basil, you'll have a sauce that hits all the right notes: sweet, salty, and singing with fresh flavor. Though you can serve the strawberry baked feta with whatever you like, @thehungerdiaries used a green, spinach-based pasta.
4. Baked Feta With Tomatoes And Strawberries
For her third try, @thehungerdiaries combined the tanginess of tomatoes with strawberries' sweetness in this recipe. In this twist, she added feta and goat cheese to the center of her baking dish.
She also added honey as well as olive oil combined with salt and pepper. The hunger diaries baked this in the oven at four hundred degrees for thirty-five minutes. She added fresh basils and opted for spaghetti. She swears by the deliciousness of the dish, and it is something worth trying.
5. Baked Feta With Garlic
If you love spicy, then this is one recipe you should try. With the addition of a variety of pepper and garlic cloves, this recipe promises to be as tasty as it looks.
Besides the garlic cloves added, you can also add powdered garlic for more flavor. Finish off with basil and spinach to get the greens going.
6. Baked Feta With Mushroom
If baked feta with pasta sounds like the perfect combination, but you're not a fan of cherry tomatoes, this baked feta mushroom recipe will be the ideal option for you.
It features a mix of shiitake and brown-button mushrooms, red onions, purple garlic, spinach, and even pine nuts, which bring in an earthy, rich flavor. This dish's creator recommends using Persian or Bulgarian feta as she finds it creamier and less salty than Greek, but you can use whichever variety you prefer.
7. Vegan Baked Feta
Singer Lizzo joined in on the trend but made her version vegan. This is perfect for all vegan food lovers who want to join in and enjoy this delicious meal.
She also changed it up to fit her own dietary restrictions, using Spero's goat cheese-style alternative made from sunflower seeds and coconut oil. She also subbed out the typical pasta for Banza's chickpea penne and added some chili flakes, basil, and honey.
8. Replace Feta With Burrata
If you are not a big fan of feta cheese, then opt for Burrata. Burrata is an Italian buffalo cheese made from mozzarella and cream. Ereka Vetrini made the pasta her own by getting a little fancy and using creamy burrata cheese in place of the feta and changing up the vegetables with asparagus and delicata squash.
The burrata spin is a common one, but she offers a few good tips, including warming the burrata in water ahead of mixing it in and adding extra salt since it's not as salty as feta.
9. Switch It Up With Boursin
The original pasta went so viral that feta sold out in stores around the country, so people began looking for the best alternatives to use — and many landed on Boursin, the soft, creamy packaged cheese.
It's widely available, comes in just about the right size and shape to make the recipe for a few people, and does the same type of melting and mixing as the feta. Also, it comes with garlic and herbs already incorporated into the cheese.
10. Trade The Feta With A Spinach Artichoke Dip
This idea first made it to a Facebook group where people shared their favorite dishes made from Trader Joe's ingredients. Melvina Budiono took the baked pasta to incredible, brilliant new heights. Besides, this version has made a lot of waves.
Instead of the feta, she used the grocery store's spinach-artichoke dip. The frozen dip plops right into the dish, just like cheese, but turns it into a cross between the classic app and the viral pasta.