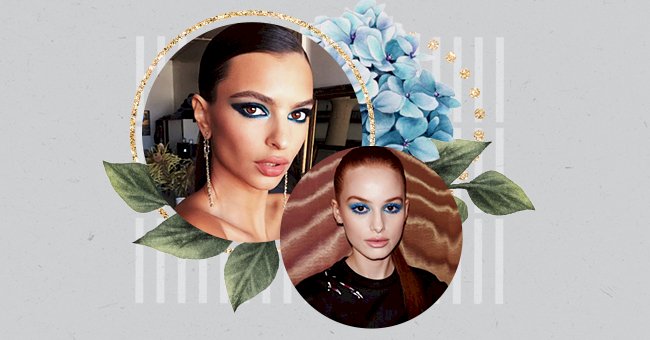 10 Ways To Pull Off 90s Inspired Blue Eyeshadow
Blue eyeshadow will always be iconic for its impact in the 90s and its significance in our pre-teen years. Now that we are a little older, it's time to relive the blue moment in a more chic way.
Most people's memories of blue eyeshadow come from the eyelid trends from the 90s and early 2000s. As young girls and teenagers, we experimented with the blue shades, and we must admit it wasn't our best look.
Now that it's 2021 and we have access to makeup tutorials, it's finally time to redeem ourselves. Take a look at the ten ways you can pull off blue eyeshadow without looking like a struggling tween.
Sparkling Sapphire
Shine as bright as Princess Diana's engagement ring with this stunning sapphire eyeshadow look. Grab your electric blue eyeshadow and eyeliner and go to town to create this Patrick Ta sapphire creation.
Graphic Blue Steel
Apply a grey-blue eyeshadow to your lash line and extend it to the outer corners for a winged effect. Blend the eyeshadow at the corner to your crease to create the graphic cat-eye effect, and you're done.
Striking Azure
This dramatic eyeshadow look is perfect for an evening event or a fun night out. Blend dark black and navy blue tones on your outer corner and contrast the inner corners with a pop of metallic teal.
Smokey Denim
This smokey eyeshadow look by Rihanna's makeup artist looks like the perfect wash for denim. Priscilla uses a blend of greys, navy blues, and cobalt to achieve this perfect color that we can't help but love.
Blue Swirl
What's not to love about a dual-colored blue eyeliner moment? This dazzling look needs two different colored eyeliners for an easy swipe or two other eyeshadows packed tightly for some glamour.
Icy Blue
This frosty shadow is a little chicer than its 90s ascendant and gives off snow queen vibes instead. All you need for the look is a sparkling baby blue cream or powder base shadow all over your lid and lower lash line.
Center Blue
This eye-catching makeup look draws attention to the eyes by placing a colored shadow in the center. Apply your preferred neutral hue on the lid and crease, and add a pop of blue in the center of the lid.
Blue Sky
Nobody really has many shades of blue shadow available right off the cuff. Make one shade of blue a monochromatic moment and blend it all over your upper and lower lids for a blue sky effect.
Not So 90s
This powder blue moment is a modern ode to the pastel flush of color that was popular in the 90s. A powder blue liquid eyeshadow does a fantastic job all over the lid, and you can add a blue liner for a pop.
Navy Pop
Tightliner may be something out of the early aughts, but this navy blue pop with a tiny wing looks so sophisticated. Simply line your eyes with a navy eye pencil and top it off with a navy shadow to make it smokey.