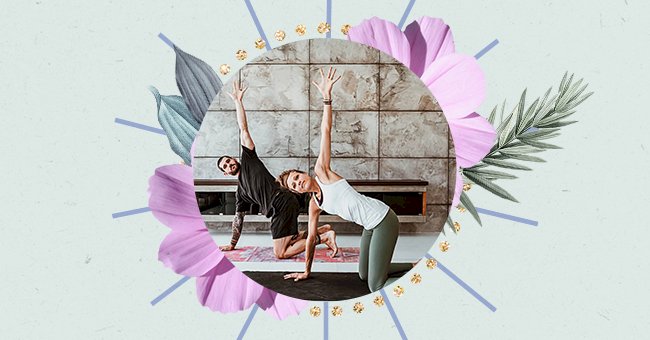 10 Yoga Videos That We Love To Follow At Lunch
Instead of spending the 15 minutes, you have left after the lunch break scrolling on Instagram, why not show some love to your body and take a 10 to 15-minute yoga class?
For remote workers, the WFH lifestyle has its ups and downs. Some people manage to separate life from work, but that isn't the reality for most of us.
When working from home, people tend to work more and book back-to-back meetings with fewer to no breaks and end up more tired and less productive. That said, if you're planning to take more breaks and would like to stretch a bit at lunchtime, here are the best yoga videos for you to follow at lunch.
15 Min Yoga for Your Lunch & Office Break
This is a short and sweet all-levels, 15-minute lunch break yoga routine. Flo brings us with his calm and relaxing style some asanas that are ideally performed before lunchtime. This routine is also suitable for a morning flow or any time of the day.
15 Minute Work Break Yoga Class
Erin Sampson shares in this practice a break you can take any time of the day- before, during, or after work to energize your body and mind with this short and direct yoga class. Don't worry if you're not working on your leggings today; you can do this practice even on your jeans.
Quick Strong Yoga Lunch Break | 20 Minute
If you have a bit more time and want to take the whole yoga experience, this is the perfect routine for you. Grab your yoga mat, your water, and your yoga apparel, and go all in with this all-levels, mid-day quick, and strong Vinyasa flow class.
8 minute Face Yoga To Do At Lunchtime
What about a quick and easy self-care moment during your lunchtime? This 8-minute face yoga lifting class to do at lunchtime or anytime in the day to lift the face and help you to destress. The good news is that you can do it with your makeup.
Office Break Yoga | 14 Min. Yoga Practice
Yoga With Adriene is the largest yoga channel on YouTube. In this quick video, you don't need a mat or change clothes. The only thing you need is 14 minutes off to stretch out, create space, connect with your breath, focus your mind and replenish your body.
Take 5 Yoga Break!
Are you short on time and don't have 10 or 15 minutes for a yoga practice? Try this 5-minute yoga break thoughtfully designed to connect you to your breath, fire up your core and stretch your whole body.
Work Break Yoga
Another 15-minute-ish work break for those who are hutched over during long hours on their computers. This sweet and easy yoga class is the perfect break from screens. Grab your mat and your yoga pants, and join Cat Meffan in this great class!
Yoga Workout For Full Body Results
Have you missed your morning class, workout, or HIIT? No problem, you can join Juliana Spicoluk on this 15-minute full-body workout that will tone and sculpt your entire body. Stretch and work both upper and lower body and finish this class feeling energized.
WFH Yoga Break | 10 Minutes
This quick 10-minute practice is one to come back to over and over. Maria Loida developed this class with remote workers in mind, and she gives you specific stretches for shoulders, arms, back, hamstrings, and chest.
Neck and Shoulder Therapy
Take 20 minutes of your day if your shoulders and neck are asking you to! This neck and shoulder therapy class will iron out all of the kinks and tension in the upper body, allowing you to move more freely and more comfortably in everyday life.