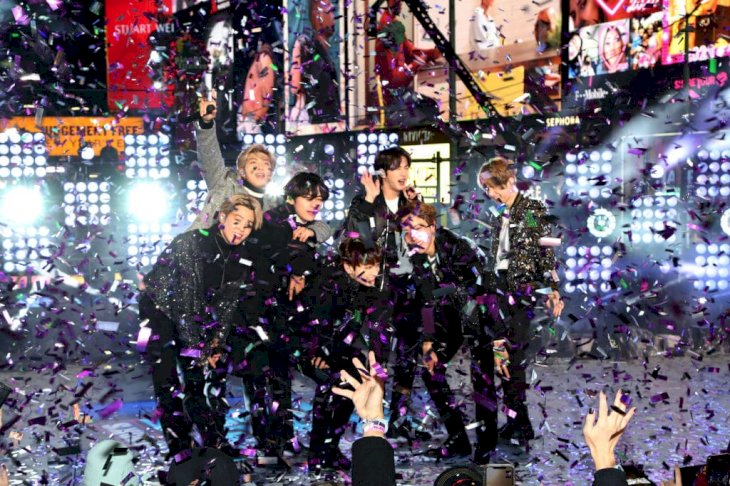 13 K-Pop Groups Worth Listening To At Least Once
Recent trends have introduced the world to the hidden wonders of South Korea. From delicious food to incredible beauty and skincare routines, the country has garnered massive western interest.
Another proud product to come out of South Korea is the extremely talented K-Pop groups that have many of us left with our jaws on the ground. Standing for Korean Pop, K-Pop embraces many different genres like pop, rap, R&B, EDM, rock, and more to create its own unique sound.
If you're intrigued by the idea of multi-talented artists or simply looking for some new music to indulge in, K-Pop may have something that catches your ear. Here are thirteen K-Pop groups worth listening to at least once.
1. BTS
BTS (방탄소년단) has gained massive worldwide success and many have dubbed the group the "most popular K-pop group" around the globe. The Big Hit Entertainment boy band has accumulated multiple accolades over the years including reaching number one on iTunes in more than 65 countries and a completely sold out U.S. stadium tour as well as bagging massive amounts of awards.
The group is made up of seven members i.e. RM, Suga, J-Hope, Jin, Jimin, V, and Jungkook. They have become known as something of a global phenomenon and have even spoken at the United Nations.
2. Stray Kids
JYP Entertainment's boy group Stray Kids (스트레이 키즈) has gained massive popularity within South Korea. The group currently consists of Bang Chan, Lee Know, Changbin, Hyunjin, Han, Felix, Seungmin, and I.N.
Woojin left the group on October 27th, 2019. The group was created through a survival program and debuted on March 25, 2018. They have gone on to win multiple awards including 2019 Golden Disk Award Rookie Artist Award and the 2019 Seoul Music Awards for Best New Artist.
3. EXO
Exo is a unique mix of South Korean and Chinese singers creating a boy band based in Seoul. The band is signed to SM Entertainment and was formed in 2011.
They debuted in 2012 with nine members. The members include Xiumin, Suho, Lay, Baekhyun, Chen, Chanyeol, D.O., Kai, and Sehun.
4. Monsta X
Monsta X is a South Korean boy group that was created through a reality survival program called No.Mercy. The show was created by Starship Entertainment.
Since November 2019, the group is composed of six members including Shownu, Minhyuk, Kihyun, Hyungwon, Joohoney and I.M. They debuted in 2015.
5. NCT: NCT U, NCT 127, NCT Dream, NCT 2018, and WayV
A group that is confusing but worth understanding is NCT (엔시티). Their full name is "Neo Culture Technology."
The boy group reportedly has an unlimited number of members. However, the group currently consists of Taeyong, Taeil, Johnny, Yuta, Kun, Doyoung, Ten, Jaehyun, WinWin, Jungwoo, Lucas, Mark, Xiaojun, Hendery, Renjun, Jeno, Haechan, Jaemin, YangYang, Chenle, and Jisung.
Since they consist of so many members, the band splits into sub-units to promote. Currently, there are five main subgroups called NCT U, NCT 127, NCT Dream, NCT 2018, and WayV (NCT China). Each group has a different concept and purpose while still sticking to the main NCT theme of "limitless."
6. SEVENTEEN
K-Pop is known for creating massive groups that work together like a well-oiled machine. The perfect example of this is Seventeen (세븐틴).
The band is made up of 13 members: S.coups, Wonwoo, Mingyu, Vernon, Woozi, Jeonghan, Joshua, DK, Seungkwan, Hoshi, Jun, The8, Dino. They debuted on May 26, 2015, under Pledis Entertainment but since 2020 the group technically falls under Big Hit Entertainment who became Pledis' major shareholder.
7. BLACKPINK
Blackpink (블랙핑크) is one of the few female groups that people immediately think of when talking about K-Pop. The group is made up of four members i.e. Jisoo, Jennie, Rosé, and Lisa.
After debuting on August 8th, 2016 under YG Entertainment, the group appeared to catch the eye of international fans. Their popularity in the US helped them land a contract deal with U.S. label Interscope Records in 2018.
8. GOT7
JYP's GOT7 (갓세븐) has made a name for themselves as charismatic and intriguing performers. The 7 member team debuted on January 16, 2014.
The multi-nationality team includes JB, Mark, Jackson, Jinyoung, Youngjae, BamBam, and Yugyeom. Many of the members also have solo careers and projects.
9. ATEEZ
One of the newer groups to hit the K-Pop market is ATEEZ (에이티즈). Made up 8-members, the KQ Entertainment group has slowly carved a name for themselves in the industry.
The group consists of Hongjoong, Seonghwa, Yunho, Yeosang, San, Mingi, Wooyoung, and Jongho. They debuted on October 24th, 2018 with the songs. Less than a year later in July 2019, the group also signed with USA record label RCA Records.
10. Tomorrow X Together
Newbie on the block, TXT (투모로우바이투게더) is Big Hits newest boy group. The 5-member group features Yeonjun, Soobin, Beomgyu, Taehyun, and Huening Kai.
The full name of the band is actually Tomorrow X Together and they debuted on March 4th, 2019. The band recently had a comeback and has released a few new songs that are definitely worth checking out.
11. TWICE
TWICE (트와이스) is a girl group under JYP Entertainment. The group is made up of Jihyo, Nayeon, Jeongyeon, Momo, Sana, Mina, Dahyun, Chaeyoung, and Tzuyu.
The band debuted on October 20, 2015, after participating in the survival show Sixteen. In 2020, JYPE partnered with Republic Records to promote TWICE to a worldwide audience.
12. SHINee
An older group on the list but one that has made a defined mark on K-Pop as we know into is SHINee (샤이니). The SM group debuted way back in 2008 and made many waves in the industry at their peak.
The band initially consisted of five members however Jonghyun passed away in December 2017. Currently, SHINee consists of Onew, Key, Minho, and Taemin.
13. SuperM
Marketed as the ultimate K-Pop supergroup, Super M is a 7-member group under SM Entertainment (Korea) and Capital Records (USA). The group consists of members from other SM groups.
Needless to say with the combined talents of Taemin of SHINee, Kai, and Baekhyun of EXO, and Taeyong, Mark of NCT, and Ten and Lucas of WayV the group is a force to be reckoned with. The group debuted in the United States on October 4th, 2019, and focuses mainly on promoting outside of South Korea.