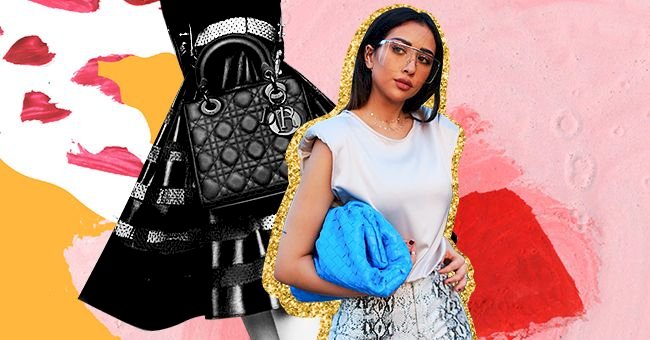 5 Designer Bags Every Woman's Needs In Her Closet
New handbag trends, whether its the oversized bag or the tiny can't-even-hold-a-lipstick bag, make it into street style every season. We eagerly look for these accessories to add to our wardrobes.
A good handbag is not just an accessory but an investment piece. If you are willing to spend a paycheck on something, try buying a designer handbag. Not only will it last you forever, but it can be passed on to future generations. These are the 5 must-have bags for 2020:
Bottega Veneta Pouch
The bag, which gained popularity in 2019, looks likely to stay in 2020. The pouch has been searched on the shopping platform, Lyst, 240 times a day.
The cloud-like pouch is definitely ticking the right boxes for people looking for a 'minimal' look. While the 2019 Bottega Veneta pouch shouted simplicity and neutrality, the 2020 version is set to be a hit in zebra print.
Christian Dior Lady Dior Bag
The bag, created in 1994, succeeded in becoming a classic, mostly thanks to Princess Diana. Its original name of 'chouchou' (French for favorite) was changed to Lady Dior as a tribute to Lady Diana Spencer, as Princess Diana was known before her marriage. She fell in love with it and carried it faithfully for years.
This bag is a perfect investment piece. The size and color remain the same, so you don't need to worry about getting the latest version.
Fendi Baguette Bag
The humble Fendi baguette is an iconic accessory and is often cited as the first It bag. The 1994 baguette-style remains popular 23 years later and is a brand worth investing in.
The bag has made a big comeback since it was made cool by Carrie in Sex And The City. Fendi relaunched the baguette in SS19 at Milan fashion week.
Chanel Quilted Bag
The bag, designed by Coco Chanel herself in 1955, screams luxury. The quilted design is integral to the brand's history.
You can choose between the 2.55, which has a rectangular 'Mademoiselle' clasp and an all-metal strap or the flap bag, which has the interlocking CC clasp and a chain strap interwoven with leather. You can't go wrong investing in one of these bags.
Louis Vuitton Alma Bag
The unmistakable Louis Vuitton logo and its practical shape make this bag a popular choice. The iconic bag has an 80-year history; it was the second handbag created by Louis Vuitton and embodies the classic city style with its elegant structured shape.
According to rumor, Alma was originally made as a custom order for Coco Chanel in 1925, and she gave permission to make it for the public. The Alma bag is one of the most recognizable handbags in the world and worth investing in.