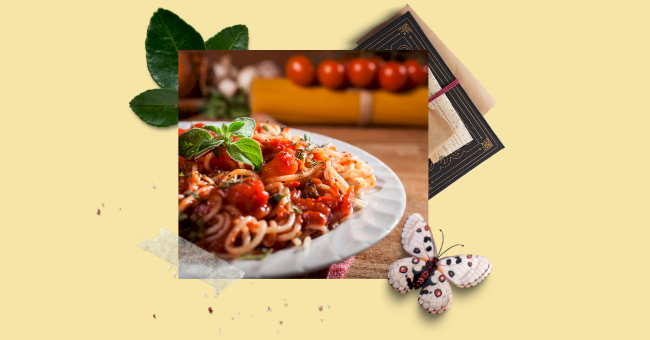 5 Easy To Follow Recipes From TikTok's Pasta Queen
TikTok has become the ultimate resource for recipes, cooking tips, and dinner ideas. Amongst the many chefs and home cooks on the app, The Pasta Queen is a fan favorite.
Nadia Caterina Munno is better known as "The Pasta Queen" has risen to fame on TikTok, Instagram and Youtube for her delicious and simple cooking videos. While there are many questionable recipes for pasta out there, hers are not one of them.
The Italian chef who now lives in Florida ensures her recipes stick to her roots making them authentic and "just gorgeous." Here are our five favorite recipes from The Pasta Queen.
1. Simple Lasagna
Nadia boasts that this is the easiest Lasagna recipe you will find. She uses simple ingredients like meat sauce, lasagna sheets and two types of white cheese. Needless to say, we definitely agree that this is far easier than the twenty step recipes we've seen before!
2. Vegan Puttanesca
While no one thinks of vegan and gluten-free when they think of pasta, The Pasta Queen proves it can be done. Her Vegan Lady of the Night sauce combines garlic, eggplant, grape tomatoes, cooking water, salt, olives, capers, and crushed tomatoes. She mixes it with gluten-free pasta to create the ultimate guilt-free dish.
3. Creamy Potatoe Pasta
This one is the ultimate cheat day meal considering it's essentially starch on starch. However, who could resist this creamy and "gorgeous" pasta!
4. Signature Creamy Mint Pasta
For this one, Nadia promises a "new and unexpected flavor." Starting as usual with crushed garlic in olive oil, this recipe is packed with fresh ingredients including mint and grated Pecorino Romano.
5. Real Fettucine Alfredo
According to The Pasta Queen, this is the recipe to satisfy your creamy mac and cheese craving without the lactose. This ten-minute pasta dish only requires butter, Fettucine, and Parmigiano cheese making it perfect for a mid-week meal.