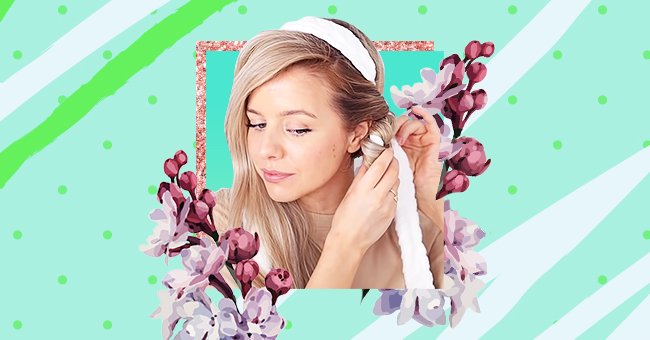 5 Heatless Methods To Curl Your Hair
Heat can be damaging to the hair if the correct precautions aren't taken, but that doesn't have to be the end of your bouncy curls.
If you are concerned about hair growth and your hair's overall health, you may know that excessive heat is damaging to your precious tresses. You may end up with breakage, frayed ends, thinning hair, and stunted growth.
These methods are simple enough for the person who doesn't like spending hours in front of the mirror using a bajillion products to get their hair looking cute.
Bathrobe Curls
This viral trend has taken Tiktokers, YouTubers, and Instagrammers by storm. What you need to achieve the look, you ask? Well, just a bathrobe tie, some water, and a few hours of patience or a peaceful night's rest, and voila! You've got banging curls.
You place the bathrobe tie over your head so that it comes down on both sides like pigtails. Thereafter, twist your hair around either side of the tie. Secure with a hair tie, clips, or pins. After a few hours ( or in the morning when you arise from your slumber), unravel, and there you have it.
Waveformers
Another viral sensation, waveformers, were all over the socials before 2020. Not only will you get a wavey result, but it can also help with stretching your hair if you happen to experience shrinkage.
The process is relatively simple. YouTuber Natural Reign used only two products to achieve the look, a cream styling lotion, and a curling custard.
T-shirt Curls
According to Seventeen, YouTuber Kayley Melissa designed this rather unorthodox way to get curls. The "halo" method results in loose curls using a t-shirt.
Start off by twisting your T-shirt into a halo shape. Then wear your DIY halo over your head and tuck pieces of your hair around it, securing your hair using pins. Leave overnight and unravel your bouncy curls in the morning.
Bantu Knots
Not only are Bantu knots a fantastic protective hairstyle, but they're also an excellent method to achieve heatless curls. It's also ideal for shorter hair lengths.
Section your hair and then twist it till it feels relatively taut. Then start to wrap the hair around itself. Washed and well-moisturized hair will yield the best results and prevent frizz
Braiding
"You can do one braid, or many—play with the shape and placement of the braids to work with your hair texture and where you like to get body, volume, and texture best."

celebrity stylist Kristin Shaw says.
Remember that the more braids you do, the thinner the braids, which will result in a tighter curl, while fewer braids may give you more of a wavier look.