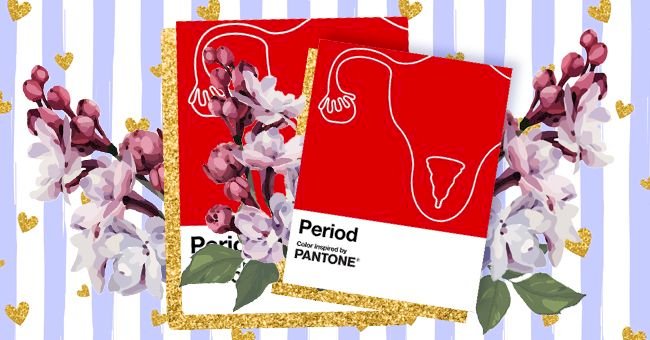 5 Impressive Projects Working Hard To Break Period Stigma
From the Crimson Tide to That Time, there are over 5,000 cute terms to describe menstruation. Hiding one's period is an expected social norm.
If you've ever caught yourself hiding a tampon up your sleeve or blaming your cramps on a stomach bug, then you know exactly what we are talking about. The stigma around women experiencing menstruation has been ingrained into society.
Periods across the globe are often looked upon as dirty and many cultures consider women on their periods to be untouchable. Yet, menstruation is a normal and healthy occurrence that most women will experience. These brands have had enough and are deciding to take a stand.
1. Pantone
The color company Pantone recently released a candy apple shade of red called "Period." The color intends to draw change the way periods are viewed by linking it to a more cheerful color.
"An active and adventurous red hue, courageous Period emboldens those who menstruate to feel proud of who they are. To own their period with self-assurance; to stand up and passionately celebrate the exciting and powerful life force they are born with; to urge everyone, regardless of gender, to feel comfortable to talk spontaneously and openly about this pure and natural bodily function."

explained vice president of the Pantone Color Institute Laurie Pressman about the color that is part of a partnership with the menstrual cup company Intimina.
2. Cycle Seeds
"Western cultures have labeled periods as dirty for a long time — as something that should be experienced in secrecy,"

says Iris Josephina Verstappen, the 28-year-old founder of Cycle Seeds.
Cycle seeds plan biannual holidays to tropical beaches like Menorca and Malta where women have a chance to connect with other women and openly discuss and learn about their cycles. Iris aims to help women to unlearn and release shame, guilt, fear, pain, and trauma associated with innately female experiences such as periods.
3. OHNE
Founded by Leah and Nikki, OHNE was created with the sole purpose of changing how periods are viewed. They aim to end the shame and the stigma that surrounds periods.
"Periods are not taboo, and treating them as though they are leaves a lot of people in the dark about how their bodies function. For us, community comes first. We want to create space both online and in real life for women and people with vaginas to talk freely about periods, menstrual cycles, and their bodies without the shame and stigma that is all too often attached to these topics."

said Nikki to Vogue.
4. Oluna
"Everyone deserves dignity"

reads the tagline of Oluna.
The company launched its campaign to change the way periods are viewed and reduced period poverty. They plan to donate a year's supply of period products to an American in need for every pair of pants sold.
5. Diva Cup
Another brand championing period empowerment is DivaCup. The reusable menstrual cup aims to change how women approach their monthly period in order to give them more time and freedom during the day.
"Periods have been shame-y and sterilized for so long that the only way to really connect with it is just by looking at your blood and accepting it,"

says Sable Yong, a digital beauty editor at Allure, who switched to DivaCups last year.