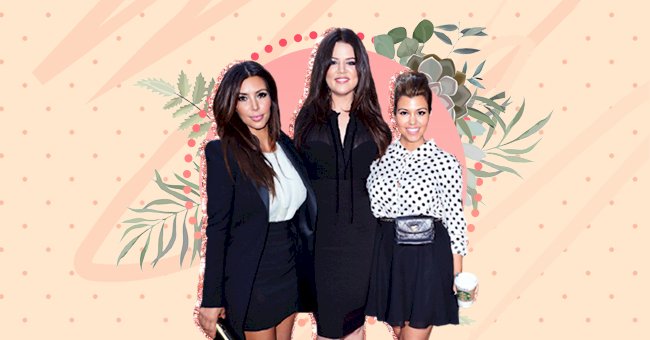 5 Jobs the Kardashian Sisters Had Before Becoming Famous
Kendall and Kylie seemingly escaped the curse of being normal. Unfortunately Kim, Kourtney and Khloe weren't that lucky.
While Kim, Kourtney and Khloe are known for being reality stars, before all the fame, they were pretty normal. Well, as normal as attending pre-school with Paris Hilton can be.
The sisters are no strangers to hard work even if their jobs have been unconventional. I mean, they certainly weren't waiting tables.
1) Kourtney was a Movie Production Assistant
Imagine being paid to yell "cut" and "rolling" all day, Kourt doesn't have to imagine, it was her first job. In all honesty, it was probably a lot easier (and definitely more glamorous) than most first jobs.
Now the reality star gets to be on the other side of the camera. Funny how that worked out.
2) Kim worked at Robert Kardashian's "Movie Tunes"
During high school, Kim K had a part time job at her fathers' music marketing firm where she claims she developed a love for shopping.
According to Kim, she discovered eBay while working for Robert Sr. Her inner business woman was born when she realised she could profit off selling clothes she doesn't wear anymore on eBay.
3) Kim also worked as a stylist
It's safe to say Kim K has been grinding since before fame. While she was working at Movie Tunes, Kim was also working as a stylist.
While styling the likes of Lindsay Lohan and Paris Hilton is a far cry from selling movie tickets or washing cars, I respect the stars' hustle.
4) Khloe was an assistant
That's right, before becoming a reality star, Khloe was Nicole Richie's assistant. Much like Paris and Kim, Khloe and Nicole were friends from school days.
Khloe needed a job and Nicole needed an assistant. The rest is history.
Most fans know that one of the reasons the sisters agreed to reality TV was to promote their clothing store. In fact, most of the show's spin-offs were centered around DASH stores.
The trio never expected Keeping Up With the Kardashians' success, they just saw it as the perfect publicity for their store. Alas, the sisters became so busy with the show that they ended up closing DASH doors in 2018.