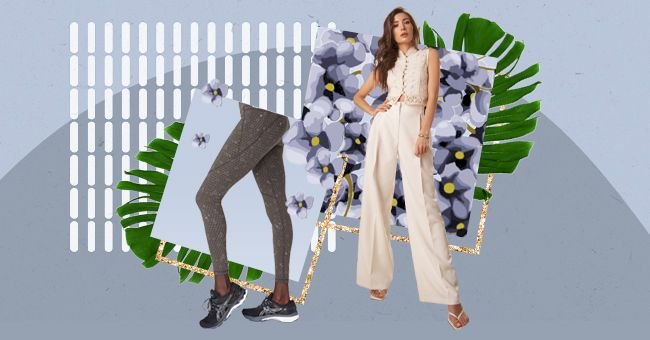 5 Pants Options More Comfortable Jeans
Jeans are the go-to item for a casual outfit, but they aren't as comfortable as one would like. Although jeans have set the standard for cute and casual pants, there are many options out there.
If you call a friend before a lunch date and ask what they're wearing, their answer is probably 'jeans.' Denim pants have made their mark as the go-to casual pant for decades, but they can be uncomfortable.
On some days, you want to slip into a pair of comfortable sweatpants, but you have somewhere to be. A pair of jeans would usually be the next pick, but we have five more comfortable options that are just as cute.
Leggings With Pockets
Are you tired of running errands in jeans just because your favorite pair of leggings doesn't have pockets? Say no more because there's finally a solution to the pocket-less legging problem that's held us back for years.
These leggings pockets have enough space for your phone and bank card so you can be on the go. You don't even need to step out of your leggings when you get home which can lessen your laundry by a ton.
Tie Up Paperbag Pants
These stylish pants are not too tight for comfort but also not too loose for work and the outside world. Paperbag pants are also quite popular, which means you can find them basically anywhere at an affordable price.
Faux Leather Leggings
Faux leather pants are one of the chicest items you can add to your closet as a fashion lover. Thankfully, they are available as leggings, so you can still look stylish while staying comfortable.
You can wear these bottoms on a night out to dinner, to a formal event, or even at home on laundry day. All you need is some good styling to dress these pants up or down for your preferred occasion.
Palazzo Style Pants
Go with the flow in this vintage pant style that is too cute not to wear out on a date. These airy, loose-fit items are perfect for work, sitting on your couch, or going out with friends, so you should grab ten just in case.
High Waisted Flared Pants
The 70s have made a big fashion comeback, and their flared pants style is one of the hottest trends. You've seen flared, high-waisted pants on almost every fashion influencer on Instagram for a reason.
These pants are soft to touch, stretchy and comfortable to wear, and exceptionally stylish. Social media users have even dubbed this pants style as 'happy pants' because that's how they make us feel.