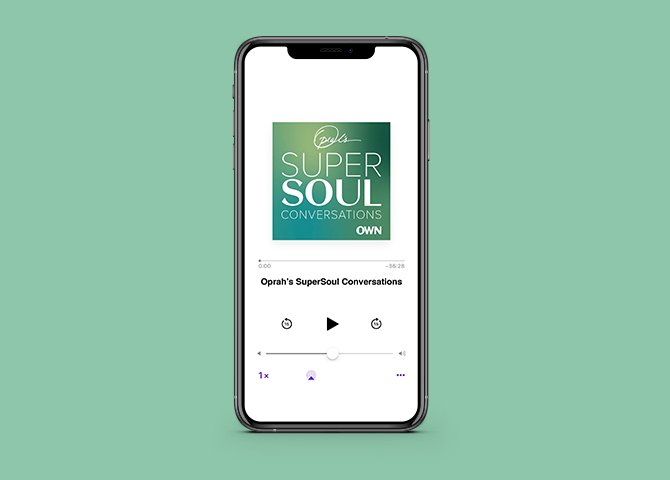 5 Podcasts For Anyone Needing Motivation
Everyone wants to better themselves in some way whether it is their health, wellness, fitness, finance, business, goal-setting, or just overall personal improvement. However, to make a change one needs to be truly motivated which is often difficult to achieve.
However, podcasts have become an effective and impactful way to find motivation and self-help strategies. Here is a list of five podcasts that will inspire even the laziest person to achieve their goals.
1. Oprah's Super Soul Conversations
Oprah Winfrey has always been a motivational influence and she's putting her abilities to good use with her podcast Oprah's Super Soul Conversations. The podcast claims to "awaken, discover and connect to the deeper meaning of the world around you with SuperSoul."
It features "Oprah's personal selection of her interviews with thought-leaders, best-selling authors, spiritual luminaries, as well as health and wellness experts" and is "designed to light you up, guide you through life's big questions and help bring you one step closer to your best self."
2. TED Talks Daily
TED Talks have become extremely popular over the years and offer real and approachable content that strikes a chord with the masses. Every weekday, the platform releases talks in audio format covering everything from Artificial Intelligence to Zoology.
It is a collection of talks given at TED and TEDx conferences around the globe that strive to inspire and motivate listeners, and viewers as the talks are also available in video format on Youtube, to strive for the best.
3. 20 Minutes With Bronwyn
Need something different? 20 Minutes with Bronwyn aims to motivate productivity to help grow your business, mindset, and impact. Hosted by communication coach, writer, and speaker Bronwyn Saglimbeni, the podcast is aimed at entrepreneurs and leaders and encourages them to improve their communication and overcome their minimizing habits.
4. Bucci Radio
Bucci Radio relies on motivation by listening to others who have become industry leaders. Hosted by fitness, lifestyle, and entrepreneurial leader Amanda Bucci the podcast was "created with the purpose of diving deeper into health, fitness, mindset, and entrepreneurship in order to provide MORE to those who are hungry for it and create a community of goal and growth-oriented people, who want to consume incredibly valuable insight and information. Our goal is to #IGNITEYOURFIRE to take massive action in your own life by learning from experts on health, fitness, entrepreneurship, and the mindset necessary to succeed and be happy."
5. The Happier Podcast
Happier with Gretchen Rubin is a podcast for those looking for inspiration to create more happiness in their life. Host, Gretchen Rubin, discusses daily habits and their impact on the overall quality of life. She uses a humorous approach to tackle subjects like work, friendships, productivity, and creativity as well as offering simple tips to help improve one's overall happiness.