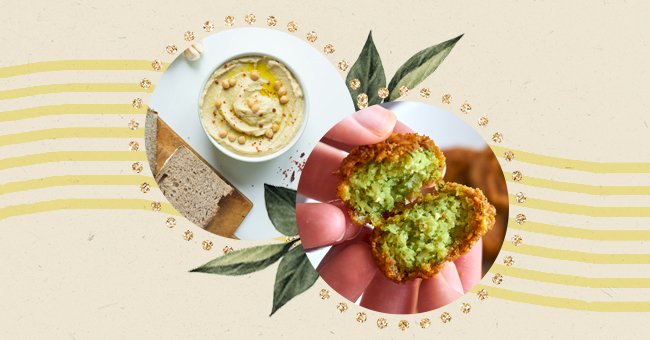 7 Vegan & Vegetarian Palestinian Dishes To Try ASAP
Whether you're new to a plant-based diet or have been for a while, these Palestinian dishes will make you hungry and asking for more!
I love traveling, and trying new cuisines and dishes is like a hobby to me. Palestinian cuisine has many different and delicious options for vegetarians and vegans. And even if you've been on a plant-based diet for years, it's always a good idea to add new recipes to your repertoire, right?
From vegan shawarma, hommus to shakshouka, the Middle Eastern food recipes featured here travels around different countries around Palestine and bring you the top seven plant-based Palestinian dishes to try.
Shakshouka
Often eaten at breakfast or brunch, Shakshouka is such a simple and easy dish but yet flavorful and very delicious. The eggs are cooked in a bed of tomatoes, tomato sauce, onions, carrots, leeks, and many different spices in the original recipe.
Falafel
Falafel is a delicious ball of chickpea and herb that can be fried or baked. You can stuff your pita bread, salad, sandwich, or wrap with falafel and sauce. The secret to a delicious and authentic falafel lies in the herbs, as you'll learn in this video.
Vegan Shawarma
Traditional shawarma is made with meat (lamb or chicken). In this vegan-friendly version, you can use portobello mushroom, or if you're craving for something more meat-like, you can search for 'seitan shawarma' on Google or YouTube.
Hummus
A simple mixture of chickpeas, olive oil, garlic, tahini sesame paste, lemon juice, and seasoning, hummus is an internationally popular dish and a plant-based eaters' best friend! You can eat hummus as you wish, but it's traditionally eaten as a dip for vegetables or a flavorful filling for flatbreads.
Vegan Mujaddara
With a shortlist of ingredients easily found in your cupboards, such as lentils and rice, Mujaddara is highly nutritious, yummy, and filling. You can serve it with toppings like garlic-flavored yogurt, fresh onions, and it's served with flatbread like a pita.
Makdous
Eggplants are a staple throughout the Middle Eastern Cuisine, starring many dishes like the popular babaganoush. Makdous is made with small-size boiled eggplants stuffed with a mixture of roasted red peppers, walnuts, garlic, and salt.
Rummaniyeh
Rummaniyeh is one of the oldest dishes coming out of Gaza and Yaffa in Palestine. Originally made with meat, Rummaniyeh now comes with eggplant. Besides eggplant, the dish combines other ingredients such as olive oil, garlic, flour, pomegranate juice, cumin, and coriander.