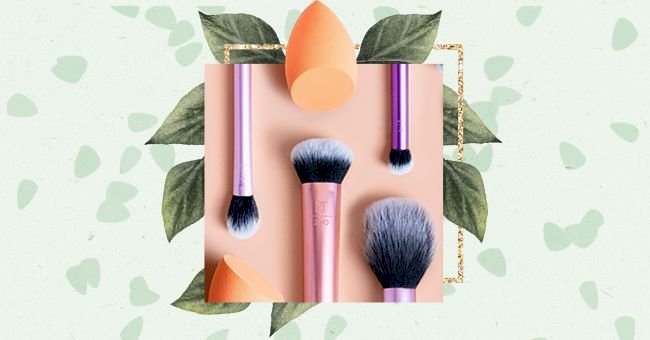 8 Brushes Every Makeup Beginner Needs In Their Kit
If you have one or two makeup brushes that you used for just about everything, it's time to level up your makeup game, girl! These are the eight brushes you need to add to your kit right away.
Having the specific brush for its particular application can make the whole difference in your makeup and leave a flawless finish we all want.
If you're a makeup beginner and have no idea from which one (or ones) you should start, here's a quick and easy guide to the main makeup brushes you should consider adding to your necessaire.
Foundation Brush
While using a makeup sponge or even clean fingers is a go-to option for liquid foundation application, a brush is a must-have for powder foundations. However, foundation brushes are perfect for all kinds of foundations, as most of them provide full coverage without the need to cake on the product.
Blush Brush
The blush brush can also be used for bronzer and powder. They're pretty similar in structure, so you can invest in high quality and use them in three different ways. Find a brush with long, fluffy bristles and a dome shape so that you can evenly apply the powder pigments to your face.
Concealer Brush
Concealer brushes are developed specifically aiming at small areas that you wish to conceal. They offer a more hygienic and better finish look. Another option for concealer brushes is the small sponge doe-foot applicator from the concealer tube or cleaned fingers.
Highlighter Brush
Highlighters can make any makeup stand up and look pretty. The highlighter brush comes in two shapes: a long, tapered brush with long bristles if you wish to have a subtle and diffused effect. Highlighter brushes with dense and short bristles give a full-glow and super bright look.
Blending Sponge
Blending sponges are an alternative for foundation brushes and are excellent for heavier, full-coverage foundations and concealers. The trick to use the blending sponge is to dampen it with water so that it doesn't soak up all your foundation or concealer.
Fan Brush
Perfect for contouring or applying highlighter under the cheekbones and to sweep away fallout makeup under the eyes, the fan brush has flat and fanned out bristles to give it a very distinct silhouette that's much different from all the others.
Eyeshadow Shader Brush
The eyeshadow shader brush is typically rounded at the tip and flat. They're a must-have for those looking for opaque and even layers of eyeshadow on their lids. A pro-tip: To deepen the opacity of your eyeshadow, you can spray it with a setting spray before starting the makeup.
Kabuki Brush
This short and chubby brush is a classic. Use it to apply liquid foundation from medium to high coverage and body makeup. The density of the brush makes it perfect for packing on superfine powders or mineral foundations for a fuller-coverage finish.