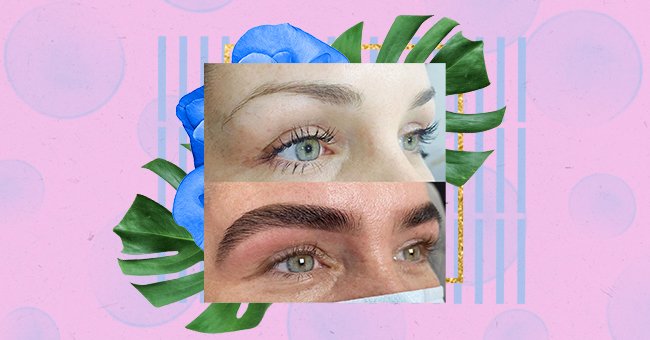 A Comprehensive Guide To Eyebrow Laminations
Eyebrow trends come and go every other year, and we can't get enough of them yet. The latest eyebrow trend is the eyebrow lamination process which has been described as a microblading alternative.
The shape, shade, and density of your eyebrows can change your appearance within seconds. Eyebrows are right by the focal point of your face, explaining why we're obsessed with them.
First, it was all about thin-lined plucked eyebrows, and now it's about full and fluffy hairs. Take a look at how eyebrow laminations can give you a semi-permanent full and fluffy eyebrow look in minutes.
What Is Eyebrow Lamination?
Eyebrow laminations are a treatment that results in a full, ultra-high shine effect on your eyebrows. Brow artist Melanie Marris explains the three-step eyebrow lamination process and what results to expect.
"Eyebrow lamination is a three-step treatment meant to straighten out the brow hair,"

Says Melanie Marris
The first step is applying the lifting cream, which breaks down hair bonds so they can move freely. After that, the lamination process comes in, which is just pressing down cling wrap on the product-soaked brows.
After 8 - 10 minutes, a neutralizing cream is applied then more cling wrap is pressed down for 10 minutes. Lastly, the brow artist would apply an oil treatment to protect the brow hairs from dryness and damage.
Post Lamination Treatment Results
A well-done eyebrow lamination will result in photo-ready eyebrows that everyone dreams of. After your lamination, your eyebrows should look less sparse, more defined, and shinier than ever.
An excellent eyebrow artist should shape and trim our eyebrows for the most desirable results. You may also notice the eyebrow hairs are more manageable after this treatment, making them easy to change up.
Many also notice that their faces look lifted after an eyebrow lamination appointment. This is due to artists being able to lift your brows' arches with one simple brush after straightening the hairs out.
Who Should Get This Treatment?
Eyebrow lamination a non-invasive treatment, making it suitable for most people. Although the process is non-invasive, it includes using chemicals on your face, so it's always best to proceed with caution.
Eyebrow lamination is perfect for people who have thinning hair from age or illness. It is also ideal for those who have gaps from overplucking or waxing and those with hairs that are unruly and challenging to shape.
A lamination treatment can last for up to two months, making it a less permanent option than microblading. It's also less invasive, expensive, and risky than needle-based eyebrow treatments.
However, those with sensitive skin, ailments such as eczema and rosacea should avoid this treatment. The chemicals from the lifting cream can irritate the skin significantly if it is already compromised.