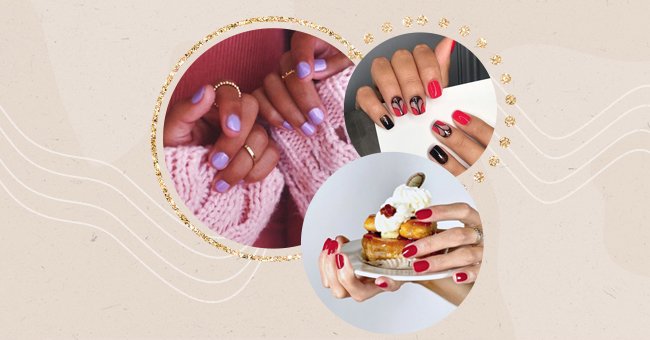 A Comprehensive Guide To Picking A Nail Shape
Now that we can go back into salons and get our nails done by professionals again, there will undoubtedly be a surge in people getting their nails done and trying out shapes and designs that they never have before.
If you are one of those who has always just got a classic french manicure or one solid color on top of an oval or square nail but are looking to get a little more adventurous with your nails, this article is especially for you.
Here are all the different nail shapes you can ask for the next time you get a manicure.
Round
The classic round nail is something that most people are accustomed to and might be more comfortable for many people to wear because it is similar to the shape that most people's natural nails grow in. This shape works with any color or design.
Oval
Oval nails are similar to round nails but are thinner at the top and tend to be longer than round nails. If you want a slimmer-looking nail but want to remain classic, then the oval nail is the perfect nail shape for you to try out.
Square
Square nails were something of a fad in the early '90s and have recently begun making a comeback. This nail shape is easy to wear and can be made quite long because it is also quite a durable nail shape to wear.
Squoval
If you're thinking about getting oval or square nails but can't pick between the two, then squoval nails are your best bet. They are a mixture of the two nail shapes and are perfect for any color or design because the shape is understated.
Almond
Almond nails are a fan favorite at the moment. Almond nails have become the new oval nails and are becoming the 'classic' nail shape most people go for when getting their nails done. The almond is slightly thinner than the oval and has more of a peak at the tip of the nail.
Coffin
This nail shape sounds foreboding, but it is simply because the shape of the nail resembles that of a coffin. The nail shape itself is beautiful as well as versatile. This nail shape can be a medium or long length, and the shape is fairly durable.
Stiletto
Stiletto nails are not for everybody simply because they are not as easy to wear as other nail shapes on this list. Stiletto nails are a sexy nail shape but require some practice to use them, so it's probably best not to get these as your first set.
Ballerina
Ballerina nails are similar in shape to coffin nails, but they take on a softer feel. This nail shape is perfect for the person who wants to remain classic but on-trend at the same time. While any color or design works with these nails, nude colors complement the shape best.
Lipstick
If you have always been the one to stand out from the crowd, the lipstick nail shape is the perfect shape for you to try. It is an incredibly edgy nail shape that takes on the look of a brand new lipstick. If you want to take a look to the next level, be sure to add an edgy design.
Flare
Flare nails went out of fashion quite some time ago and were even frowned upon for a while, but they're back and better than ever! The best nail design to pair with this nail shape is, of course, a french manicure, which truly accentuates the shape.
Edge
Edge nails are some of the cutest nails that you will ever wear. They are edgy and classic at the same time. They provide both fun and class and can be worn with a myriad of different colors and designs.
Mountain Peak
Mountain peak nails are something of a mixture between edge nails, oval nails, and almond nails. It is a versatile shape that can be worn with many different colors and designs and is fairly new, so it is trendy.