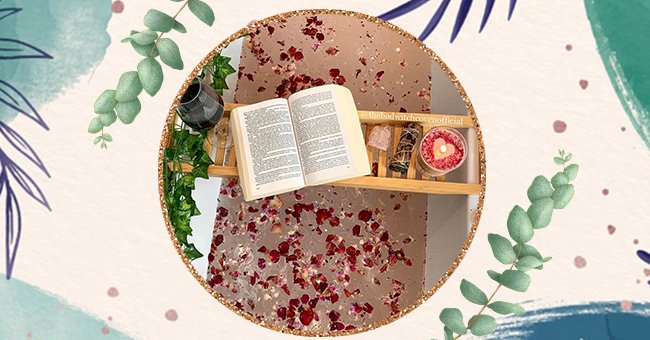 A Guide To Creating Trendy TikTok 'Bath Tea' At Home
What's more relaxing than a bath? The new 'bath tea' trend on TikTok is completed with a glass of wine (or if you fancy a champaign, mademoiselle), relaxing music in the background, and a few scented candles, of course.
The days of movies' foam baths are long gone — the perfect bath looks far more straightforward, but it has more to do than just adding soap to the bathtub.
There are various options to choose from and transform a simple shower time into a self-care moment, from bath bombs to velvety bubbles to Himalayan salts.
The ritualistic self-care practices trending on Tik Tok and Instagram under the #witchtok have inspired thousands of people to take bath time seriously. After all, cleansing is an integral part of healing!
Do you want to learn how to create this special Tik Tok bath tea at home? Simply follow our five-step guide to learn how.
Buy some reusable muslin tea bags.
Start by buying muslin (best if they're reusable) tea bags to put your infusion. There a few options on the internet, depending on your region.
Add some hints on how to choose the right ones and what to look for etc.
Prepare your infusion
You can choose a 'recipe' or simply select the ingredients you're most fond of. Chamomile and dried lavender have relaxing properties, for example. If you have sore muscles, try sea salt crystals and dried arnica. Dried flowers and essential oils are also good ideas.
What about a new moon ritual? Take your witch skills to the next level and connect to the lunar energy. It clears your home's energy and it helps with manifestation.
Add some witchcraft
We've mentioned candles and incense, but seriously, the sky is the limit here. If you want to add a magic spell and give a special energy boost to your chill time, make sure you have the right supplies.
You can bring up some crystals, burn some sage or palo santo. Or go a more traditional approach and opt for basics like Himalayan salt.
Time to brew
Now that everything is settled bring your blended ingredients in the tea bag and let it infuse with the water. Then, just sit back, relax and enjoy!