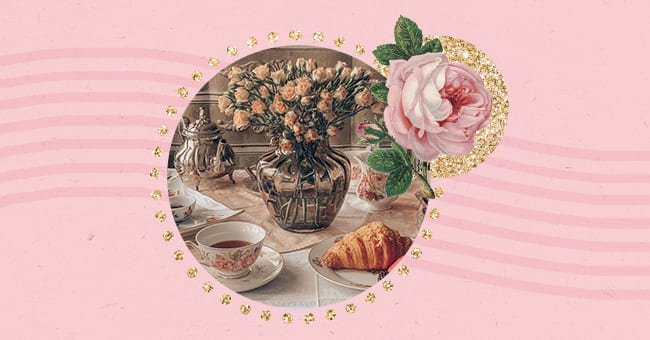 A Guide To Hosting A Proper English Tea Party
We don't know about you, but we binged "Bridgerton" within the first week of it coming out, and now we are trying to live like 1800s royals. We catch ourselves daydreaming about becoming a duchess and speaking a little better than we usually do.
"Bridgerton" has inspired so many of us to practice more poise and etiquette and has also inspired us to try different things, like tea parties. The catering situation on the series looks delectable, and we want to be part of it.
While we can't recreate the fantastic feasts displayed on the show, we can host our own modest little tea parties to live like we're in "Bridgerton" for a day.
Types of Teas
Surprisingly, this does not refer to chamomile or Earl Grey, but rather on teas' different occasions. Different types of teas are served at different tables and at various times during the day.
Afternoon tea, or low tea, is served on a low table, such as a coffee table. It is a more relaxed version of a high tea. High tea is performed at a dining room table, and there may be snacks offered.
Cream tea is served during the afternoon with clotted cream or scones. There is also royale tea which is a tea where champagne or sherry is done at the tea.
Etiquette As A Host
While there is a wealth of etiquette that must be followed while attending an English tea party, there is also etiquette in hosting. The host must ensure that everything is set out correctly and that each guest is well catered for.
To host your tea party correctly, there are a few rules that you should follow; make sure there is milk and sugar on the table as the guests arrive so that they can have a cup of tea as soon as they're seated, offer different types of teas, use clotted cream, and if you are pouring the tea don't add the milk in first.
Always make sure to replenish your guests' teas. It is rude to leave your guests sitting with an empty teacup. Ensure that you use loose tea as teabags are unacceptable at any proper tea party.
Etiquette As A Guest
There are many rules to follow as a guest attending a tea party. The rules are in place, so everybody has a good time, and the host (and her venue) are respected. You should always dress appropriately in dresses or skirts. If you're a male, you should wear trousers and a smart shirt.
You should never lift your pink when drinking your tea, you should never add milk to anything but black tea, and you should eat all pastries with a fork. Only finger sandwiches may be eaten with your hands.
However tempting it may be, don't dunk your biscuits into your tea. You should also make sure that you place a used spoon on the saucer behind your teacup once you are done with it. If you need to wipe your mouth, gently blot it with your napkin.