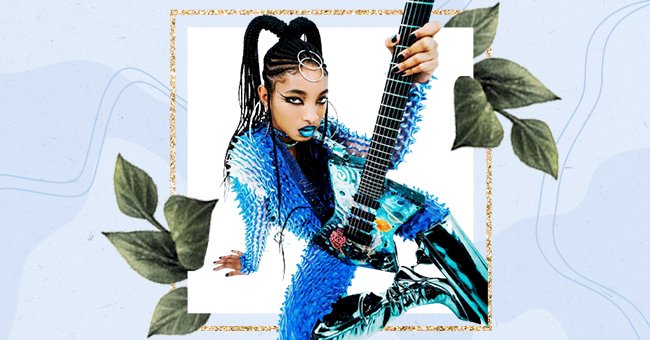 A Look At Willow Smith's Pop-Punk Era Through Her New Single
Willow Smith's latest music venture has seen her take on a new punk-pop persona. The 20-year-old singer and songwriter recently released a single featuring Travis Barker to introduce her new era.
Willow Smith is well known for her ethereal RnB and alternative pop sound, but now she is bringing a change. The successful songstress released her single 'transparent soul' last month, introducing a new side.
Willow's new sound has been well received, and many are celebrating the resurgence of black female rock stars. Take a look at Willow's trailblazing pop-punk era through her first single in the genre.
Willow's Inspiration
Willow released her pop-rock hit 'transparent soul' in April, and it was an instant hit amongst fans. The fresh sound seemed to come from out of the blue, but it seems that the genre has long been in the works for Willow.
The young star's mother, Jada Pickett-Smith, formed a metal band called Wicked Wisdom in 2002. Jada's band performed at Ozzfest, where Willow tagged along with her mother at the tender age of 7 years old.
"Seeing a strong Black woman on stage singing rock was so amazing—but a lot of people weren't happy about seeing a Black woman in that space."

Says Willow Smith
Willow recalls being in awe at watching her mother perform with her band despite the racist remarks she faced. Jada's attitude and the time Willow had during quarantine inspired her to be fearful about her new musical vision.
Our First Look
'Transparent Soul' is the first single from Willow's upcoming album, and its electrifying sound has made it a hit. The edgy track was inspired by words that Willow received from a swami she knows personally.
Willow also expresses that 'Transparent Soul' helped her release any fears about making the rock album. She reveals that she was shaking during a studio session with Travis Barker and felt relief when he loved the track.
"It was the song that proved to me that I needed to let go of the insecurities I had about making a project of this genre."

Says Willow Smith
It is evident that Willow went all-in after that studio session, as the music video is beyond our wildest dreams. The gritty music video also features the Blink 182 drummer, which further showcases her punk cosign.
What To Look Forward To In The Album
Although Travis is an awesome cosign, there are plenty more artists Willow worked with to make her album rock. After releasing 'Transparent Soul,' Willow did plenty of interviews revealing some of her other influences.
She mentioned bands like My Chemical Romance and Paramore as her references for the rock sound. Willow also revealed that Avril Lavigne was someone she looked up to in the pop-punk and rock genres.
As a result, Willow also collaborated with Avril Lavigne on a song called 'Grow.' Smith revealed that she wanted the song to mimic the music on Radio Disney in 2007, which Avril perfectly encapsulates.
From the information that Willow has offered and the single we have heard, we can tell this album will be interesting. Whether it's super hardcore punk or Disney-friendly pop-rock, Willow is going to kill this new era.