A Plus Size Legging Option For Every Situation
Getting the perfect fitting pair of leggings when you're plus-sized often feels as impossible as finding a four-leaf clover. But does it have to be so difficult?
Instagram has us all wishing for curves like the Kardashians but any curvy girl will tell you, staying stylish is a mission. From hunting down jeans that hug your waist while fitting over your hips to figuring our what cuts and shapes suit you, dressing is no easy feat with curves.
One of the hardest things to find is the perfect pair of tights. Some are too loose and some feel like they're strangling you. However, do not despair. We have a list of plus-size leggings that suit every need and fit great.
Adidas x Universal Standard Tights
In 2019, Adidas partnered with Universal Standard to create their first-ever size-inclusive collaboration. Part of the collection included Adidas' signature 3-stripe design leggings that were adjusted to give a high rise fit.
This allows the leggings to snatch in at the waist while comfortably fitting the rest of your lower body. The stretch fabric ensures you can do everything from deep squats to hitting the stair master without feeling suffocated or limited.
Girlfriend Olympia Compressive High-Rise Leggings
If you're looking for gym wear that is also fashionable yet sustainable then Girlfriend Collective is the brand to buy. The Girlfriend Collective's Olympia leggings are designed with a compressive fabric made from recycled water bottles.
This is perfect for girls looking for a little extra help with looking snatched at the gym. Best of all, the comfortable leggings are available in 21 bright colors and have a size range that goes right up to a 6XL.
For Dressing Up
Satin High-Waisted Leggings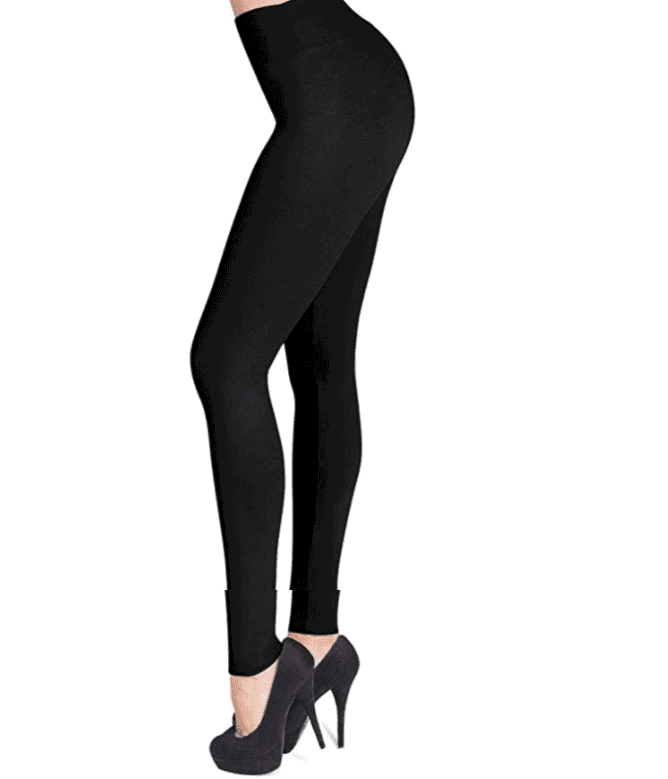 Amazon
For the girls on a budget, Amazon always comes through with great affordable plus-size options. While these aren't for gym, high-waisted leggings like these are perfect for dressing up.
These leggings hug your body, come in 25 colors, and promise to keep you comfy during the day. According to most of the 6,913 reviews, these leggings offer amazing stretch so they won't sit funny or bunch up.
Eloquii Moto Leggings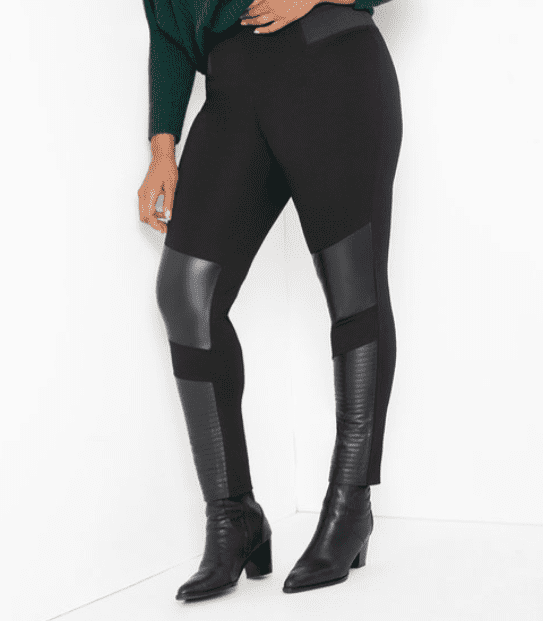 Eloquii
Moto leggings are nearly impossible to find in plus-sizes. Whether they're clinging awkwardly to the hip or the material is bunching up something is always just not quite right.
However, Eloquii has created the ultimate plus size moto legging. Featuring a heavyweight design that is stretchy, comfortable, and has an elastic band to secure it at the waist, these leggings aren't going to spoil your badass outfit any time soon.
ASOS DESIGN Curve spray-on vinyl trouser
Asos
Never underestimate a pair of black pants. These shiny ASOS's vinyl leggings promise to add the perfect sophisticated touch to any outfit.
From their extra tight fit to the breathable material, there are no faults in the design. Pair them with a faux fur coat and a cute pair of boots and you'll have all eyes on you instantly.
Printed Leggings
Athleta Elation Tie Dye 7/8 Tight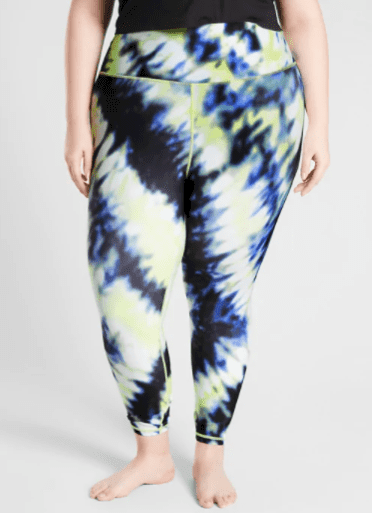 Athleta
Most plus size clothing plays it safe with boring beige and black tones. So what should a girl do if she wants a little color in her gym wardrobe?
Buy a pair of Athleta leggings like their tie-dye 7/8 tight. The bold colors and stunning fit make them the perfect statement leggings. An added bonus is this pair includes a back pocket!
Chilling Leggings
Savage X Fenty Leggings
Finally, if you just need a comfy pair of leggings to chill in around the house, look into Savage X Fenty Leggings. The brand is well-known for its inclusive sizing and quality.
The leggings offer a relaxed non-compression fit while also promising smooth, breathable fabric. They can even be matched up with bralette to create a full set.