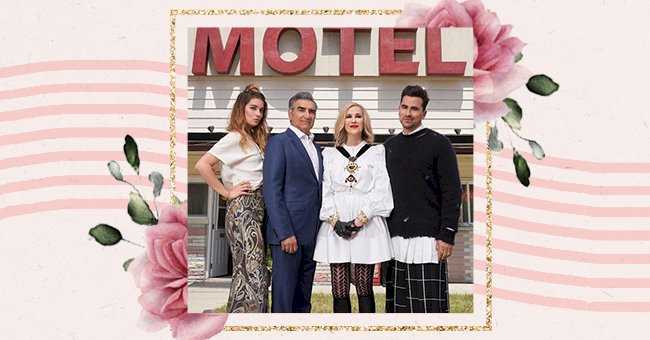 A 'Schitt's Creek' Book Is On The Way
At this point, you have probably heard of a show called 'Schitt's Creek.' It is one of the most famous television shows, and fans cannot get enough of the eccentric cast of the show.
The show became so popular that last year at the Emmy Awards, it was nominated multiple times and won almost every category it was nominated for. Hence, it is no surprise that fans only wanted more after the show's finale last year.
Now, fans are getting just one more piece of 'Schitt's Creek' that they can bring right into their homes!
The Show
Alright, so if you aren't familiar with the show, it is a comedy that first aired on CBC back in 2015. The show was seen on many Canadian TV sets in its first few years but only truly gained popularity when Netflix picked it up.
The streaming giant took the show on during its third season in 2017. Once Netflix picked up the show, it became wildly popular and gained an almost cult-like following because of its humor.
'Schitt's Creek' is a series that anybody can watch and be excited about as it has all kinds of humor, and the writers have included many different types of characters to ensure that the cast is diverse enough to be relatable.
The Book
Once the show ended in April of last year, many disgruntled fans only wanted more of the characters, the humor, and the incredible outfits that the show always had to offer its fans.
Many games and quiz books developed since the show have come out, which have become increasingly popular since the show ended, but there has never been anything like that done by the cast until now.
Dan and Eugene Levy announced recently that they would be releasing a Schitt's Creek coffee table book. Fans will now have the chance to own a little piece of Schitt's Creek and keep it right in their living rooms.
The book will be titled 'Best Wishes, Warmest Regards: The Story Of Schitt's Creek,' an inside joke from one of the recurring lines in the show, and will be all about the show and its production.
In this book, you will be able to read character profiles on the entire cast, memorable moments throughout the six-season series, and all of the amazing wardrobes that we saw on David Rose, Alexis Rose, and their mother Moira Rose.
The book will come in either hardcover or softcover and will be available from October this year. If you need a little piece of Schitt's Creek in your home, this is it.