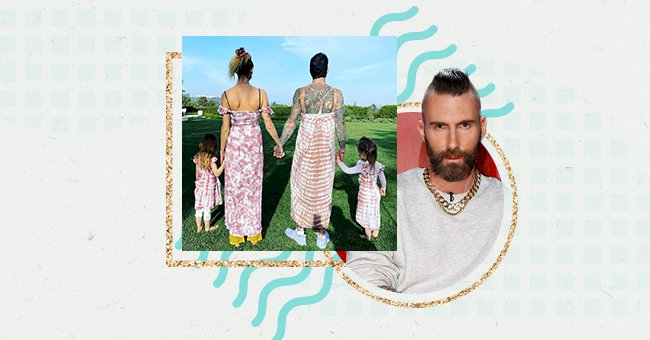 Adam Levine, Behati Prinsloo And Daughters Don Matching Dresses
We are living in a world where you can wear whatever you want. Gender roles are becoming a thing of the past as everyone moves into an age where we strive to be equal in all that we do.
Adam Levine and Behati Prinsloo have exhibited couple and family goals time and time again, and as their daughters have gotten older, they have shared the lives of their children on social media.
Most recently, Adam Levine shared a photograph of all four of them and captured everyone's hearts once again.
The Prinsloo-Levine Family
Adam Levine and Behati Prinsloo have two daughters together. Their first daughter, Dusty, is four years old and their second daughter, Gio, is three years old. Prinsloo and Levine aren't shy about sharing their daughters' lives and milestones on social media, either.
In 2018, when Gio was born, Prinsloo shared a photograph of Levine holding Gio in the hospital, gushing about how much she loved them both and what a good father Levine was to their two daughters.
In 2016, she shared a photograph of Dusty sleeping on Levine's chest as a newborn; this post welcomed and introduced Dusty to the world as Prinsloo mentioned that words couldn't describe her daughter.
Since then, the couple has shared many photographs of birthdays and anniversaries, including their daughters. They are private about serious things but share the more light-hearted stuff with the world on their social media pages.
All Dressed Up
While we love every photo that the Prinsloo-Levine family posts to their social media pages, Levine's latest post has taken up a special place in our hearts. The post is heartwarming to see, and no doubt has women globally asking their husbands to recreate it.
The post shows the family of four holding hands with their backs to the camera. The best part about it is that the whole family is in matching dresses. It is adorable and charming to see that Levine will put on a dress to pose with his family. Levine captioned the photograph, "Girls just wanna have fun," and we have no doubt that they did.