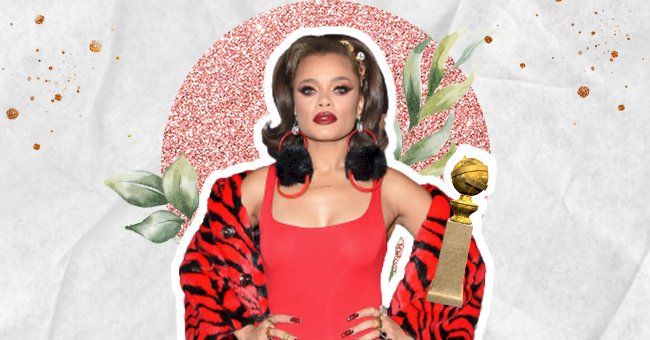 Andra Day First Black Golden Globes Best Actress Winner In 35 Years
Thirty-five years ago, Whoopi Goldberg was the first black actress to win a Golden Globe award for best actress in a drama.
For Andra Day, this could not have come at a better time. The singer and actress took home the victory thanks to her interpretation of music legend Billie Holiday in her debut movie 'The United States vs. Billie Holiday.'
The visibly stunned actress thanked God, her family, the film's cast and crew, her nominated colleagues, and Billie Holiday, whom she played. Her win came amid the renewed backlash about the lack of diversity among the awards show's voting body, the Hollywood Foreign Press Association.
Accepting Her Award
Also nominated in the same category were Viola Davis (Ma Rainey's Black Bottom), Vanessa Kirby (Pieces of a Woman), Frances McDormand (Nomadland), and Carey Mulligan (Promising Young Woman).
"The thing I take from Billie more than anything is the strength of a black woman. To know that the last person who won this award was Whoopi Goldberg in The Color Purple is so not representative of how many black women's stories have been told sensationally and need to be told by the amazing talented actresses who do this."
In receiving her award, she acknowledged that she was in the presence of giants. This is because she was nominated among other veterans. In addition to her acting, Andra Day's contributions to the film's soundtrack were also recognized by the Golden Globes. Her original song "Tigress & Tweed" collaborated with Raphael Saadiq also scored a nomination.
Who is Andra Day?
Cassandra Monique Batie known by her stage name Andra Day was born in 1984. She has been interested in music since she was a child. She began to sing very early, influenced by Ella Fitzgerald, Dinah Washington, and Billie Holiday. This influence makes the win dearer to her.
In August 2015, she released her first studio album, Cheers to the Fall. She was also able to sing the song 'Rise Up' at the White House in Barack Obama's presence. In 2017, she collaborated with Common in the song 'Stand Up For Something' for the film March for freedom. The song was nominated for an Oscar in the category of the best original song.
The United States vs. Billie Holiday
Andra made her debut as an actress with this movie, as Suzan-Lori Parks wrote and directed by Lee Daniels. The film follows jazz icon Billie Holiday who, in the 1940s, was a hit around the world. In the meantime, however, the US federal government turned her into the scapegoat of a tough battle against drugs.
It's a movie that intimately examines her struggles with addiction, fame, and tragic love. To say Andra Day brought the character to life would be an understatement. Hence, her Golden Globes win was well deserved.