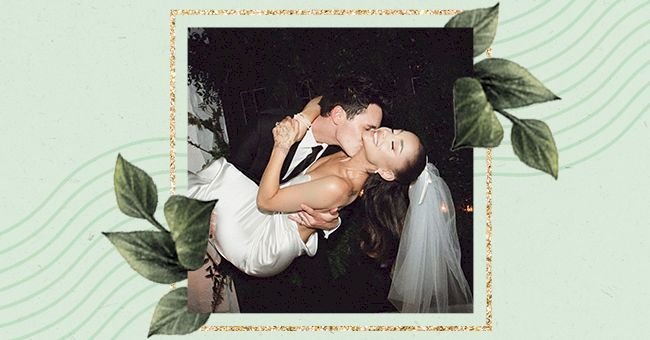 Ariana Grande Releases Wedding Day Photos
Ariana Grande and Dalton Gomez wed in an intimate ceremony in the pop star's Montecito mansion. After almost two weeks, the newlywed singer shared images of her special day on Instagram.
Ariana Grande and Dalton Gomez's whirlwind romance is one for the books. The pair started dating last January, was shacked up by March, and were engaged to be married by the time Christmas rolled around.
After just five months of being engaged, the couple tied the knot in front of close family and friends. Fans have been anticipating the images for a while now, and Ariana has finally given us a glimpse into her big day.
15 May 2021
Ariana Grande and Dalton Gomez's engagement was announced on 20 December 2020. Just five months after the '7 Rings' singer showed off her unique pearl engagement ring, the pair got married.
The media revealed not much about Ariana and Dalton's special day as the ceremony was quite private. However, sources did reveal that the lovebirds both couldn't wait for their union any longer.
The couple married in the Montecito, California home that real estate agent Dalton may have sold Ariana. Although the wedding came as a surprise for many, sources revealed that the pair wouldn't have it any other way.
Reports shared that the wedding day was special and memorable for both Ariana and Dalton. Fans and publications worldwide sent their good wishes and congratulations to the happy couple as the news came out.
The Wedding Decor
We also got a glimpse of the wedding decor in Ariana's home. In many of her pictures, we see floral arrangements hanging from the ceiling, giving the space a whimsical feel, perfect for a romantic ceremony.
Large candles lit up what looks like the foyer in the star's home, giving it a warm glow that matched the bride's. Dinner tables were also covered in lush greenery that elevated the magical romance of the evening.
Ariana's Wedding Day Look
When Ariana shared a photo dump from her wedding day, fans and fashionistas everywhere braced themselves. Everybody wanted to see what stunning ensemble Ariana chose for her day, and it was perfect.
The pop star wore a stunning Vera Wang wedding gown and veil with a bow. Vera Wang's sweetheart neckline and backless design perfectly encapsulated Ariana's signature delicate and feminine style.
The woman of the day wore her hair in a sleek ponytail, of course, topped with a veil embellished with a cute bow. Her makeup also interpreted her signature winged liner look in a more natural finish for the ceremony.
The custom lily-white gown by Vera Wang has reportedly been years in the making. In a caption, Vogue revealed that the pair made a pact at a MET Gala to have Vera make Ariana's gown when the day arrived.