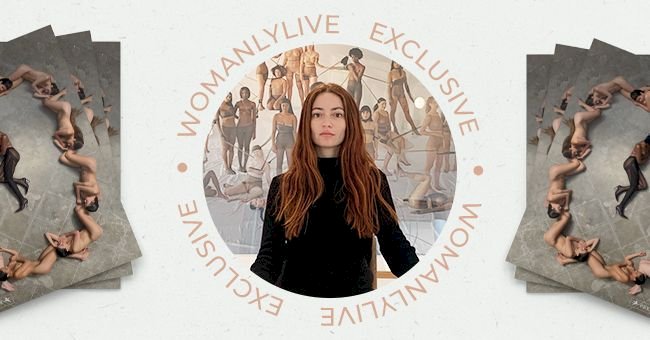 Behind The Lens: Interview With Photographer Carlota Guerrero Following The Release Of Her Book
Carlota Guerrero was flung into the spotlight in 2016 when she captured and created the album art and videos for Solange Knowles's "A Seat at the Table." While some may say it was beginner's luck, her new book proves she is not a one-hit-wonder.
The talented photographer has become known for her ability to blend classical and radical aesthetics to create ethereal scenes of spiritual transcendence. And the 30-year-old artist is not planning to slow down any time soon.
Ready to prove her worth, the Barcelona-based artist just launched her first book called "Tengo un Dragón Dentro del Corazón: The Photographs of Carlota Guerrero" (Prestel, May 4, 2021). The project is a collection of spellbinding images taken over the past decade and explores themes like gender, nature, beauty, fashion, performance, and art regarding the Divine Feminine.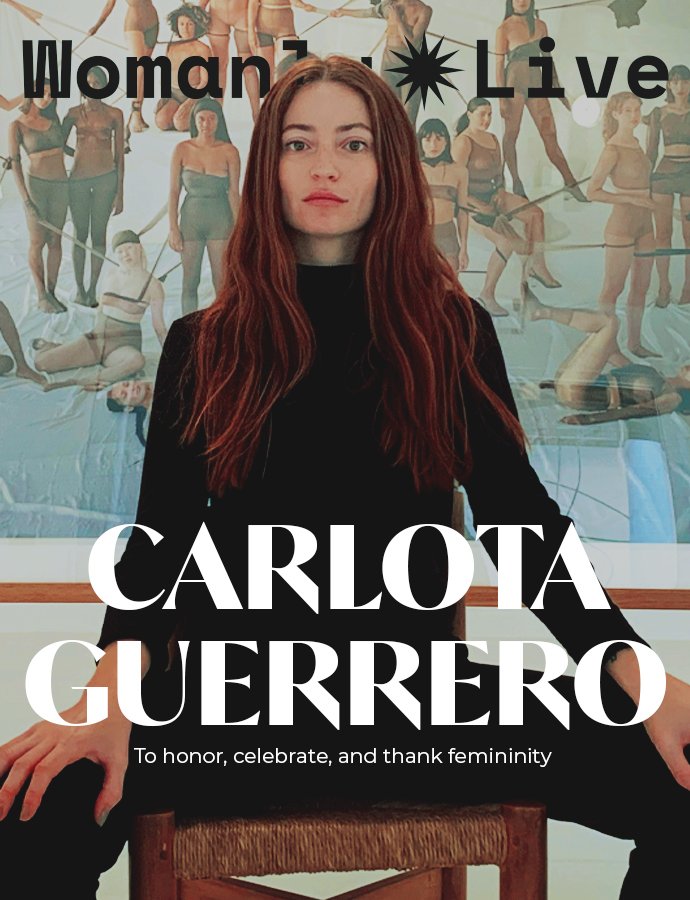 Image Provided By Carlota Guerrero | Cover Designed By Alina Kompanets
Our team was blessed to secure an interview with Carlota Guerrero and jumped at the opportunity. After paging through her background and then reading her book that is packed with feature texts from singer/songwriter Rosalía and poet Rupi Kaur, I was both awestruck and nervous.
However, down-to-earth and ready to inspire others, Carlota answered all my detailed questions without hesitation. Taking her time to dive deep and give meaningful answers, here is some insight into our chat.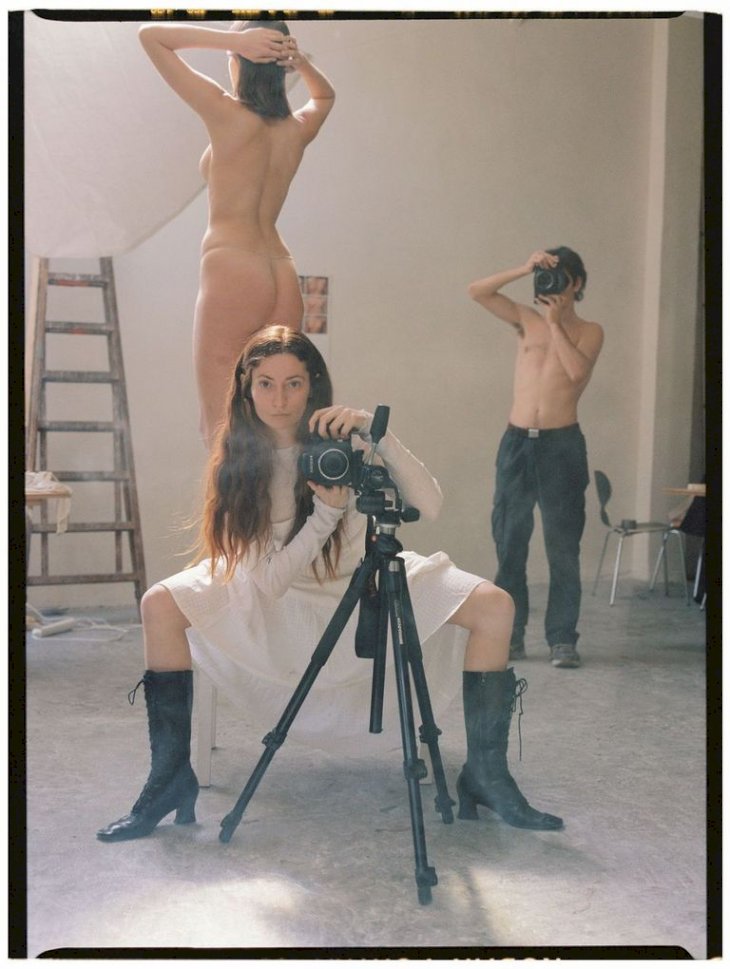 Photo Courtesy Of Carlota Guerrero
Photography, like most art forms, is subjective, and the artist is usually the most critical of their work. When asked how she overcomes negativity or flaws she spots in her own pieces, Carlota said:
"I'm still learning so much... I feel like sometimes I become my craft. I am a very emotional person and most of the time I am trying to deal with my complex emotions while portraying these images. I use my art as a healing process, by making an inventory of images with the things that give meaning to my existence," explained the photographer.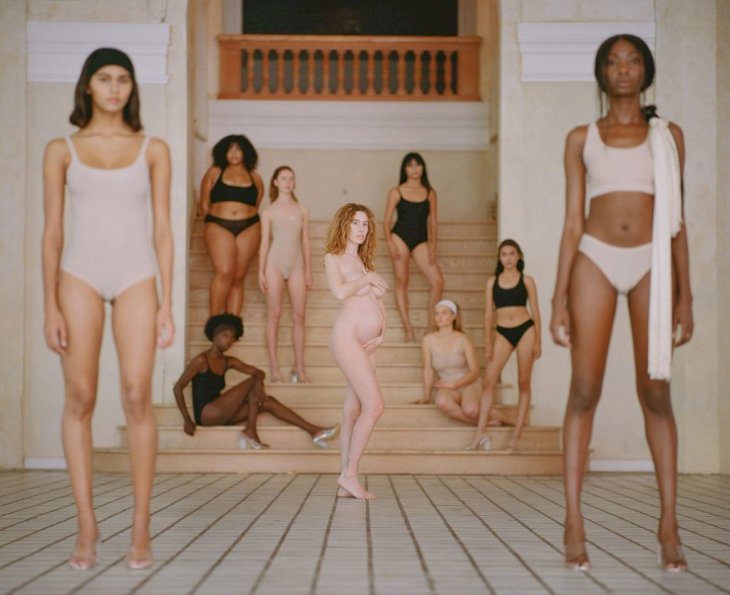 Surrounded, LA, 2018
Having created multiple iconic images, including the memorable portrait of Solange Knowles, Carlota has garnered huge attention from an international audience. So it came as no surprise when she divulged that she was very conscious of her work with Solange because she was aware that it was "something influential."
"I was conscious about it as I knew it would it changed my career. It gave me a chance to become more international and taught me to be prepared for big projects. When I was younger, it was essential to me to follow the steps other female artists have taken before," added Carlota.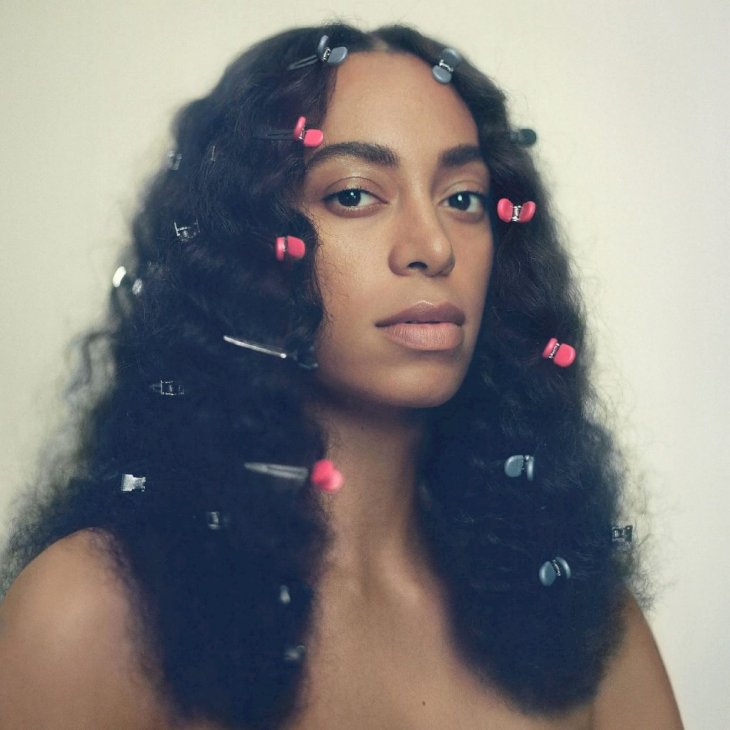 Solange, A Seat at the Table, 2016
During the interview, I expressed that working with someone as famous as Solange Knowles will make anyone nervous but would also give you many lasting memories. In response, Carlota immediately opened up about her favorite memories from their time together saying,
"We spent months working together, traveling from New Orleans to New Mexico then to Austin and Dallas in a van. Shooting for "A Seat at the Table" first and years later for "When I get home." We also went to New York to shoot the cover for the album and the entire time, I was very inspired by her way of working. She is such a strong, talented, hard-working woman. She has a powerful and clear vision but also gave me the space to develop my own strong and clear vision. She taught me about the depths of the BLM movement and I'll be forever thankful to her."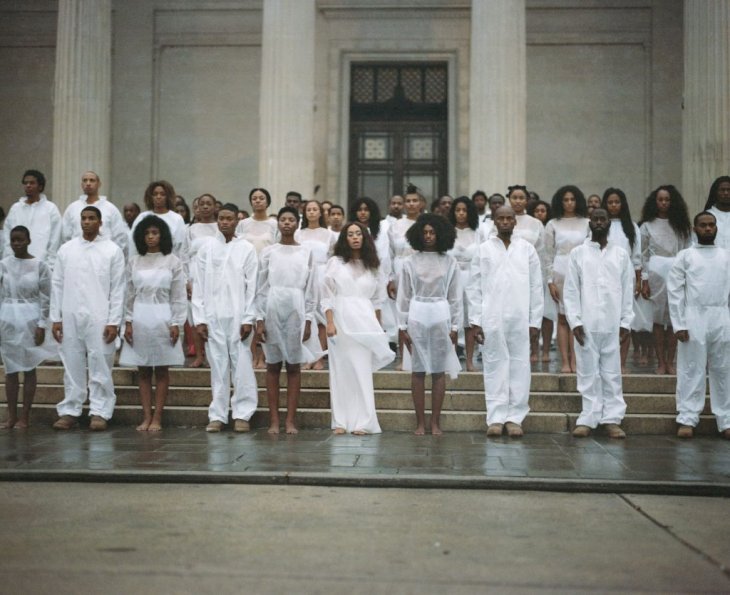 Solange, A Seat at the Table, 2016
For Carlota, her goal is to become the role model she looked for as a beginner. For young artists, her advice is to focus on "clicking" with the person they will work with.
"It is very important for me to click with a collaborator and understand myself. It does not matter whether they are major artists, young upcoming artists; the important thing is to understand arts and the world in ways that can add to each other,"

explains Carlota.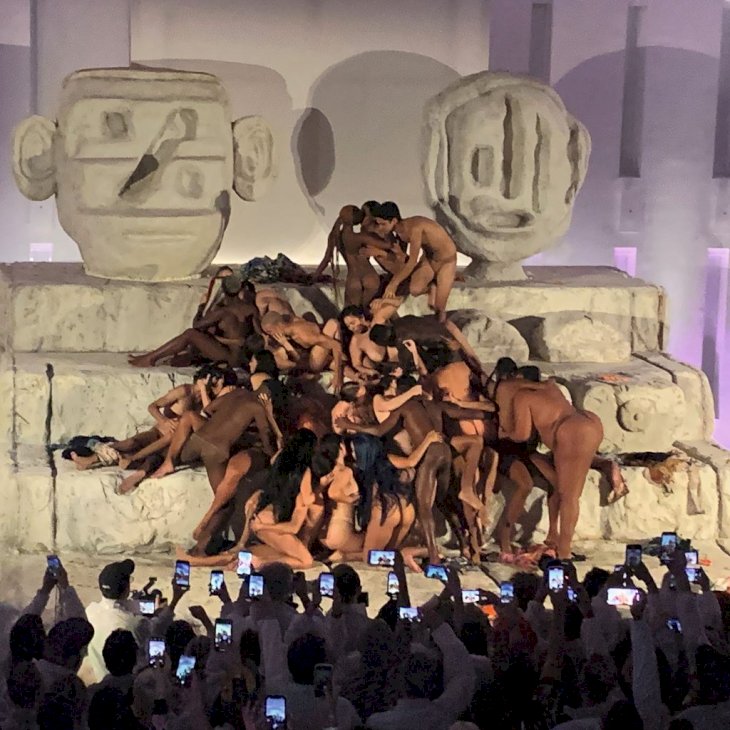 Performance for Desigual, Art Basel Miami, 2019
While she will always be open to working with celebs, her heart remains set on a collaboration with her friend. When asked who is the next person she wants to work with, she said:
"My good friend Rosalía, even though I have collaborated with her before, I would love to create bigger projects with her in the future."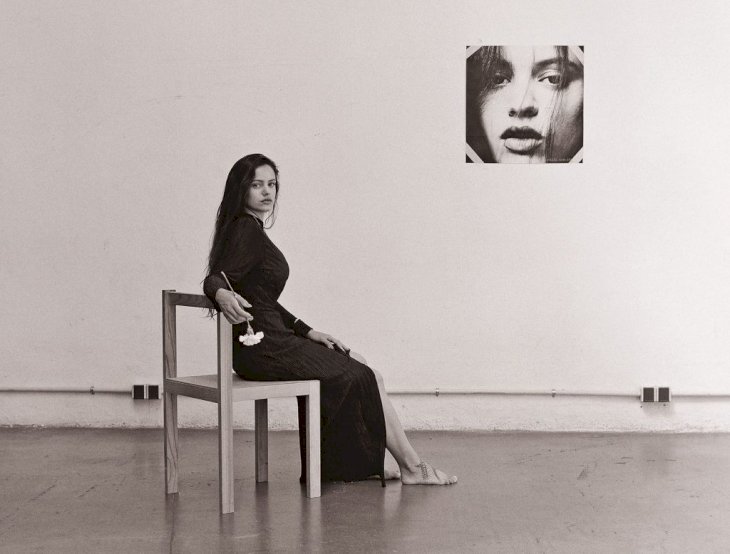 Rosalía, Aunque es de noche, 2017
Carlota's work has become known for exploring the ideas of femininity and gender, nature and human connections, the female body, patterns, and the Golden Ratio. She explains that this is because her "approach as a photographer is to create timeless images that portray the things that touch my heart, things that I think are important, and the energies that make me feel inspired."
"I am very focused on women; it is something genuine and instinctive. Being a woman is my condition and starting point. I start exploring from what I know, from what I am the most familiar with – myself. My self-love does not differ (or shouldn't differ) from my love for other women. I feel an intimate admiration for a woman's figure; her power and presence fascinate me to a visceral extent. To me, to photograph is to honor, celebrate, and thank everything I learn from them. And the stairway, the idea of the infinite stairway of women being carried by other women from immemorial times, transmitting and passing on knowledge and intuition,"

added the talented artist.
Spiritual Striptease, LA, 2018
Sticking with this idea, her new photo book was recently released and we couldn't resist the chance to dive into her journey in the publishing world. Carlota said:
"I always wanted to stop and collate my own body of work, so when the editor Ali Gitlow wrote to tell me Prestel was interested in publishing a monograph with me, I thought it was a sign. It was very important for me to present this book as the finishing time of a cycle of my life."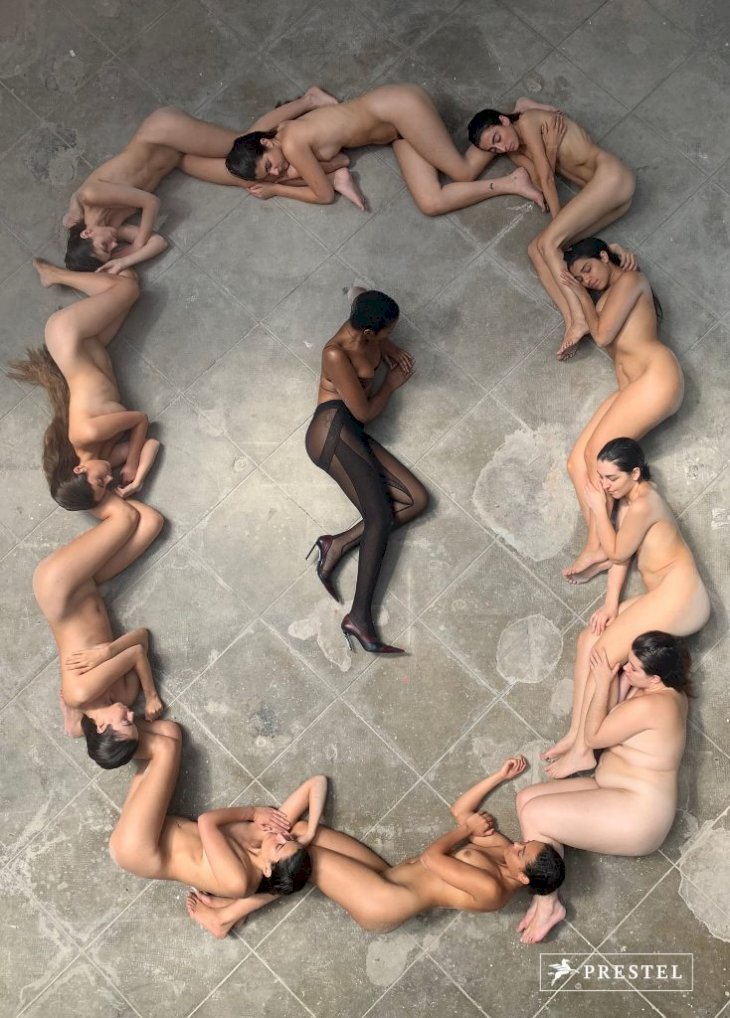 Tengo un Dragón Dentro del Corazón: The Photographs of Carlota Guerrero by Carlota Guerrero © Prestel Verlag, Munich · London · New York, 2021.
"Tengo un Dragón Dentro del Corazón: The Photographs of Carlota Guerrero" by Carlota Guerrero (Prestel, May 4, 2021) builds on the concepts her work is known for. Diving into the book itself, Carlota said:
"I photograph similar compositions, subjects, or scenarios over and over - without thinking. I realize, later on, this behavior makes me think of a blooming orchid that doesn't know she is doing it. I create compositions when I am thriving; I am those compositions - and many times, I feel like I don't choose them; they choose me. This book is an essay about my repetitive patterns, and I curated it by tracing a map of them."
Before reading the book, Carlota says to approach the book like you are looking for art and to feel the energy each image is portraying. She says:
"I would describe my art and approach as a photographer as trying to create timeless images that portray the things that touch my heart, things that I think are important, and the energies that make me feel inspired. My work is an inventory of images that come to me; I cannot rest until I make them happen."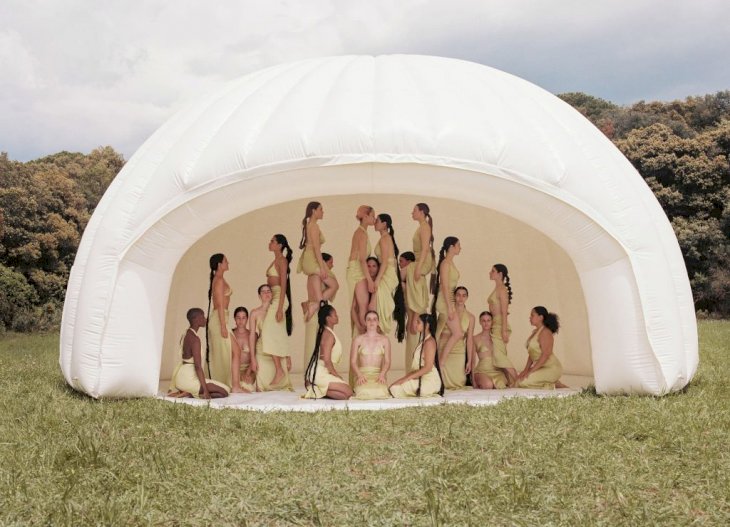 Caos Creación for paloma wool, 2019
According to Carlota, you can "expect in my book is a conversation between the images themselves." She explains that each image "has a connection with the next image."
She adds that the "book is like a cycle that starts and ends at the same point and unifies all my work in one big image." Overall, she aims for the book to be a representation of "the queer community in the art scene. We are working together to normalize queer and to represent this community in a respectful and beautiful way – with dignity."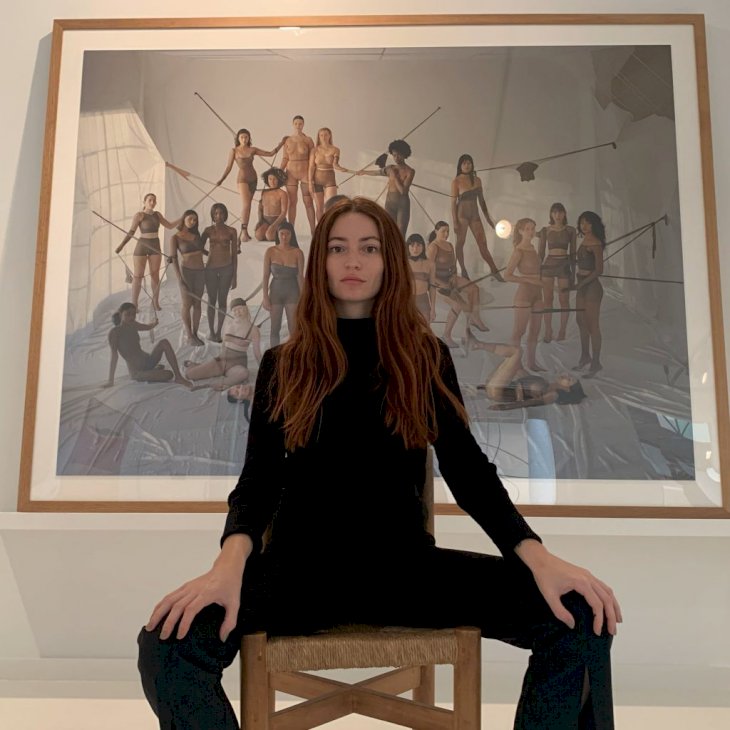 Photo Courtesy of Carlota Guerrero
Carlota ended our interview with some stellar advice for young photographers trying to find their footing in the industry. She says:
"It is most important is to be very brave and very persistent. Don't lose motivation even if you fail because you will learn a lot from that. Wake up every day and create, even if you are not sure about what you are creating. Trust the process, trust the energy that is driving you, trusting that more than the judge that lives in your head…"
Tengo un Dragón Dentro del Corazón: The Photographs of Carlota Guerrero by Carlota Guerrero © Prestel Verlag, Munich · London · New York, 2021 is currently on sale for $50 at multiple online stores.