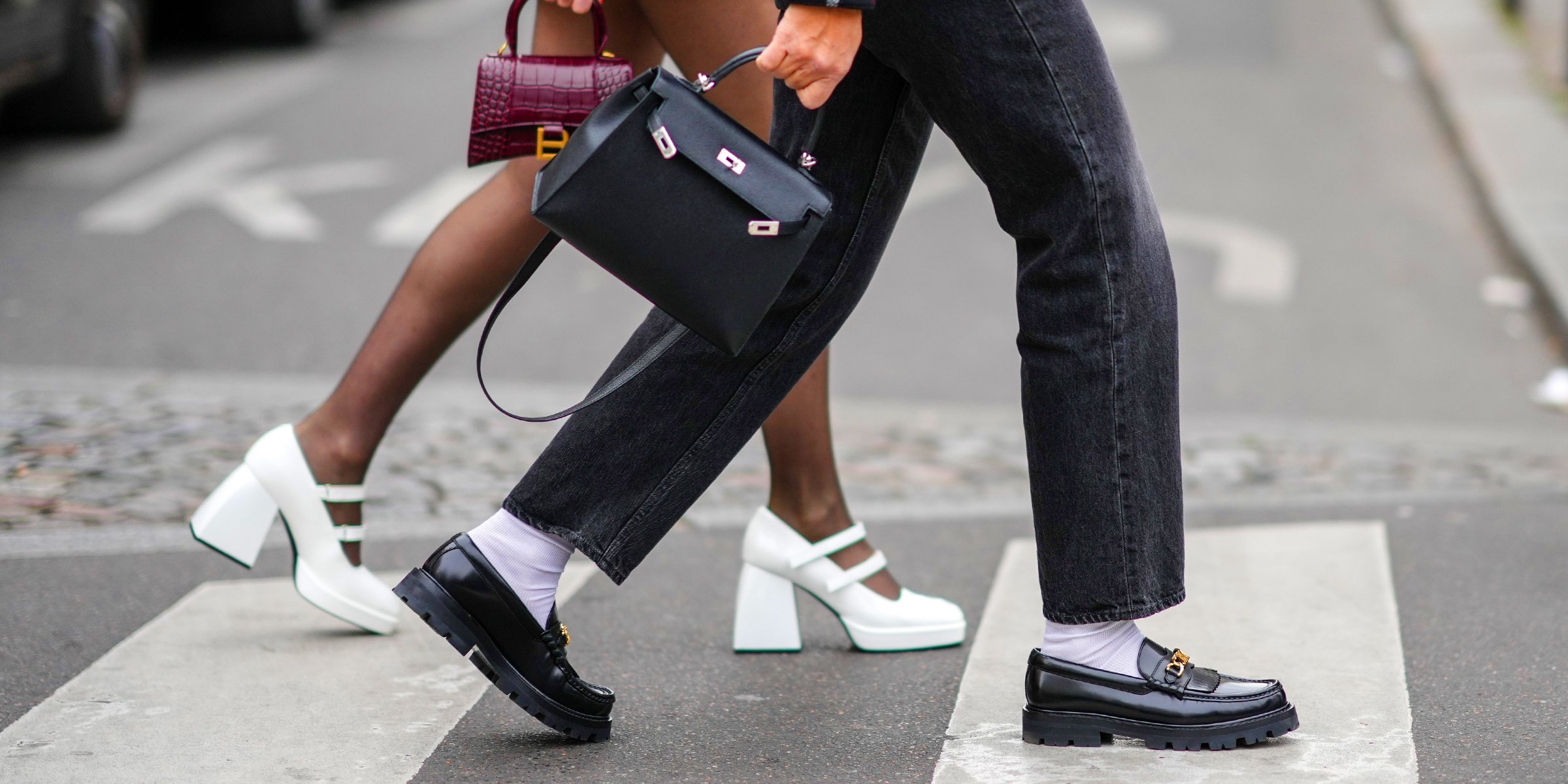 Retro shoe fashions. | Source: Getty Images
Best '90s Shoe Trends That Are Popular and Can Be Worn Now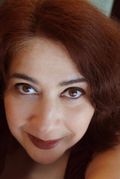 Be comforted if you are one of those fashion lovers who can't keep from diving into vintage shoes; it looks as if you're not alone. Shoe lovers worldwide are going wild over those retro 90s looks in footwear.
The 90s are back with a vengeance, and if you are lucky enough to have a stylish mom or aunt, you can go wardrobe diving for some of those genuine vintage treasures they've been keeping.
The 90s shoes you've been secretly craving from those old TV shows and rom-coms are back in fashion, and you need to get acquainted with what is hot (and not) from that crazy pre-Y2K decade.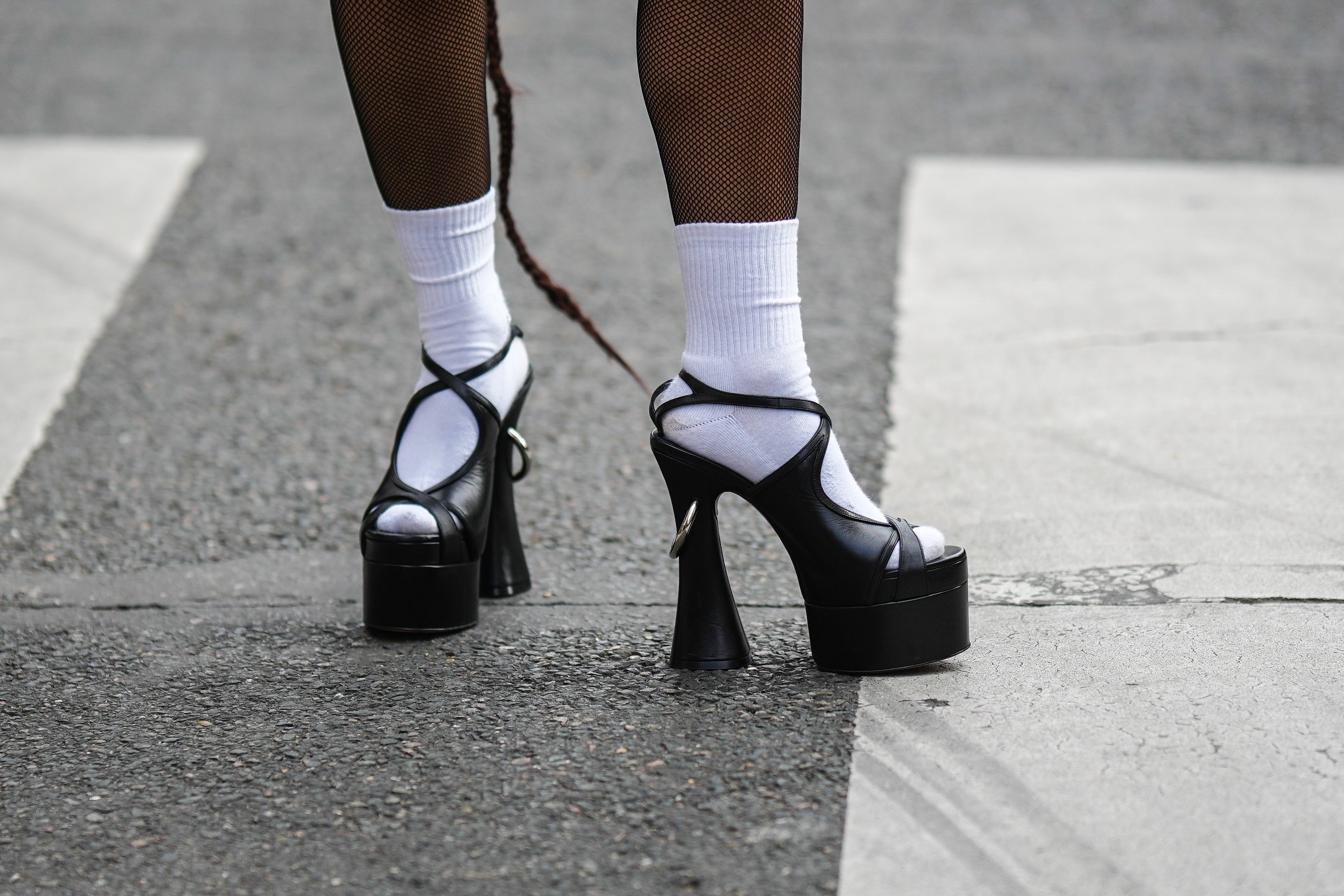 Lena Mahfouf in black mesh/fishnet tights, white socks, black shiny leather high heels/strappy sandals from Lanvin, outside Lanvin, Paris Fashion Week - Womenswear Spring/Summer 2023, in October, 2022 in Paris. | Source: Getty Images
Back in the 90s, the music was great, the fashion was crazy, and shoes were a statement. Big, bold, and chunky, or feminine and dainty, you couldn't miss them. Remember those shoes Alicia Silverstone wore in "Clueless?" Somehow, they made those outfits look relevant nearly thirty years later.
Once upon a time in the 90s, finding those shoes that matched your new dress perfectly was not a problem.
Yes, most of the shoes back then looked as if they had been designed with dolls in mind, but that's what made them so fresh, irreverent, and funky. Kitten heels like Barbie's, transparent mules, and cowboy boots with pink fur are cool again, so let your feet be fun and free.
Chunky Sneakers
The chunky sneakers are back with a vengeance and taking over the world. Celebrities like Kylie Jenner have been spotted wearing these 90s classics with their latest designer togs, which look good. Look for those chunky sneakers in the new versions of the old style in vibrant neon colors or maybe even bright yellow plaid.
Fur-Lined Boots
When it's cold outside, those fur-lined boots that were all the rage back in the 90s make a lot of sense. They're comfortable, warm, and cute. They give off this girl-scout, back-to-nature vibe that works even in an urban setting. Wear them with your denim, sweats, a mini skirt, and a fluffy sweater in a true back-to-the-90s retro look.
Scrunched Leather Boots
Back in the day, the thing to wear with your jeans was your scrunched leather boots, and they looked great with a flirty pleated mini skirt too. These boots were a must in the 90s wardrobe and will jazz up your look in the 2020s. Wear them with attitude with whatever suits your mood: skirts, shorts, or boho dresses.
Ugg Boots
The Ugg boots look pretty strange today -- like a cross between an outdoor slipper and a boot. But the truth is they are incredibly comfortable and warm and grow on you. Try them, and you will live in this nostalgic footwear.
Soft Knee-High Boots
The soft knee-high boots were the ultimate sophistication back in the 90s, and they don't do too badly today. There were versions for every look, from platform-soled goth in black leather to chic stilettos. The soft knee-high boots are perfect to jazz up a casual outfit.
Cowboy Boots
The 90s saw a revival of the Western with films like "Tombstone," "Unforgiven," "Wyatt Earp," and "Dances With Wolves," and that brought back the cowboy boots. Find yourself a pair, step out in your old jeans or a flirty skirt and find your inner urban cowgirl.
Platform Sandals
The platform sandals are a purely 90s invention and a contradiction that grafts the uppers of strappy sandals to big chunky, clunky platform soles. Somehow it works and gives a sweet girlish look to any outfit. Wear them with bobby socks for an irreverent touch.
Clogs
The clogs are yet another 90s shoe trend making a comeback. The clog was crafted from solid wood with leather uppers, and even though they were heavy and not always comfortable, their sheer style and authority cannot be denied.
Clear Mules
Once upon a time in the 90s, finding those shoes that matched your new dress perfectly was not a problem. You just put on those clear mules for a sassy nude look, and you were good to go. There was one little drawback, they weren't very comfortable and made your feet sweat -- but you can't have it all.
Coach Loafers
In the 90s, when you couldn't wear sneakers but had to be comfortable, you slipped into some coach loafers. Flat and comfortable slip-on, these shoes were stylish enough for work and comfortable when you spend a lot of time on your feet. Coach loafers are a welcome revival.
Gladiator Sandals
Gladiator sandals were the coolest thing any girl could wear in the 90s. Intricately crossed and buckled to the knee or a simpler ankle length, these sandals are back in style and a delight in summer.
Denim Kitten Heels
There is something girlish yet sexy about kitten heels, even more so when they are denim. The denim kitten heel is back with the high fashion taking it on as a trend, inspired by the Barbie Doll shoe from the 90s.
Jelly Sandals
Jelly sandals are the ultimate in escapist footwear. They promise to take you back to a simpler time when shoes looked as sugar-sweet as life should be. Jelly sandals are childish and adorable. Get them in the glittery see-through version or opaque bubble-gum colors. Try a bit of 90s style and add fun and color to your life.