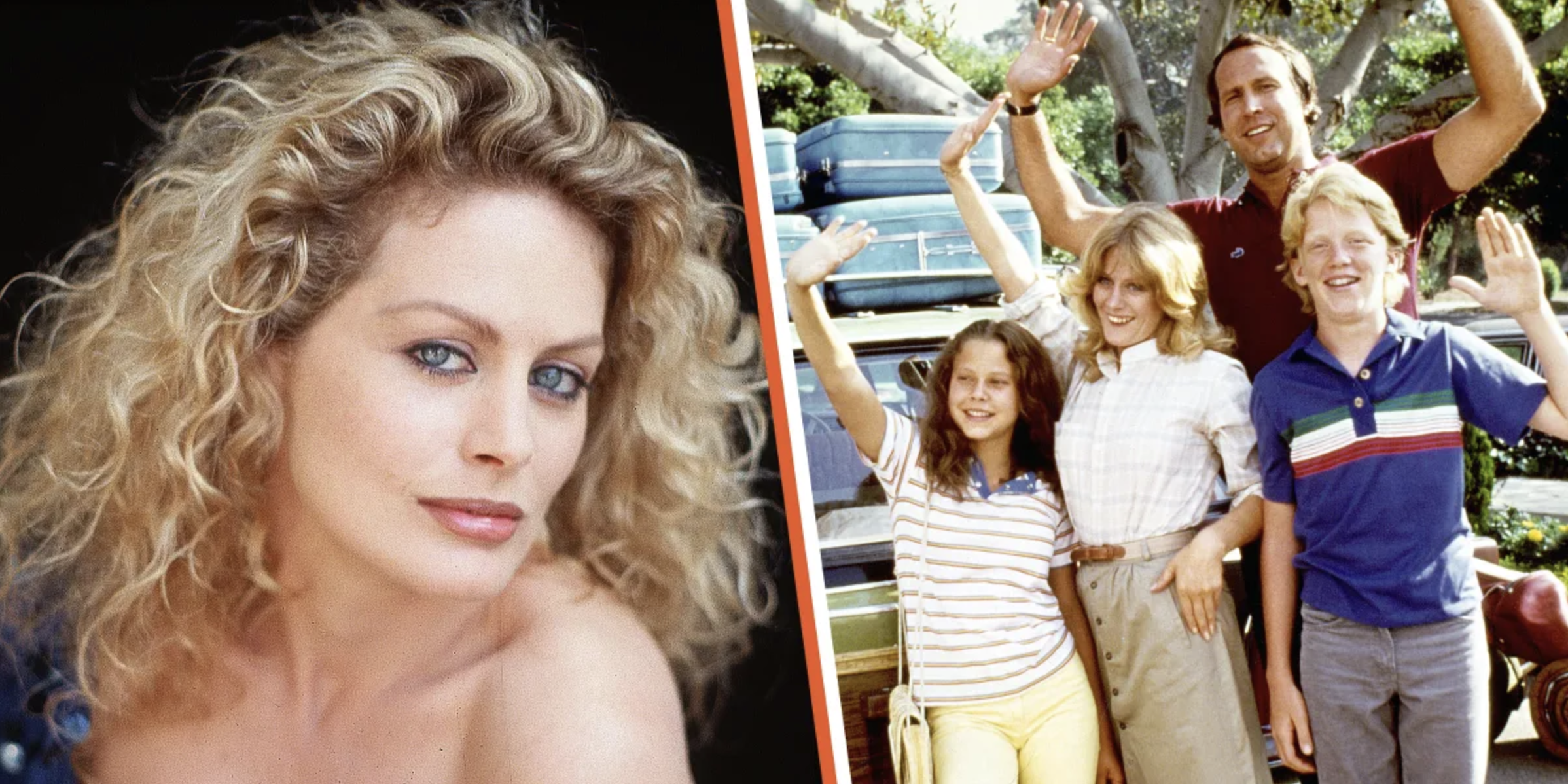 Beverly D'Angelo | Chevy Chase, Beverly D'Angelo, Dana Barron and Anthony Michael Hall | Source: Getty Images
Beverly D'Angelo Is 'Stunning' with Graying Hair at 71 – She Became Single Mom of Twins at 51 after Dating Al Pacino

At 71, "National Lampoon's Christmas Vacation" actress Beverly D'Angelo dazzled with her timeless beauty and long, graying hair while giving a glimpse of her residence.
Having become a single mother to twins at 51, she shares how Al Pacino provided her with "the greatest gift."
Now grown up, her children strongly resemble their well-known parents.
American actress Beverly D'Angelo is best known for her roles in the "National Lampoon" series. She starred in several other on-screen productions, including "Hair," "Every Which Way but Loose," "Violent Night," and "Coal Miner's Daughter."
While D'Angelo's professional life flourished, her personal life experienced some complexities, including becoming a single mother to twins at the age of 51, an aspect of her life that was undoubtedly demanding.
A portrait of Beverly D'Angelo in 1991 | Source: Getty Images
Her acting journey began long before she gained widespread recognition for her role in "National Lampoon's Christmas Vacation." D'Angelo's first role came nearly a decade earlier when she appeared in the TV series "Captains and the Kings."
As her career flourished, she married Don Lorenzo Salviati. The couple lived differently from the average husband and wife and agreed to have additional partners outside their marriage.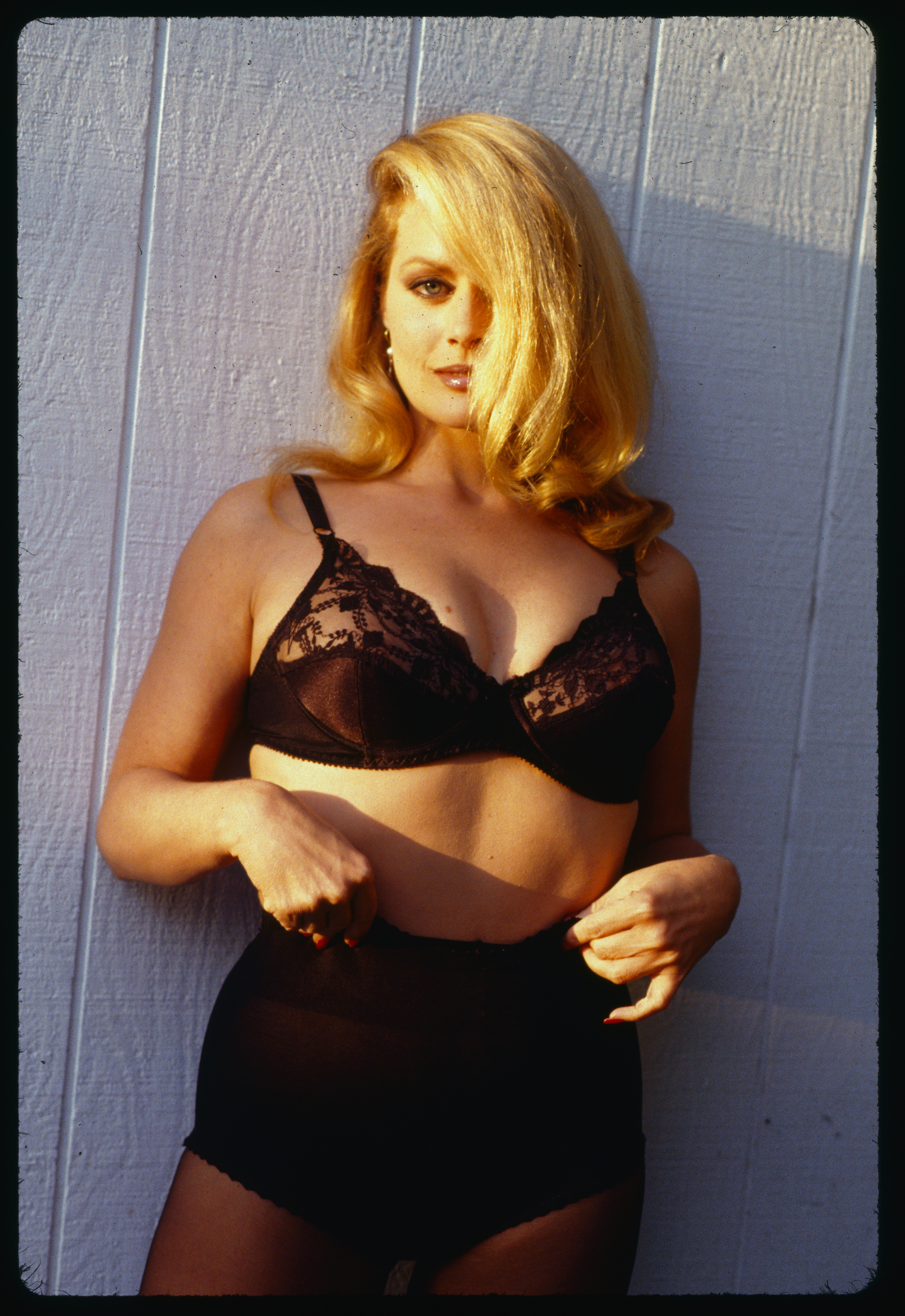 A portrait of Beverly D'Angelo early in her career | Source: Getty Images
The unique arrangement seemed to work well for the couple until D'Angelo encountered someone who would alter her life's course – iconic actor Al Pacino.
Although D'Angelo appreciated the freedom that came with her marriage, Pacino's perspective on their relationship caused her to reconsider. Pacino expressed his desire to marry and have children with D'Angelo, which led her to request a divorce from Salviati.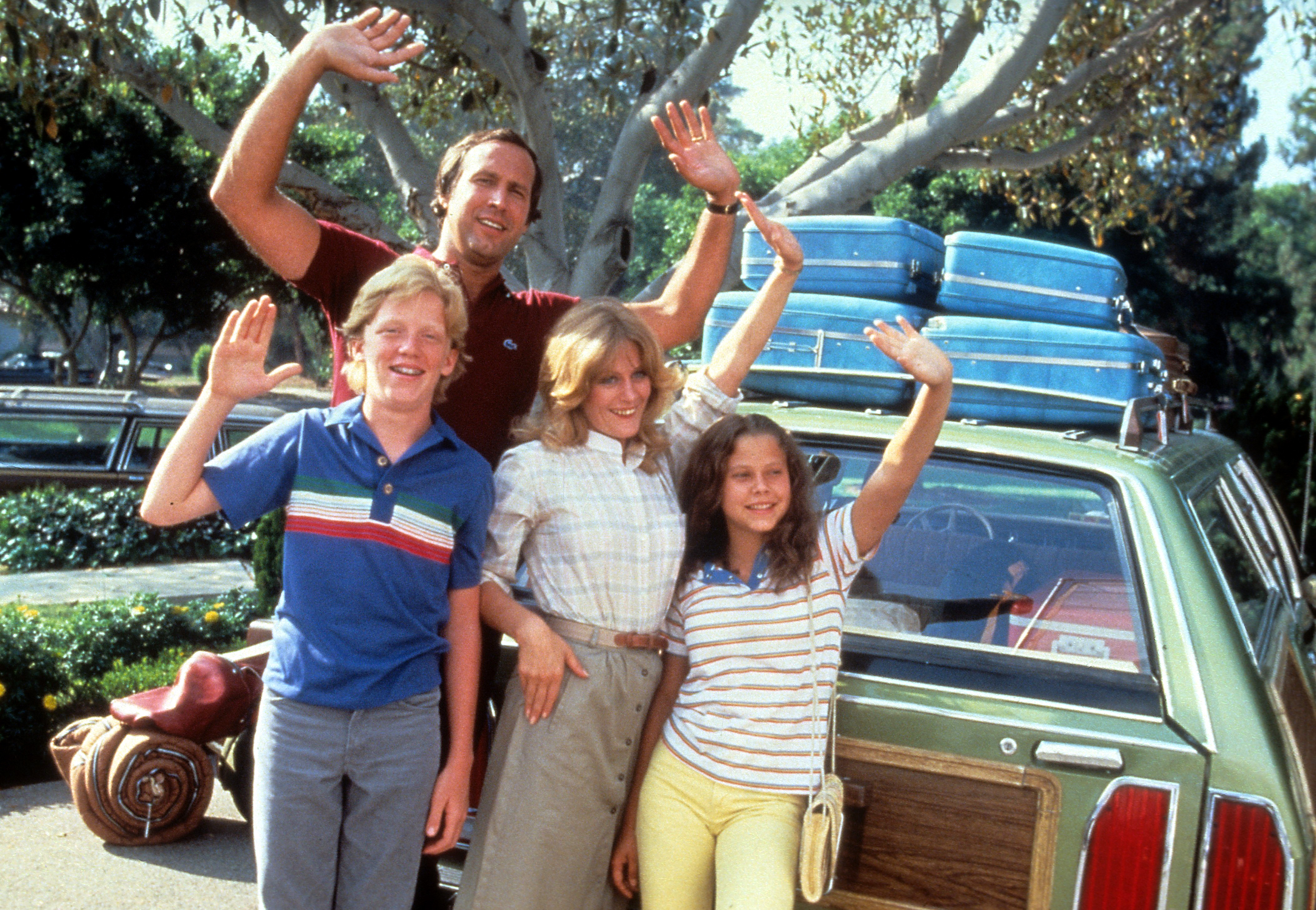 Chevy Chase, Beverly D'Angelo, Dana Barron and Anthony Michael Hall in "Vacation" in 1983 | Source: Getty Images
When D'Angelo revealed her newfound love for Pacino and her intention to end their marriage, Salviati was initially taken aback. However, upon learning that her new love interest was none other than Al Pacino, he enthusiastically said:
"Al Pacino, he's fantastic. I love him. We divorce!"
The couple proceeded to have a seamless divorce process, where they simply signed the necessary paperwork and amicably moved forward with their lives. Interestingly, it was only after the divorce that Salviati's mother began to appreciate D'Angelo.
Beverly D'Angelo and Al Pacino attend the "The Insider" in New York City in 1999 | Source: Getty Images
D'Angelo Eventually Became a Single Mother but Has an Ideal Partnership
A mere three months after meeting, acclaimed actor Al Pacino expressed his desire to have children with D'Angelo. She had long envisioned having children grow up with a complete family and was captivated by Pacino's shared aspirations.
D'Angelo eventually became pregnant at 48 and subsequently welcomed twins Anton and Olivia Pacino at 49. Unfortunately, their relationship was not destined to last, and by the time D'Angelo was 51, she found herself as a single mother.
The couple's separation resulted in a contentious custody battle, during which D'Angelo admitted to losing sight of her children's well-being as their futures hung in the balance.
Beverly D'Angelo and Al Pacino at the premiere of "Any Given Sunday" in 2000 | Source: Getty Images
In the years since their split, D'Angelo and Pacino have cultivated a friendly co-parenting relationship characterized by acceptance and forgiveness. D'Angelo reflected on this process, saying:
"We all have a desire to change things that we don't like, but you can't change another person. You have to accept differences and all the things that led to a breakup in a way that allows you to move forward. And out of my support system and people I know and love, I've created the ideal partner."
Through the support of her loved ones, D'Angelo has been able to create an ideal partnership for raising her children. D'Angelo now recalls her time with Pacino fondly and credits him with giving her "the greatest gift" – their twins.
Now 22, Anton and Olivia Pacino continue to support their parents in their respective careers. Last year, they joined D'Angelo on the red carpet for the premiere of her film "Violent Night."
D'Angelo cherished the experience of having her children accompany her, noting that it was the first time they had attended one of her productions. She said:
"We had the best time. Really, I haven't done a studio picture for a very, very long time. I was a very devoted mom. It was just great."
Al Pacino, Beverly D'Angelo, and Julie Pacino attend the New York City The Film Society of Lincoln Center Gala Tribute to Al Pacino 2000 | Source: Getty Images
Olivia Pacino tends to keep a low profile but occasionally makes appearances on social media. She is known to post selfies and engage in live streaming on Twitch, where she plays "Call of Duty: Modern Warfare."
Though she has not pursued a career in show business like her parents, Olivia is unafraid to attend special events with them. In contrast, her twin brother Anton is much more private, abstaining from social media altogether.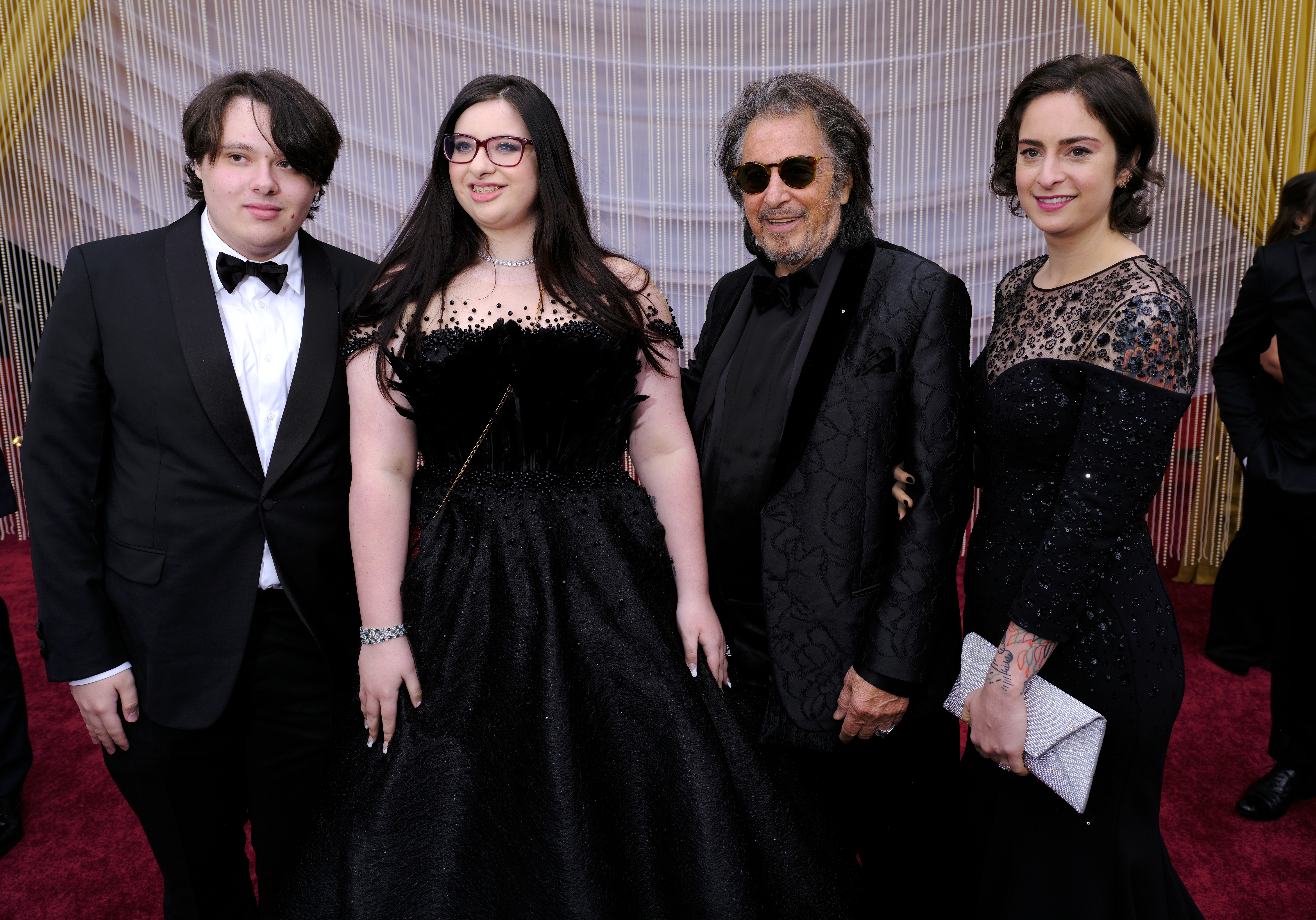 Anton Pacino, Olivia Pacino, Al Pacino, and Julie Pacino at the 92nd Annual Academy Awards in Los Angeles, 2020 | Source: Getty Images
The story of Beverly D'Angelo and Al Pacino's relationship, as well as their journey to amicable co-parenting, demonstrates the personal challenges and triumphs that can accompany life in the public eye.
D'Angelo Still Looks Stunning at 71
Beverly D'Angelo, now in her 70s, continues to captivate her fans with her ageless beauty and charisma. Like Olivia, the accomplished actress is active on social media, often posting photos and updates about her day-to-day life.
On April 12, D'Angelo shared a captivating photo on Instagram featuring herself in a cream-colored blouse against a scenic backdrop. With her gaze fixed on the camera, she expressed her desire to make her fans feel seen and extended compassion to all, wishing them a wonderful day.
The post received numerous comments from fans praising her stunning appearance, with one admirer describing her as "stunning" and "ageless" and others acknowledging her radiant energy and mesmerizing blue eyes.

A comment left under a photo Beverly D'Angelo posted on Instagram in April 2023 | Source: instagram.com/officialbeverlydangelo/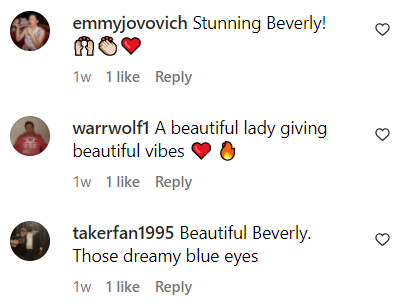 A comment left under a photo Beverly D'Angelo posted on Instagram in April 2023 | Source: instagram.com/officialbeverlydangelo/
​​Responding to fans' curiosity about her living space, D'Angelo posted a video on April 15 showcasing her garden and providing a glimpse into her personal life and upbringing. Her fans expressed their delight at this candid look into her world.
While her acting career has slowed in recent years, affording her more time to enjoy her garden, D'Angelo remains involved in special projects. Her most recent work, the Christmas comedy "Violent Night," resonates with fans who remember her from the classic "Christmas Vacation" films.
D'Angelo drew a parallel between the two movies, hinting that love conquers all without revealing too much. She shared:
"Here's the thing about 'Christmas Vacation' and 'Violent Night.' [I] don't want to give spoilers, but the bottom line is, love conquers all."
Reflecting on her rich experiences, D'Angelo has considered writing a memoir as a way to document her life story. She even mused that if her life would be made into a film, playing herself would be her dream role.