Brad Pitt and Shiloh Jolie-Pitt | Source: Getty Images
Brad Pitt's Daughter Shaved Her Head Again: Mom Said She's an 'Outcast' & Dad Supports His Girl

In the past few years, Shiloh, the biological daughter of Brad Pitt and Angelina Jolie, has captivated audiences with her metamorphosis from a tomboy to a sophisticated young woman.
In 2023, at the age of 16, Shiloh surprised everyone by reverting to her tomboy style, cutting her hair short and donning masculine attire and footwear.
Angelina, Shiloh's mother, shared that her daughter initially felt like an outsider within the family, but her father, Brad, has always supported her in embracing her true self.
Angelina Jolie and her former spouse, Brad Pitt, are parents to six children, including Shiloh Jolie-Pitt and her sister, Zahara Jolie-Pitt. Several years after the onset of the COVID-19 pandemic, Shiloh made headlines by adopting a more feminine style.
The young teenager surprised onlookers by wearing gowns, heels, and makeup, a departure from her well-known tomboy aesthetic. In 2021, Shiloh and Zahara accompanied their mother during the "Eternals" press tour.
Shiloh Jolie-Pitt, Zahara Jolie-Pitt, and Angelina Jolie at\\u00a0the "Eternals" UK premiere on October 27, 2021, in London, England | Source: Getty Images
The sisters had the opportunity to travel the world and attend various press events leading up to the film's premiere, even joining their mother on the red carpet multiple times. At the UK premiere of "Eternals," Shiloh repurposed a dress previously worn by Angelina in 2019.
She looked strikingly similar to her mother in the modified Dior gown. This marked the second time Shiloh had altered one of her mother's dresses for an "Eternals" red carpet appearance.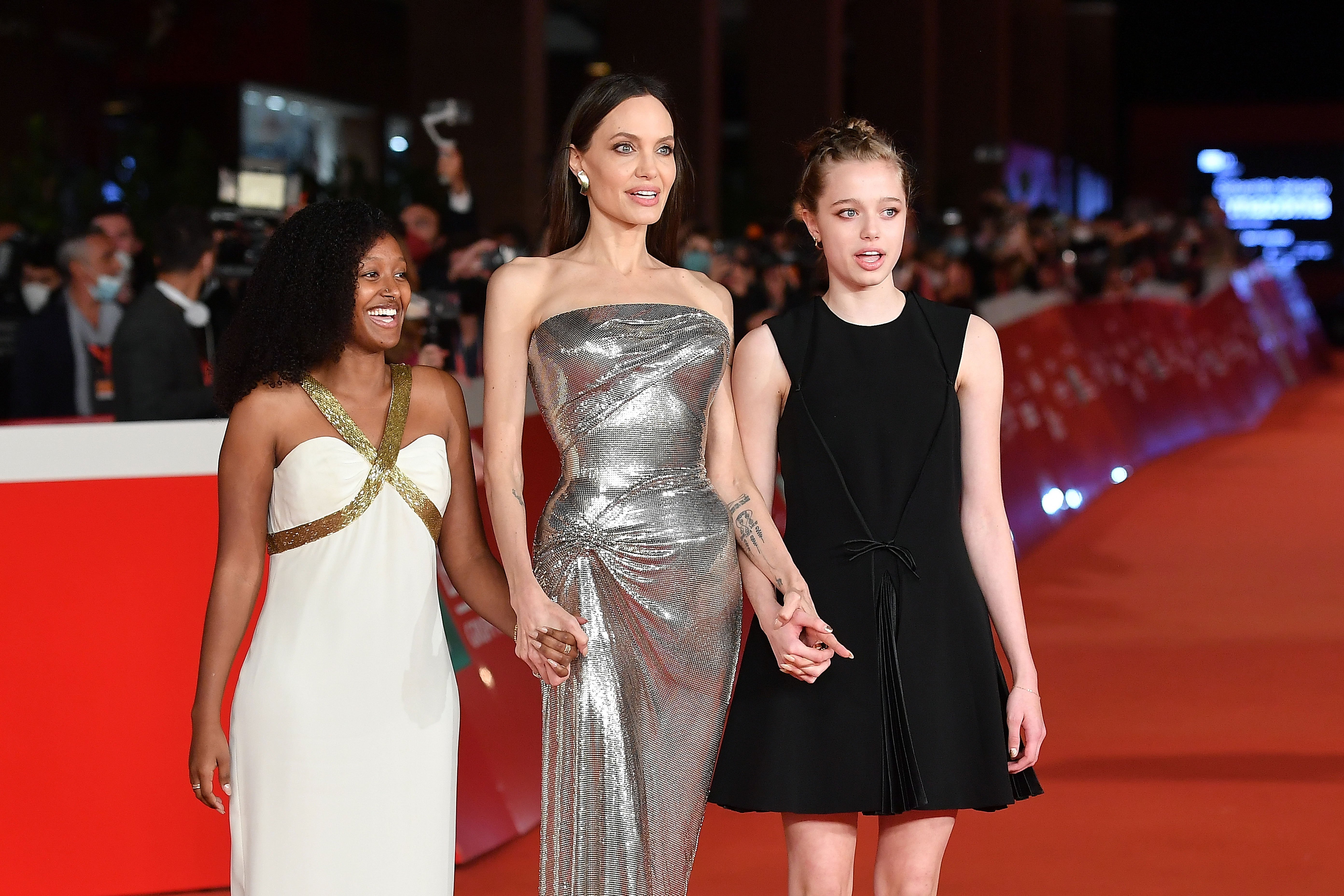 Zahara Marley Jolie-Pitt, Angelina Jolie, and Shiloh Jolie-Pitt on\\u00a0the red carpet of the movie "Eternals" during the 16th Rome Film Fest on October 24, 2021, in Rome, Italy | Source: Getty Images
A week prior, she attended the Los Angeles premiere in a dress Angelina had donned for the "Women for Bees" event in July 2021. The ensemble Shiloh chose for the Los Angeles premiere was a reimagined version of a Gabriela Hearst dress. However, in early January 2023, the young girl seemed to revert to her previous, more androgynous style.
The 16-year-old surprised fans by wearing a black hoodie, coordinating sneakers, gray shorts, and a buzz cut, all while sporting a makeup-free look. She was seen shopping with her older sister, Zahara, who was 18 at the time.
The sisters appeared content and relaxed in the face of flashing cameras. Prior to her buzz cut, Shiloh had longer blonde hair, and her evolving style has consistently made headlines.
Shiloh's distinctive fashion choices have attracted considerable attention over the years, a testament to her unique presence even at a young age. Her mother, Angelina Jolie, has been known to comment on her daughter's individuality and distinct sense of style.
Angelina Once Predicted Shilo Would Be an "Outcast"
At 20 months old, Shiloh was already standing out in her ethnically diverse family. Because of this, Angelina said she was "going to be the outcast." In 2007, she was the only child among her three adopted siblings with blonde hair and blue eyes.
At that time, Angelina and Brad were also parents to Maddox from Cambodia, Pax Thien from Vietnam, and Zahara from Ethiopia. The "Salt" actress observed how Shiloh's resemblance to her father set her apart from her siblings even more.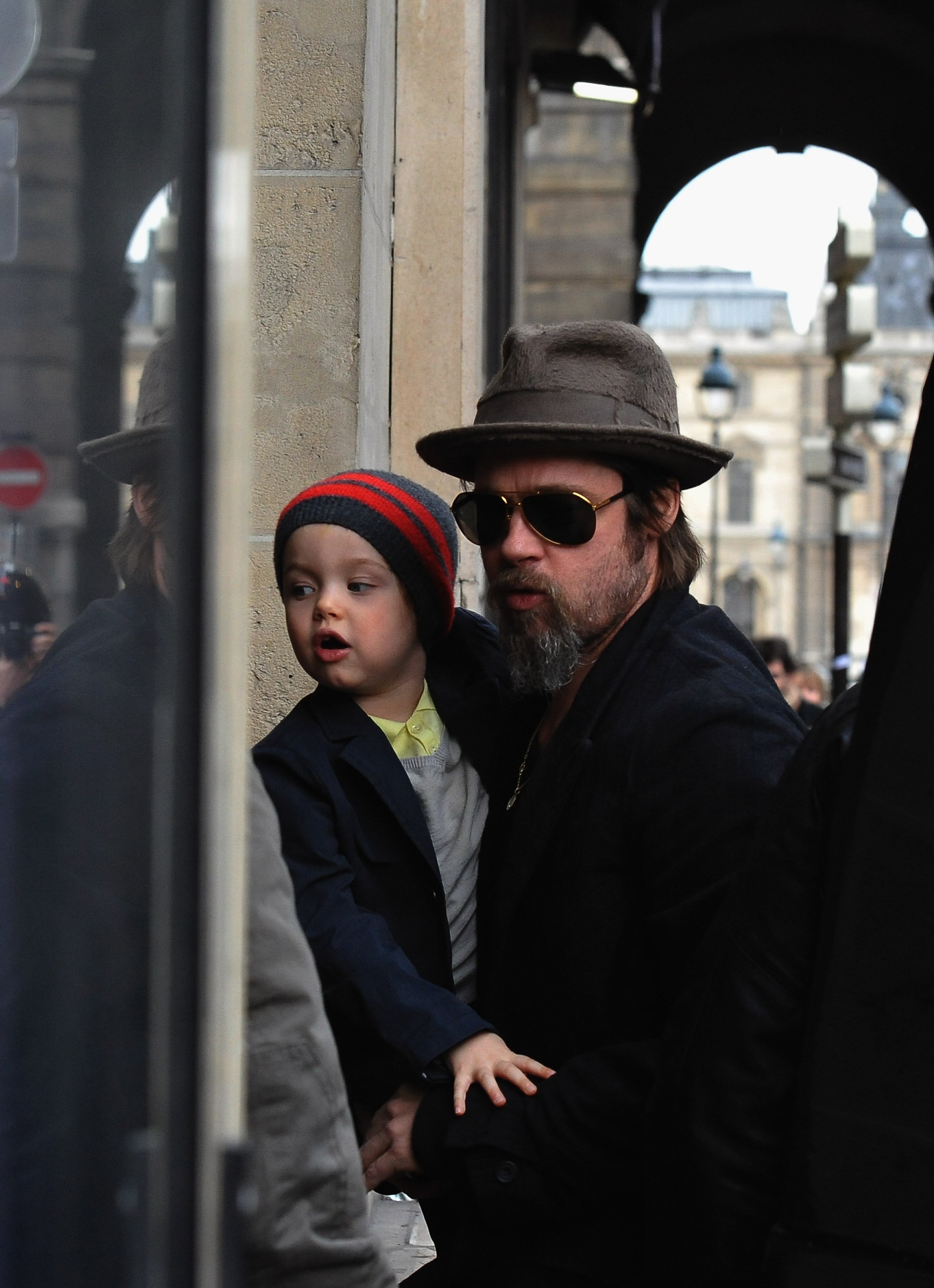 Brad Pitt and Shiloh Jolie-Pitt shopping at Bonpoint\\u00a0on February 23, 2010, in Paris, France | Source: Getty Images
Angelina mentioned that she initially wouldn't have minded not having biological children. However, after witnessing Brad's love for Maddox and Zahara, she changed her mind, realizing that a biological child wouldn't pose a threat.
The actress also shared a deep connection with her adopted children due to their difficult early experiences. Referring to Zahara, Maddox, and Pax as "survivors," she expressed her strong admiration and empathy for them and claiming she "felt so much more" for the three.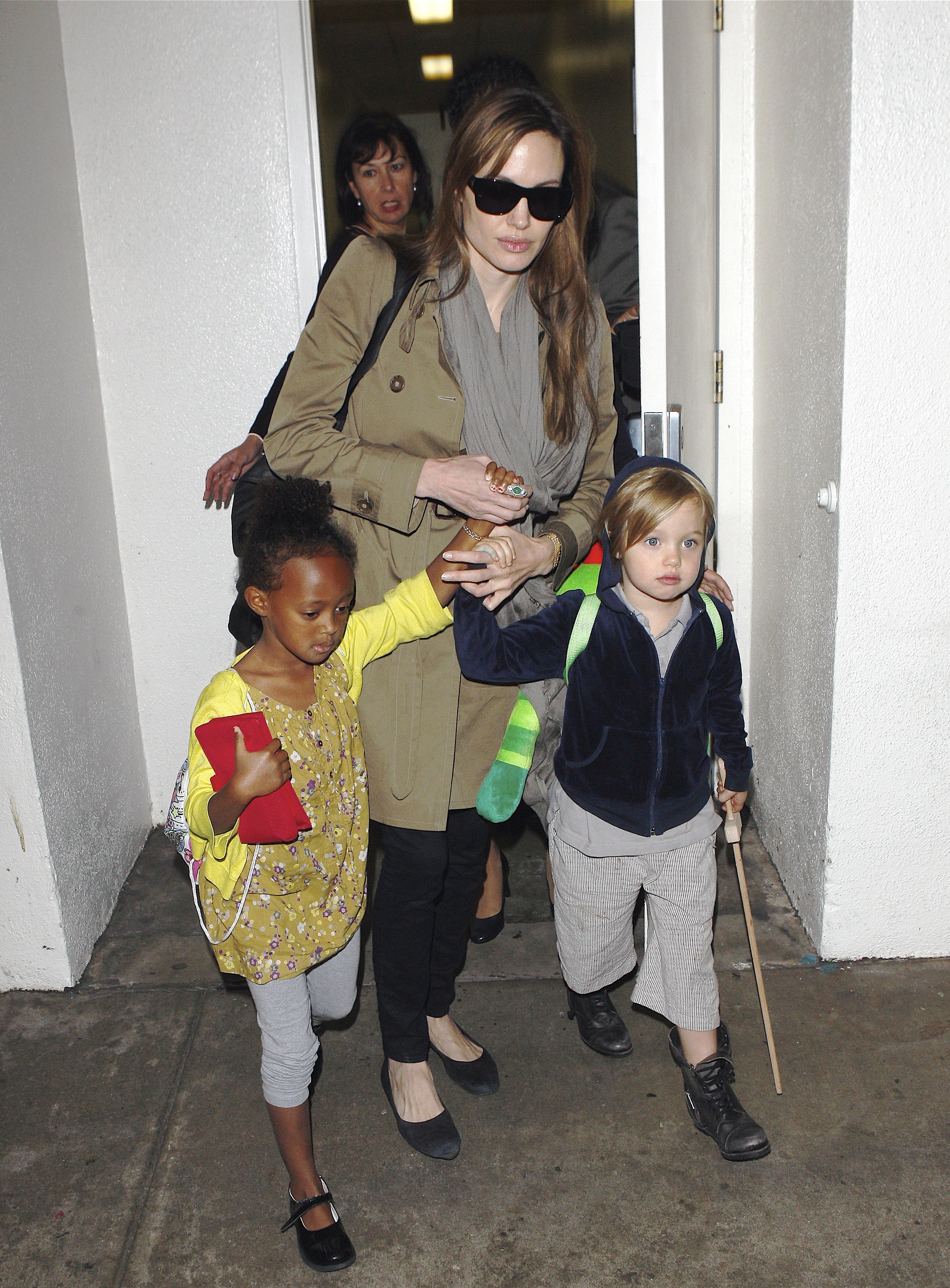 Angelina Jolie, Shiloh, and Zahara Jolie-Pitt seen at LAX Airport on September 18, 2010, in Los Angeles, California | Source: Getty Images
Meanwhile she noted that Shiloh had a different upbringing from the beginning. "Shiloh seemed so privileged from the moment she was born," she said.
In 2011, Angelina revealed that a then five-year-old Shiloh enjoyed temporary tattoos and wearing pirate outfits. According to a source, she even picked out a clown costume while shopping at Los Angeles' Ozzie Dots.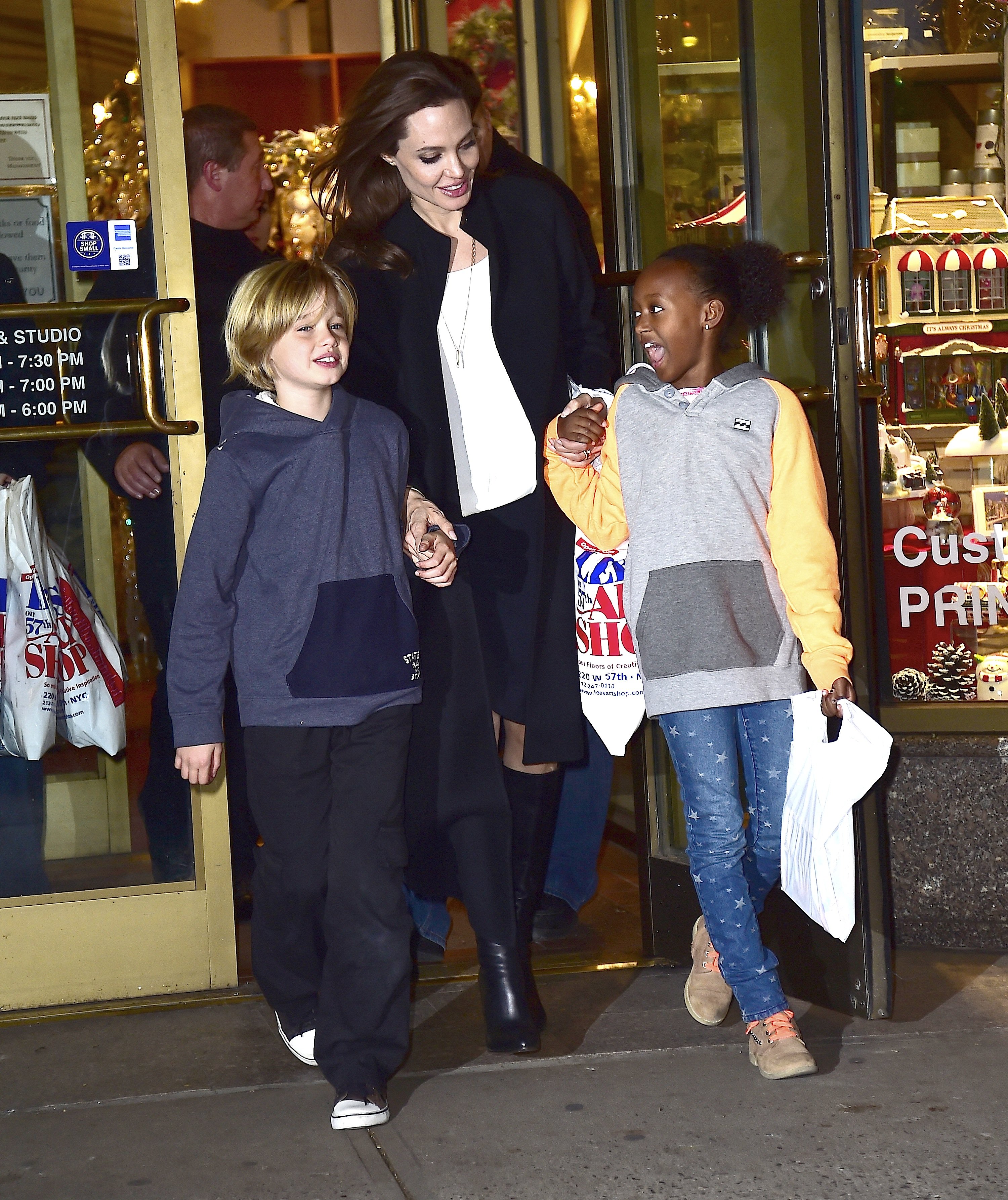 Shiloh Jolie-Pitt, Angelina Jolie, and Zahara Jolie-Pitt\\u00a0seen shopping at Lee's art shop\\u00a0on November 21, 2014, in New York City | Source: Getty Images
The insider amusingly shared that Shiloh wanted to wear the costume in the store, but Angelina insisted otherwise. When Shiloh was around two-and-a-half years old, she would only respond to the names "John" or "Peter."
Brad explained that his daughter's preference for these names stemmed from a Peter Pan phase. Although he found this behavior endearing, he acknowledged that others might find it obnoxious. He added:
"It's just that kind of stuff that's cute to parents, and it's probably really obnoxious to other people."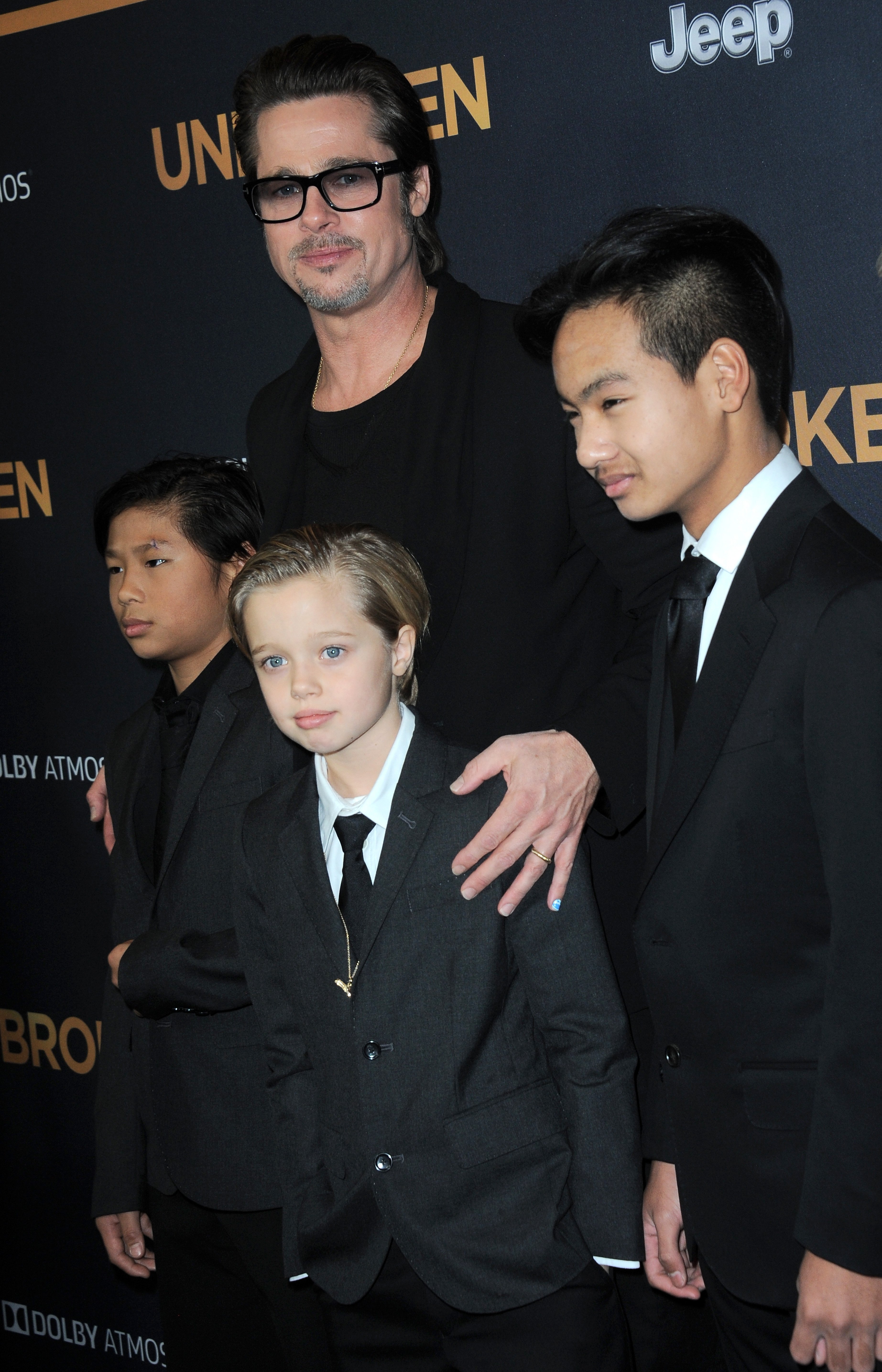 Brad Pitt,\\u00a0Pax, Shiloh, and Maddox Jolie-Pitt at\\u00a0the premiere of\\u00a0"Unbroken"\\u00a0on December 15, 2014, in Hollywood, California | Source: Getty Images
In 2010, Shiloh's tomboy phase was in full swing, with a clear preference for boys' clothing. She favored tracksuits, ties, slacks, suits, and jackets, and enjoyed dressing like a boy.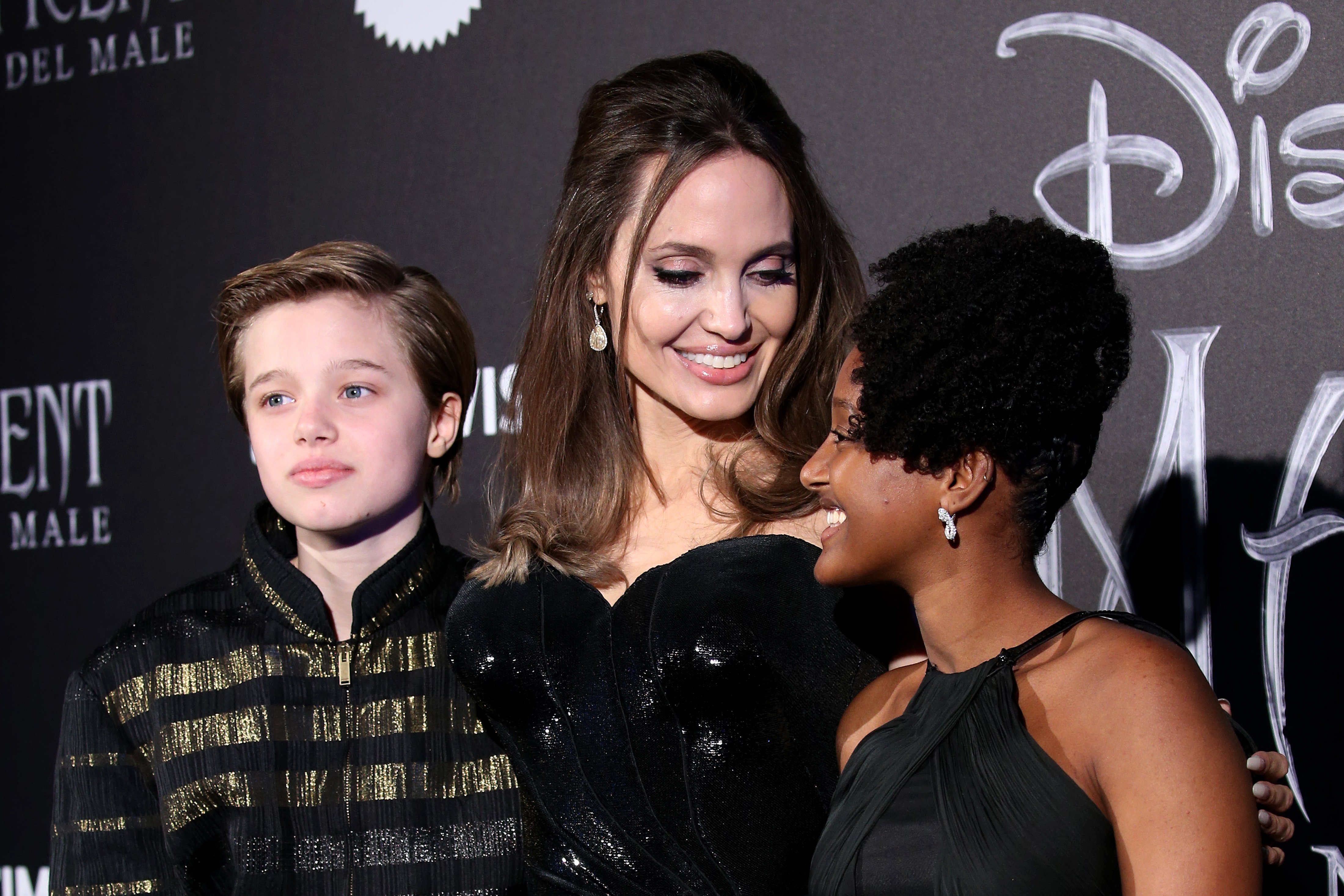 Shiloh Nouvel Jolie-Pitt, Angelina Jolie, and Zahara Marley Jolie-Pitt at\\u00a0the European premiere of\\u00a0"Maleficent – Mistress of Evil"\\u00a0on October 7, 2019, in Rome, Italy | Source: Getty Images
Angelina shared that at the time, Shiloh wanted to be a boy, leading them to cut her hair. The actress speculated that Shiloh may have considered herself one of her brothers. Regardless of how she chose to present herself, her parents were always proud of her.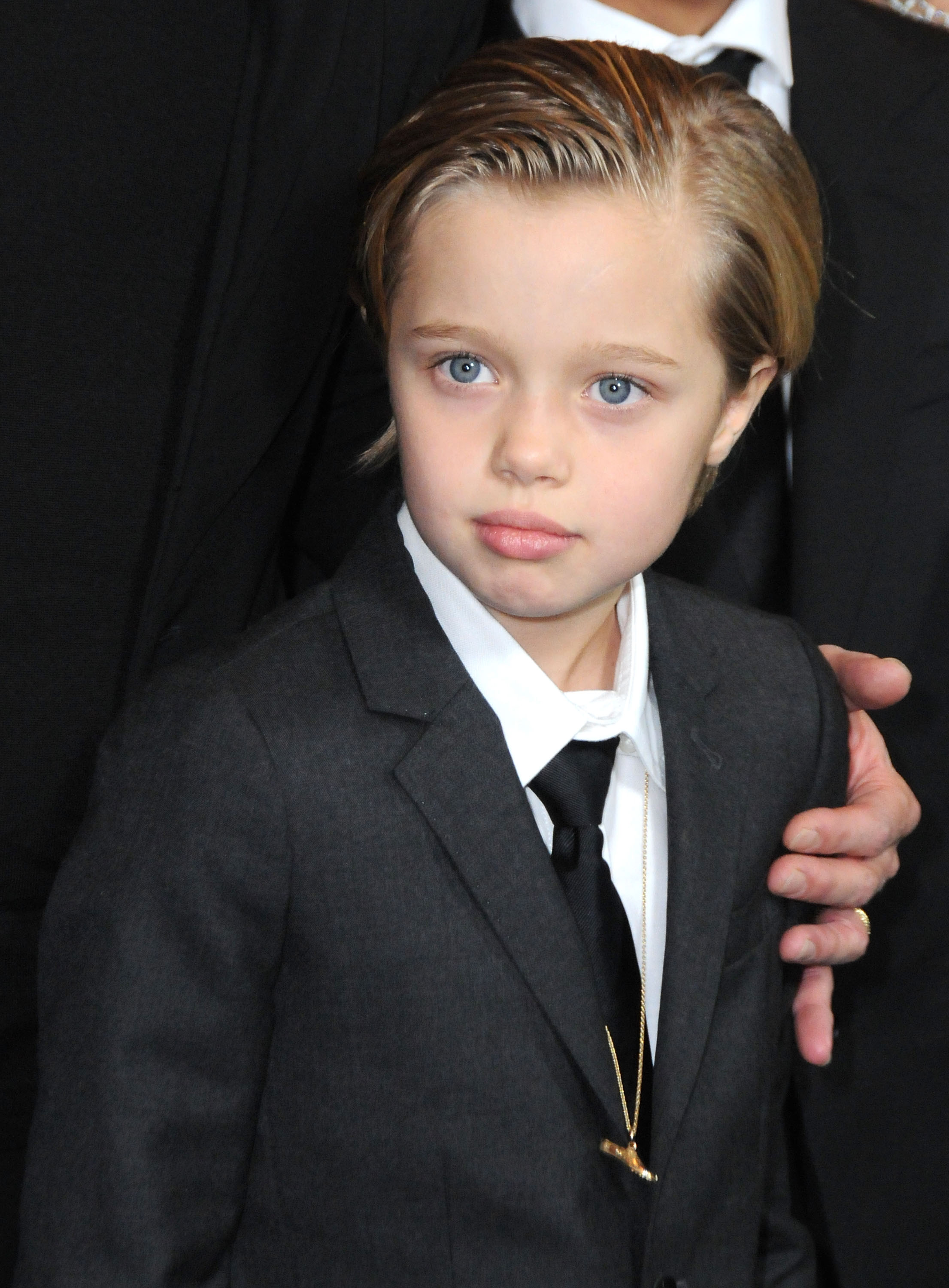 Shiloh Nouvel Jolie-Pitt at\\u00a0the premiere of "Unbroken"\\u00a0on December 15, 2014, in Hollywood, California | Source: Getty Images
Brad Is Proud to Have a Daughter Who Isn't Easily Swayed by Others
In May 2020, as Shiloh celebrated her 14th birthday, a source close to her father, Brad Pitt, mentioned how proud he was of the person she had become. Brad reportedly admired his daughter's authenticity and her kindness towards her siblings.
Though Brad didn't attend the "Eternals" press tour in 2021, an insider claimed that he supported his children and their pursuits. The Jolie-Pitt children were at an age where they could make their own decisions, and Brad didn't stand in their way.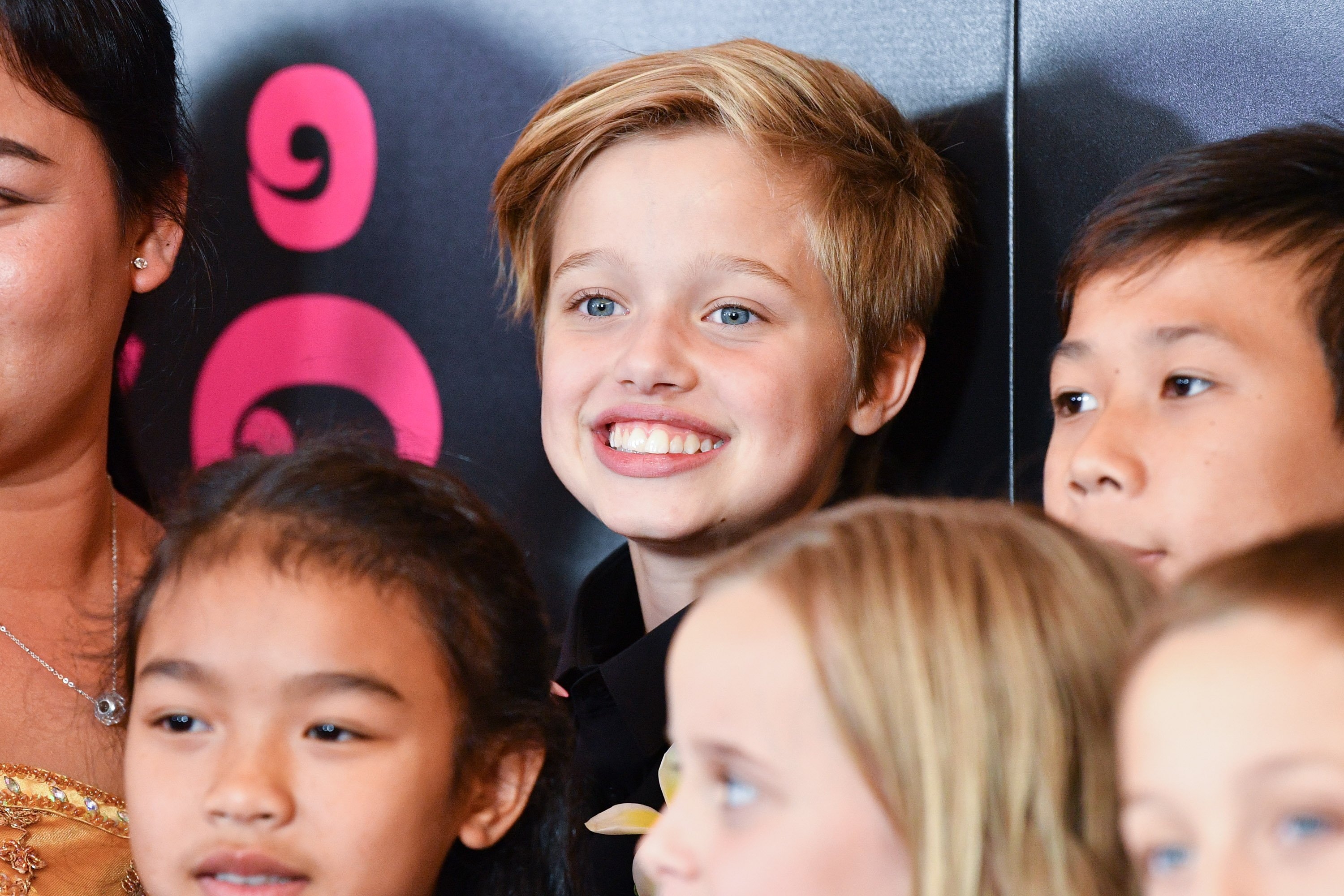 Shiloh Jolie-Pitt at\\u00a0the "First They Killed My Father" New York premiere\\u00a0on September 14, 2017, in New York City | Source: Getty Images
The source stated that the actor encouraged his kids to "be whoever they want to be" and to follow their own paths. While the siblings enjoyed attending red carpet events with their mother, Angelina Jolie, they reportedly led a more casual lifestyle with their father at home.
The insider shared that Brad preferred to spend quality time with his children away from the public eye. When they were with their renowned father, the children were said to be "homebodies" who adhered to good routines.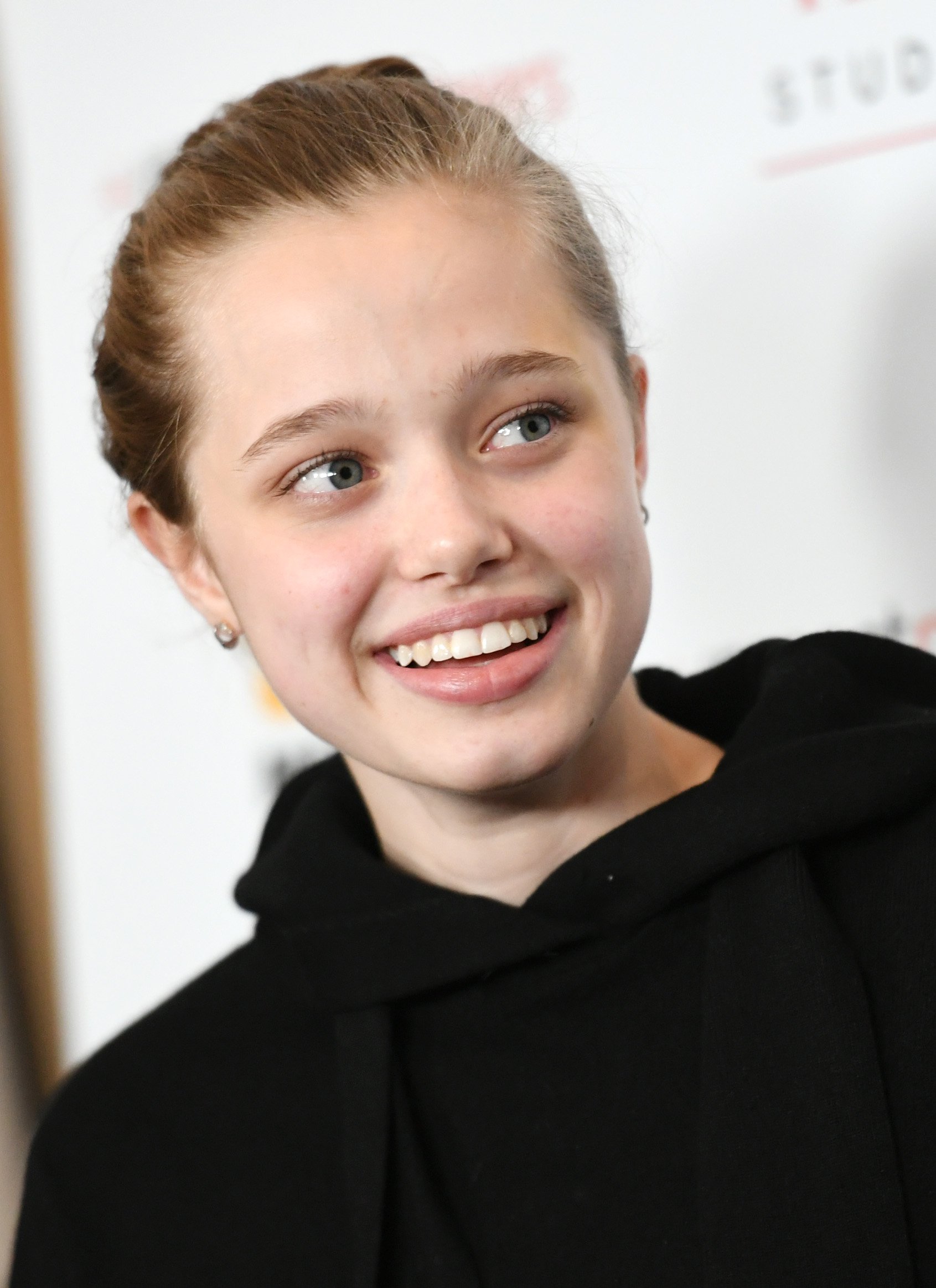 Shiloh Jolie-Pitt at\\u00a0the Los Angeles premiere of\\u00a0"Paper & Glue: A JR Project"\\u00a0on November 18, 2021, in Los Angeles, California | Source: Getty Images
In 2022, Shiloh discovered a passion for dancing and proved to be quite talented. A video of her dancing with her group went viral, and Brad expressed his pride in her performance, noting that it "brings a tear to the eye" and that his daughter was "very beautiful."
The "Bullet Train" actor also took the opportunity to discuss his love for all his children, reiterating how much Brad appreciated their individual journeys as they discovered their interests and flourished in their unique ways.