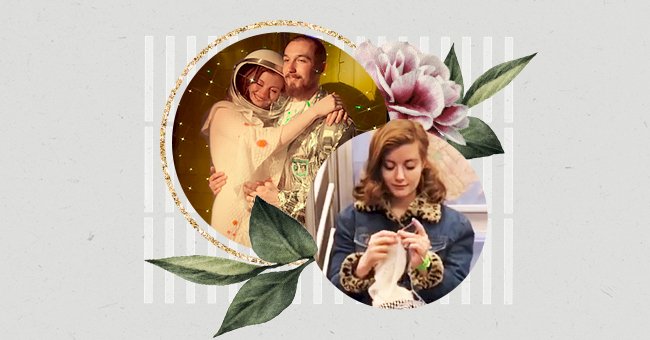 Bride Spends 9 Months Knitting Her Wedding Gown
Weddings have become more unconventional these days, and bridal fashion has followed suit. A bride spent nine months knitting her wedding gown on her commute to work, and it looks fabulous.
Virtual ceremonies, minimonies, and the rise of sustainable fashion have all changed how we see weddings lately. More brides are opting for a DIY type of wedding because of these global concerns.
Recently, a bride based in Indiana wore a gorgeous knitted wedding gown. The Esther Andrews Bridal founder shared her journey on TikTok, and viewers love her unique wedding gown design.
More About The Bride
Esther Andrews is a bride who made her own wedding dress in nine months while commuting to work on the subway. Andrews is also the founder of Esther Andrews Bridal, a bridal company with unique garments.
On her Bridal website, Esther Andrews reveals that she designed knitwear collections for several high-end designers. These designers included Diane Von Furstenberg, Victor Glemaud, and Morgan Lane.
The website also reveals that Esther moved from New York back to Indiana to open her bridal studio. Esther Andrews Bridal specializes in bridal knitwear that offers brides unique garments and accessories for their big days.
The bridal collection also includes items that are great for brides getting married in warmer weather. These unique designs are also sustainably made, making them fantastic for the modern-day bride.
The Wedding Dress
Like many brides, Esther Andrews had to figure out what she would wear on her wedding day. Being a bridal designer, Esther decided to knit her own gown over nine months before her wedding day arrived.
Esther hand-knit her wedding gown on her commute to work for nine months and documented it on TikTok. Andrews was even stitching her gown together on her way to work the day before her wedding.
The dress was made of over four miles of mohair lace yarn and featured ruffles and a v neck cut design. Esther also designed and made her husband's astronaut suit-like ensemble for the day of their nuptials.
Wedding Dress Inspiration
While Ester's gown was undoubtedly gorgeous, the inspiration behind it was quite silly, making it more special. She revealed a bit of her and her husband's fun personalities with the out-of-this-world inspiration.
"The inspiration was a space pirate meets a tomato patch — because it was just silly and fun,"

Says Esther Andrews
Esther also reveals that she was nervous that the dress wouldn't fit at the final hour in the TikTok video. Thankfully, the nine-month project fit the new bride perfectly and topped off an experience she already cherished.
"I will always cherish this dress and the time that went into making it,"

Writes Esther Andrews