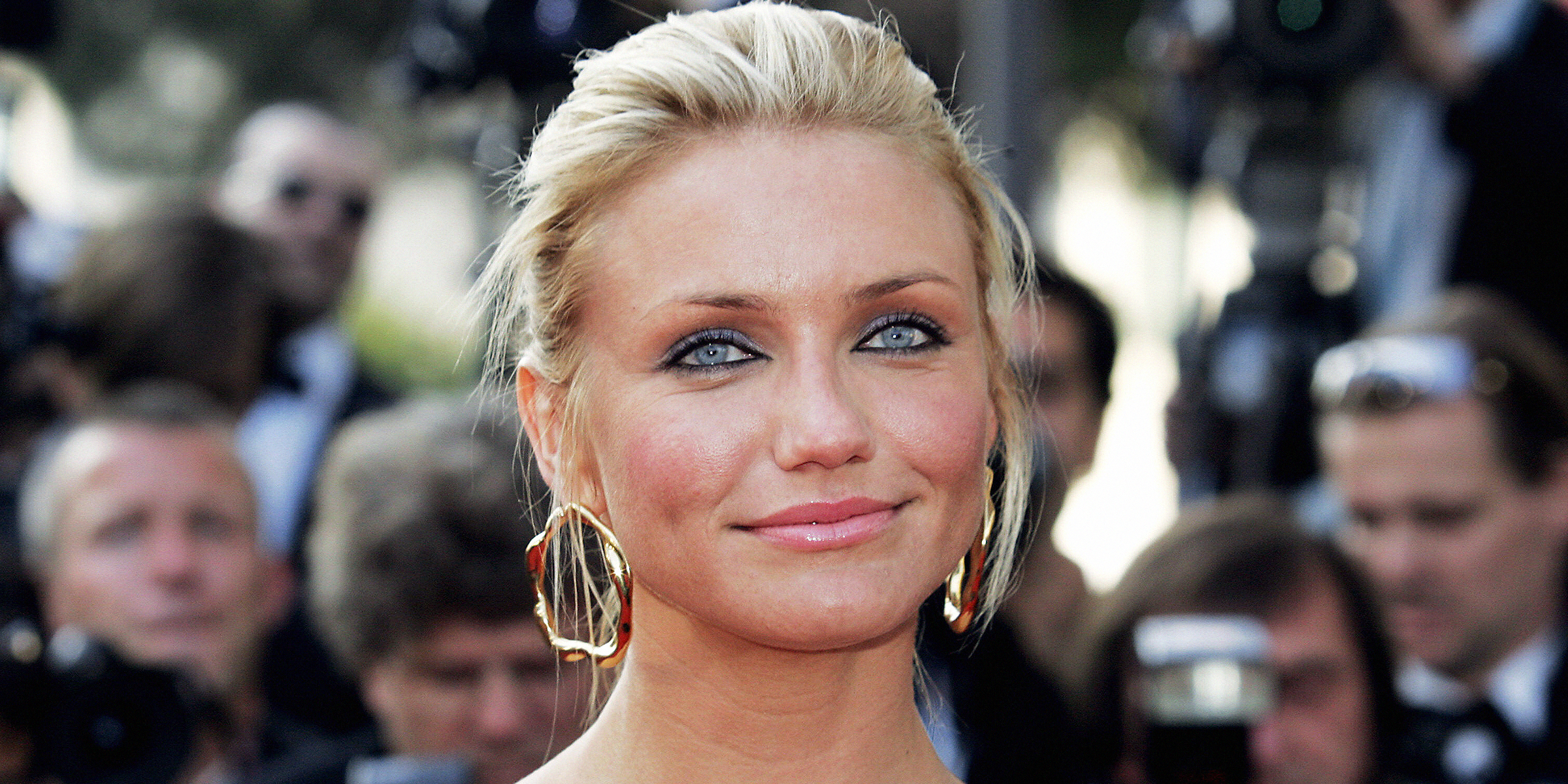 Cameron Diaz | Source: Getty Images
Cameron Diaz, 50, 'Looks Nothing like Her Former Self' in Pics after Fleeing Hollywood to Raise 'Miracle' Baby
Cameron Diaz left Hollywood following her marriage and becoming a first-time mother at 47.
The actress's recent photos astonish fans who are unable to identify her.
Information about the "Vanilla Sky" star's private younger husband and baby girl has been revealed.
Cameron Diaz was a prominent figure in the 2000s, embodying the girl-next-door persona on screen. However, she chose to step away from acting to focus on her marriage and motherhood.
Though she remains relatively quiet on social media, she has shared new photos that have left fans shocked by her appearance. Her husband and toddler are now her main priorities, and she keeps their lives private.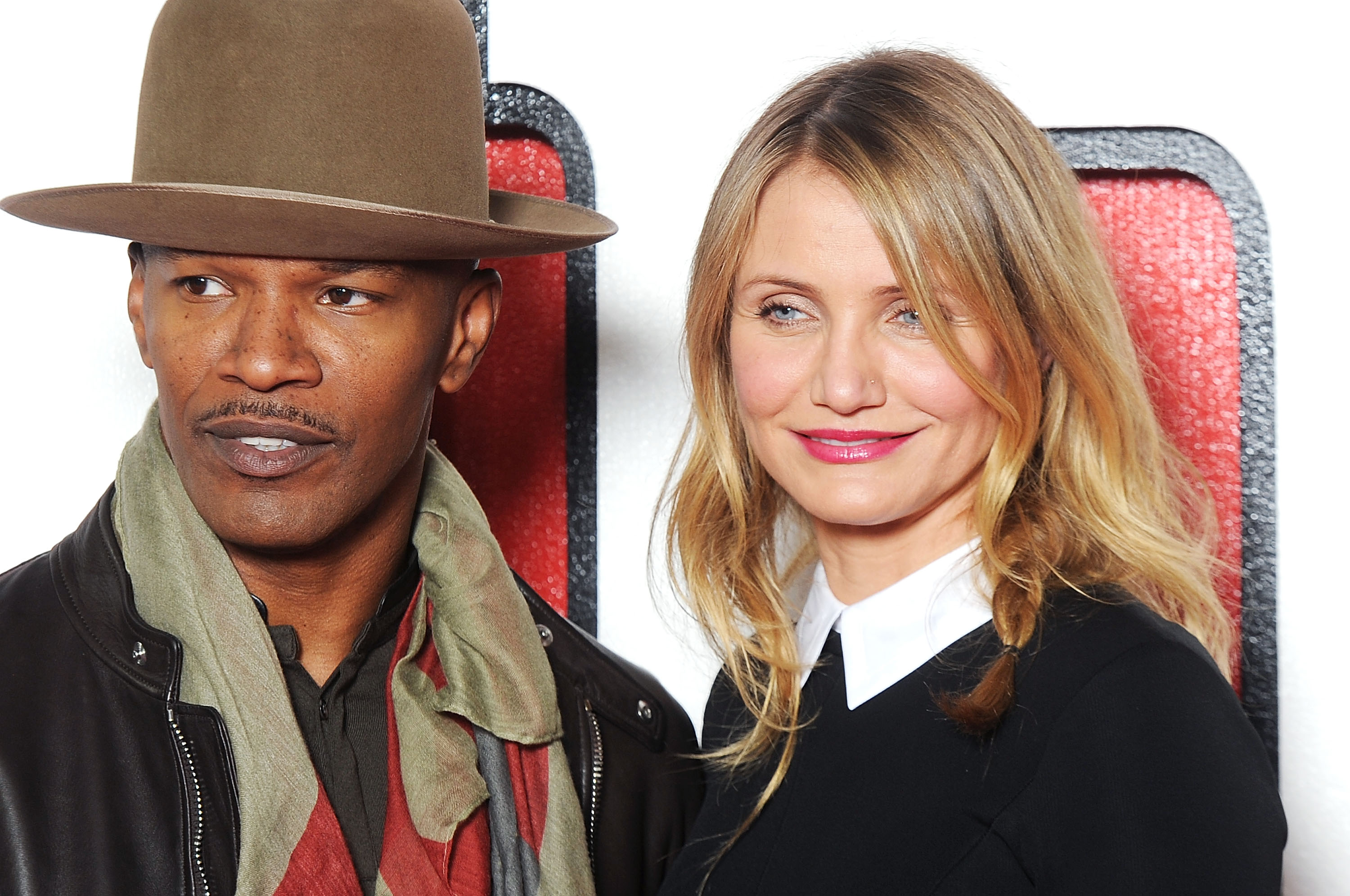 Jamie Foxx and Cameron Diaz attend a photocall for "Annie" at Corinthia Hotel London on December 16, 2014 in London, England | Source: Getty Images
Before her daughter's birth, Diaz decided to retire from acting and prioritize her family. Many fans were sad to see her go but wished her the best on her new journey.
The 50-year-old actress has agreed to make a final return to Hollywood in a Netflix film called "Back In Action," co-starring with Jamie Foxx. He had to beg her to participate, promising that it would be her last film.
Foxx and Diaz previously worked together in 2014's "Annie," which was Diaz's last film before announcing her retirement. Foxx is excited to have her on board for this project.
Photos from the movie set have emerged, showing Diaz in a black trench coat on a speedboat. While some fans were excited to see her "Back In Action," others criticized her appearance.
The photos were shared on Instagram, featuring one image of Diaz from a distance and another with a closer view of her face as she smiled at something off-camera.

A comment left on a post about Cameron Diaz's appearance in March 2023 | Source: Instagram.com/people

A comment left on a post about Cameron Diaz's appearance in March 2023 | Source: Instagram.com/people
Fans quickly commented on her facial features, suggesting she had undergone plastic surgery and that it was excessive. One fan compared her to The Joker, while another expressed disappointment:
"She looks nothing like her former self. So sad. Getting caught up in the plastic look."
Another fan hoped it was just an unflattering photo and that she hadn't had that much work done. Many fans agreed she was unrecognizable and needed to refrain from further procedures.

A comment left on a post about Cameron Diaz's appearance in March 2023 | Source: Instagram.com/people
Although numerous negative comments and backlash filled the photos, some fans expressed that despite her changed appearance, she still looked beautiful.
Many fans are excited about the actress's Hollywood comeback, but it appears that after this film, she may leave the industry for good, as she allegedly hasn't been happy on set.
A source close to Madden and Diaz recently shared insights on Diaz's experience returning to Hollywood and resuming her acting career. The source mentioned the long days and how much Diaz misses her daughter, adding:
"Cameron loves being a mom more than anything in the world."
The situation has been challenging for Madden as well. While he supports his wife in all her endeavors, her decision to make another movie has been difficult for him to handle. The couple does spend time together and with their daughter, but the source says it's not the same as having Diaz at home.
According to the source, Foxx was able to persuade Diaz to take part in the film because they remained close since working on "Annie." Otherwise, Diaz prefers to focus on her business ventures.
Diaz chooses to stay away from Hollywood due to the drama that often accompanies movie-making. She is known to be non-confrontational and dislikes the conflicts that arise during productions.
The actress reportedly believes she has accomplished enough in her acting career and has nothing left to prove. With over 40 successful films under her belt and once being the highest-paid actress in the industry, the source confirmed that this is likely Diaz's final movie.
After Foxx experienced an "absolute meltdown" on set earlier this month, resulting in the firing of three individuals, Diaz reportedly confirmed her decision to never return to the industry.
According to the source, Diaz doesn't hold any grudge against Foxx for the incident, but she has lost interest in being involved in the industry and everything that comes with it.
It was reported that Foxx fired an executive producer, two directors, and his driver. Diaz, however, understood that Foxx was in a position of authority and had to make difficult decisions to achieve his vision for the film.
Rather than concentrating on her acting career, Diaz has chosen to focus on her business venture, Avaline, which she co-founded with Katherine Powers in 2020.
The company has experienced impressive growth over the past few years, and Diaz takes pride in her role in creating something that is dear to her heart and allows her to spend quality time with her daughter.
How Did Diaz Become a Mom at 47 and Leave Hollywood?
Diaz has frequently expressed her gratitude for her career and the numerous opportunities she has experienced throughout her life. However, being an actress became increasingly demanding, making it difficult for her to maintain her routine.
The former actress stated that once she recognized that her lifestyle was no longer sustainable, she wanted to leave Hollywood and establish a routine that she could manage independently, without the need for assistants, managers, or anyone else.
She mentioned that during her busy times, she lacked the time and ability to make well-informed decisions for her future. Now, she can take her time and relax when making crucial decisions.
Diaz also said that she needed to establish this way of living to clear her schedule and become the best mother for her daughter, Raddix. Diaz and her husband, Benji Madden, shocked the world in January 2020 when they announced their daughter's birth.
Both Diaz and Madden used Instagram to share the same text-only post, announcing their daughter's arrival, her name, and assuring fans that while she was happy and healthy, they would not share any photos of her.
Soon after the announcement, a source close to Diaz revealed in an interview that Diaz and Madden had welcomed their daughter via surrogate, stating,
"[Diaz] feels like this baby is truly a miracle."
The source mentioned that the couple had encountered numerous challenges while trying to become parents and were overjoyed that it had finally happened, even though Diaz couldn't carry the child at 47.
Madden and Diaz attempted to conceive through IVF, supplements, and even acupuncture, but none of those methods succeeded. This led them to explore surrogacy, ultimately allowing them to welcome their baby girl.
While Diaz has retired from acting, she occasionally gives interviews, consistently gushing that motherhood is one of the best things she's ever done. She also mentioned that she never feels overwhelmed by her daughter because she understands that every behavior has a reason behind it.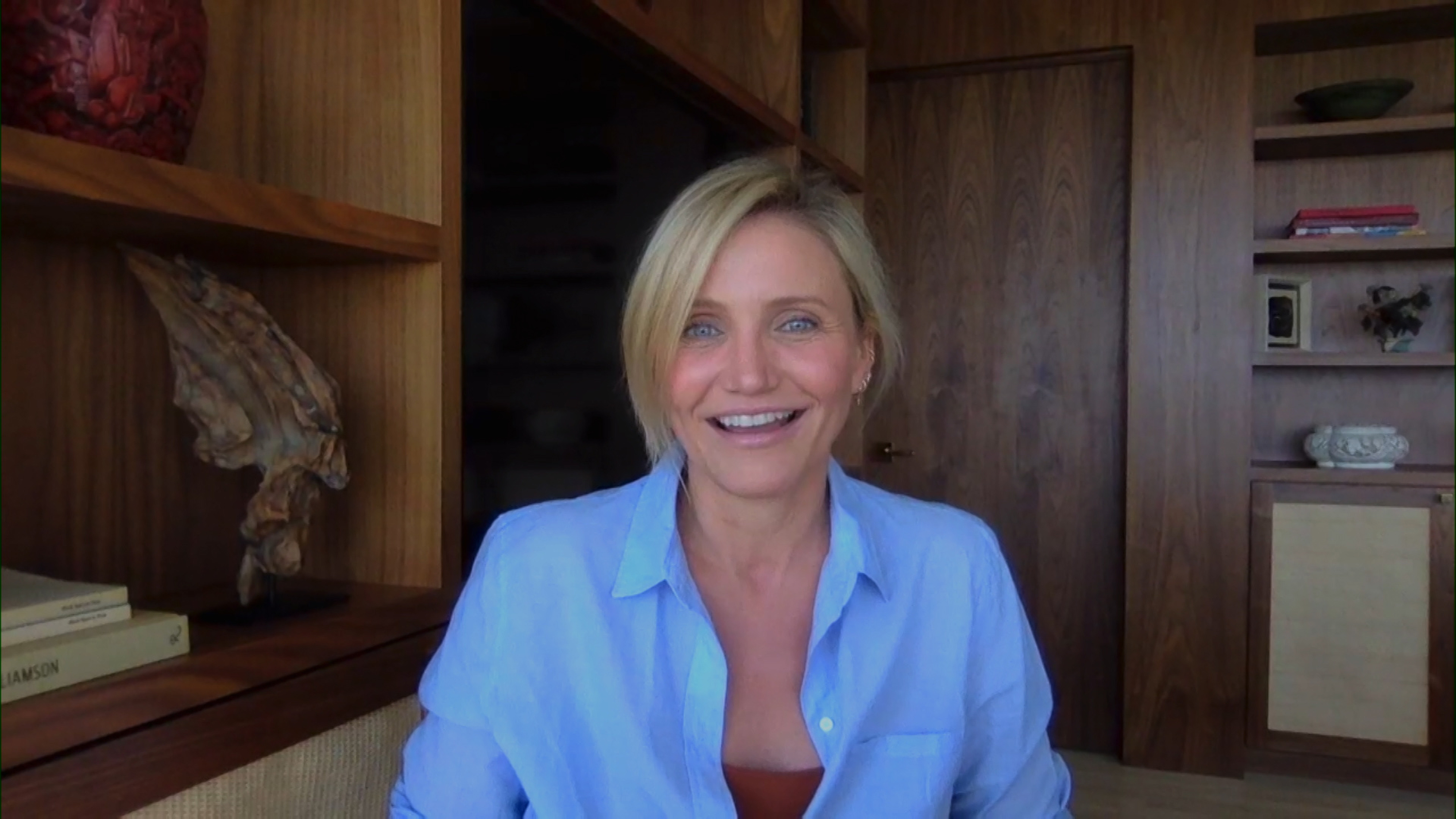 Cameron Diaz during an interview on July 22, 2020 on "The Tonight Show with Jimmy Fallon" | Source: Getty Images
When her daughter is upset, Diaz attempts to uncover the root cause to collaboratively help her feel better. The actress believes that understanding and addressing the underlying issue is part of her role as a parent.
Diaz attributes her patience with her toddler to being an older parent who had to work hard to welcome a child. She acknowledges that she has been fortunate enough to have the time to learn about her daughter.
Diaz admitted that maintaining patience at all times isn't always possible, but when she loses her cool, she communicates with her daughter. She shares her feelings with Raddix and asks how it affected her, so they can work together to mend the situation.
Who Is Diaz's Younger Spouse?
Diaz and her husband share a six-year age difference, with Diaz being the senior to the Good Charlotte guitarist. The couple's relationship came to light in 2014 when an insider revealed they spent most of their time at Diaz's residence.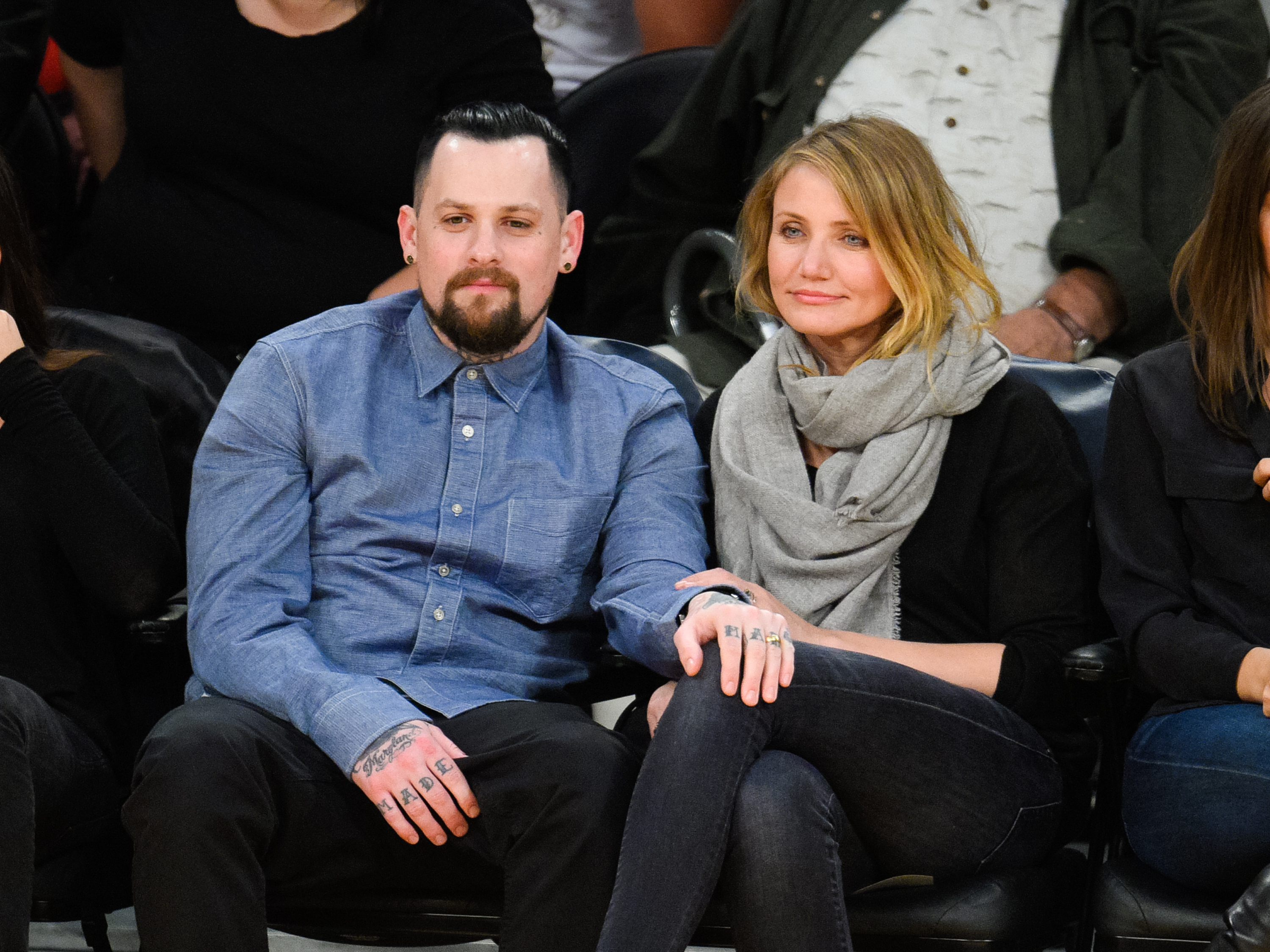 Benji Madden (L) and Cameron Diaz attend a basketball game between the Washington Wizards and the Los Angeles Lakers at Staples Center on January 27, 2015 in Los Angeles, California | Source: Getty Images
The source mentioned that Diaz was delighted because she had finally found a man who treated her like a lady. Speculation suggested that the pair might have met through Nicole Richie, Diaz's friend and the wife of Madden's twin brother.
A year later, it was confirmed that Diaz and Madden had tied the knot. The couple had been engaged since May 2014, and their friends and family were overjoyed when they finally got married.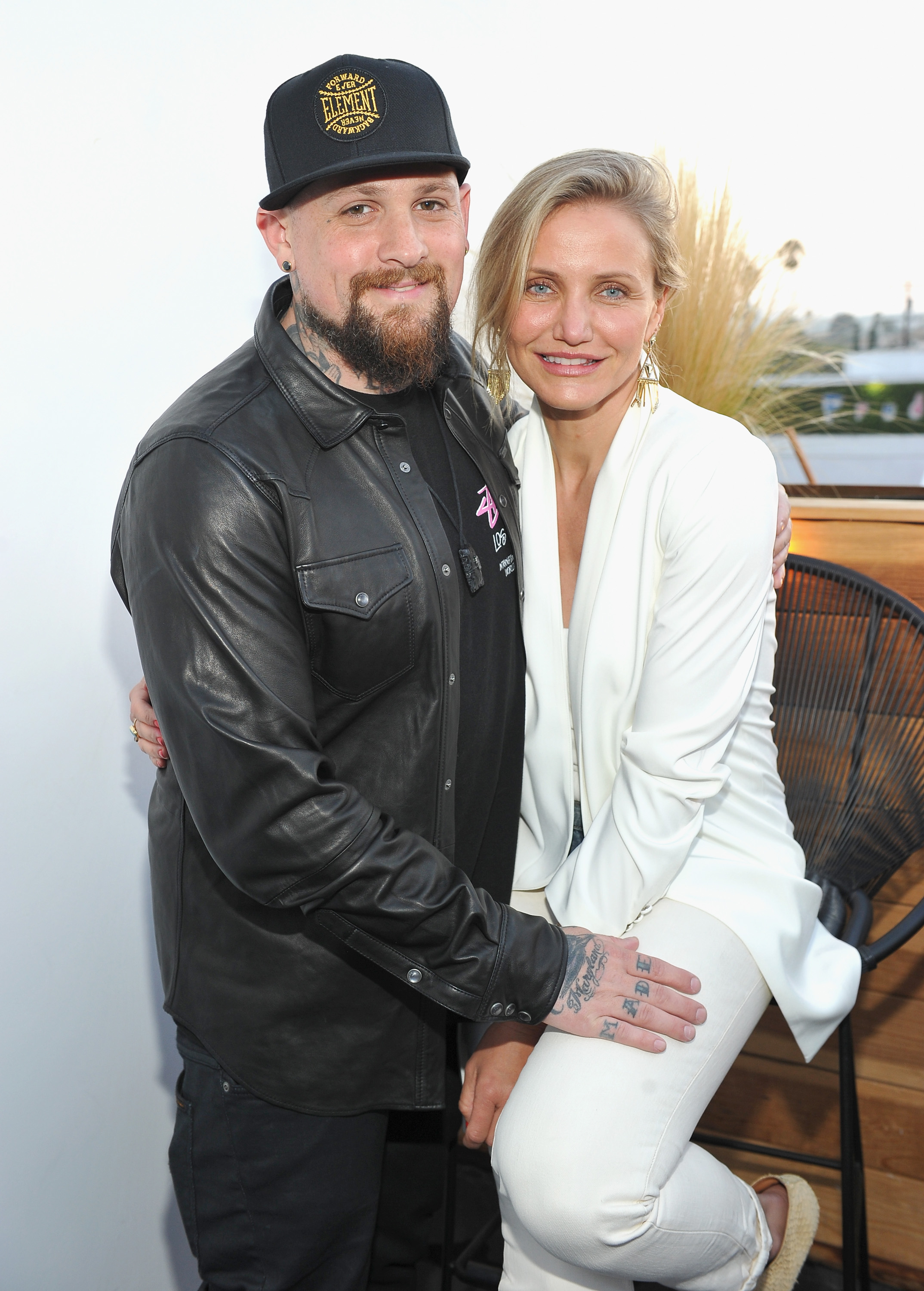 Benji Madden and actress Cameron Diaz attend House of Harlow 1960 x REVOLVE on June 2, 2016 in Los Angeles, California | Source: Getty Images
Although filled with love and happiness, the celebration was an intimate and private affair. It took place at their Beverley Hills home, with only close friends and family present to celebrate the couple's union.
Diaz and Madden are deeply in love with each other and their young daughter. Diaz is particularly appreciative of her husband's exceptional fathering skills. She once gushed:
"After we do bath time with our baby and we put her to bed, Benji puts her to bed, he's so good. He's such an amazing father. I'm so lucky he's my baby's father. He's incredible. He puts her down, and I go into the kitchen and I pour myself a nice glass of red wine. I start my cooking, I put on my show, whatever it is."
While she is grateful for Madden's role in their daughter's upbringing, Diaz emphasizes that being a mother is just as important to her as having a wonderful father for her daughter.
Diaz stated that being a parent is the best part of her life, and she feels fortunate to share this journey with Madden. Although she finds it hard to believe she's a mother, she is thrilled about it.
The former actress discovered the best time in her life was when she could enjoy quality moments with her husband and child during the 2020 quarantine.
As the world went into lockdown and many faced despair, Diaz felt fortunate to have uninterrupted time with her spouse and their new baby.
During the quarantine, Diaz not only cleaned her home and cooked for her family but also ensured she spent quality time with her loved ones each day.
The former actress cherished being at home for months, and though it was bizarre to be confined indoors, she appreciated the tranquility of a tidy and empty house.
Diaz and her business partner went live together during the lockdown, discussing their activities. Diaz shared that she had been cooking.
While many people dislike cooking, Diaz enjoys spending time in the kitchen, preparing delicious meals for her family.
Madden and Diaz reside in a Montecito, California mansion, which they've transformed into a sanctuary for themselves and their daughter.
Their home spans 1.75 acres of land and an impressive 11,000 square feet. Located on a hilltop, it offers nearly uninterrupted ocean views.
Decorated in neutral tones, the calming residence features two living rooms, a beautiful kitchen, an elegant dining room, and a study.
The house also includes a movie theater, and the main bedroom offers a cozy sitting area in front of a fireplace just steps from the bed.
Numerous vantage points on the property provide ocean views, and there's also a large swimming pool complete with a hot tub.
At day's end, the family can gather on the upper terrace to watch the sun set over the ocean — a truly beautiful home and family!