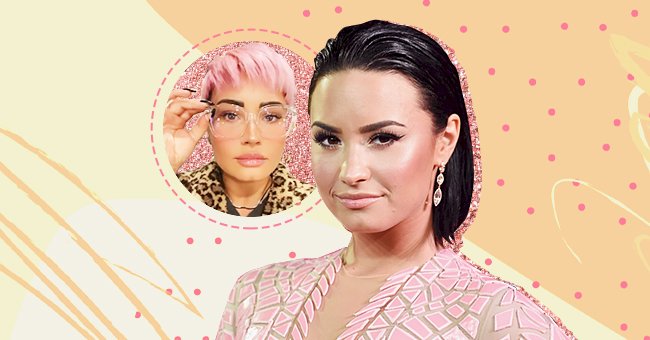 Demi Lovato Serves Gorgeous Hairspiration With Stunning Pink Pixie Cut
The A-lister singer Demi Lovato has been experimenting with her hair since last year - starting with a blonde, shaved pixie cut, and now finally adding a pastel shade to prove she looks pretty cute as Pinkvato.
Take it from someone who has been in the spotlight for quite some time - changing your hair can be fun and relieving, especially in pandemic-stricken times. And if Lovato can go from black to blonde and then to pink, maybe there's hope for all of us.
Whether it's her epic music collection or her steamy hot attire, Lovato is somehow always heating things, and there's no extinguishing her fire. It's time to dive a little deep into that "little thing" she did with her hair and how her shift from blonde to pink is becoming popular.
PINKVATO For Real
The music sensation took to her Instagram account on January 10 and shared a small video debuting her hot new pink hair. Her makeup game for the look was epic, with dark, prominent eyebrows, rose pink glossy lip color, and a matching blush on the cheeks.
She also wore transparent, big-framed specs and a nose ring, along with small hoop earrings. Her leopard print coat and black t-shirt complimented her overall look as she pouted and posed for the camera, casually tousling her hair.
Lovato's Pink Pixie - Courtesy Her Hair Stylist
Demi's pink pixie cut look was created by her hair colorist and stylist Amber Maynard Bolt, who she also tagged in her caption. Though it's a typical practice for celebrities to try on different hair-dos with wigs and all, Lovato's pastel-pink shade is as real as real can be.
"There is something about changing your hair so drastically that allows you to own yourself in a way you never thought!"

said Amber Maynard Bolt, Lovato's hair artist
Lovato also made the 'bleached bob hair look' go viral initially, and it became a massive phenomenon in the Hollywood arena. The pink hue has also been making rounds, with celebrities trying a complete pink-over style to light-colored bangs and flicks.
Everybody Loves Lovato's New Hair Color
Demi set the Instagram world on fire when she posted pictures of her new hairstyle, first with the blonde debut look and then the pink hues. Noah Cyrus, Shay Mitchell, and Chelsea Handler endorsed Pinkvato, and even Amazon Music and Tv Guide couldn't help commenting.
Fans also showered the A-lister artist with their love and praise. Her outfits' choice to go with the new hair look included short body dresses and jackets, with exclusive jewelry items like earrings, necklaces, and rings.
Lovato is someone who loves getting creative with her hair, be it embracing the long brunette style, cute bob cut, or making a switch to complete blonde (and now pink). And she rocks in all her hair transformations.
Other Celebs Who Tried Pink Hair
Many other celebrities also tried the pink hair look last year, so we can pretty much call it a 'quaran-hair trend.' Demi's pink on the blonde face has been embraced by notable Hollywood stars, like Kate Hudson, Sarah Michelle Gellar, Julianne Hough, Kaia Gerber, and Lauren Burnham.
While everyone might have their reason for going all pink on their hair, it might have something to do with people's state of mind. In a time marked with sheer chaos and instability, embracing pink with all its calming nature can be a good chance.