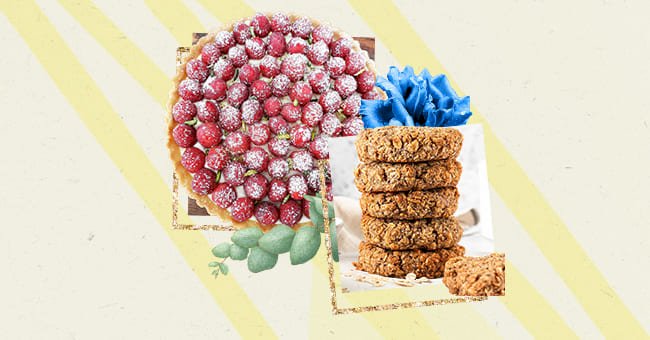 Easy Vegan Dessert Recipes To Try
If you're vegan, you know how difficult it is to find vegan recipes that are delicious as well as easy to create. Desserts are even more challenging to achieve because of all the dairy that usually goes into desserts.
Sometimes substituting dairy ingredients with others just doesn't yield the same results as the original recipe, and there is seldom delicious vegan desserts ready-made at the supermarket. There are some great vegan dessert recipes out there that you can use.
We have compiled a list of the best vegan dessert recipes that you can make that will be just as delicious as the original recipes but with none of the guilt.
Vegan Vanilla Ice Cream
Let's start with a classic. You can't go wrong with some vanilla ice cream as an after-dinner treat or something to eat by the pool on a hot day. Top this with some fresh fruit, and you have the perfect summer dessert.
Find the recipe here.
Vegan Raspberry Tart
Raspberry tart is a more sophisticated dessert. You could make a vegan raspberry tart for a dinner party dessert, take it to someone's house as a housewarming gift, or thank you for hosting.
Find the recipe here.
Vegan Cinnamon Rolls
Cinnamon rolls are a dessert that we have all been obsessed with at one time or another in our lives. We have also all tried to bake our own, and it turns out that it's very easy to make your vegan cinnamon rolls.
Find the recipe here.
Vegan Chocolate Cake
Chocolate cake is a cult favorite when it comes to dessert. Even if someone tells you they're not a "cake person," they will more than likely have a bite or two of any available chocolate cake.
Find the recipe here.
Vegan Oat Cookies
Oat cookies are a great dessert to cook if you don't have a sweet tooth. Oat cookies are less sweet and more refined. They can also be made simply to keep the cookie jar in your kitchen when you have guests.
Find the recipe here.
Vegan Pumpkin Blondies
Anybody who loves a good brownie knows that blondies are an excellent alternative. We also know that finding a good vegan blondie recipe could be challenging, so we have found this recipe so you can make and enjoy blondies again.
Find the recipe here.
Vegan Cupcakes
We all love a good cupcake. Finding a good vegan cupcake recipe can be difficult, so we have found this recipe that's easy to make and even easier to eat. Cupcakes are great for a small birthday celebration.
Find the recipe here.
Vegan Strawberry Cheesecake
Strawberry cheesecake is a delicious dessert for any occasion. A dinner party dessert or a summer tea party pastry to impress your friends. It will be even more satisfying to know that the recipe is vegan and guilt-free.
Find the recipe here.
Vegan No-bake Chocolate Chip Cookies
Another cult favorite is the chocolate chip cookie. The best part about this vegan recipe is that it is a different take on the traditional recipe in that these cookies do not have to be baked. They are still just as delicious a the original recipe.
Find the recipe here.
Vegan Mince Pies
Mince pies are a traditional Christmas dessert that many people enjoy over the holidays, but finding a vegan recipe to do the dessert justice is difficult. We have found an excellent vegan mince pie recipe for you to make at Christmastime.
Find the recipe here.
Vegan Caramel Sauce
While this is not a dessert, this is the perfect topping to many desserts you might make. The sauce can be drizzled over dry desserts such as cakes and pastries, but it can also be drizzled over ice cream for extra flavor.
Find the recipe here.
Vegan Apple Pie
Apple pie is the perfect dessert for a chilly fall evening in place of traditional pumpkin pie. An apple pie is also a great dessert to make if you're having guests over for a dinner party. You could also make this dessert to welcome someone to the neighborhood.
Find the recipe here.
Vegan Chocolate Truffles
Chocolate truffles are both delicious and impressive. Making a batch of vegan chocolate truffles to keep in a jar in your kitchen or living room will have you looking like Martha Stewart. The truffles will impress guests and give you something to nibble on while binging series on Netflix.
Find the recipe here.
Vegan Donuts
Donuts are the perfect treat to make for a children's birthday party. They are as easy to eat as they are to make, and children love them. You can top them with many different toppings and make them themed if you wish.
Find the recipe here.
Vegan Mint Chocolate Chip Ice Cream
While vanilla ice cream is a lovely safe option, mint chocolate chip is the edgier sibling to vanilla. It has a robust taste that anybody would crave. It is perfect on its own or paired with something like a slice of vanilla cake. Find the recipe here.