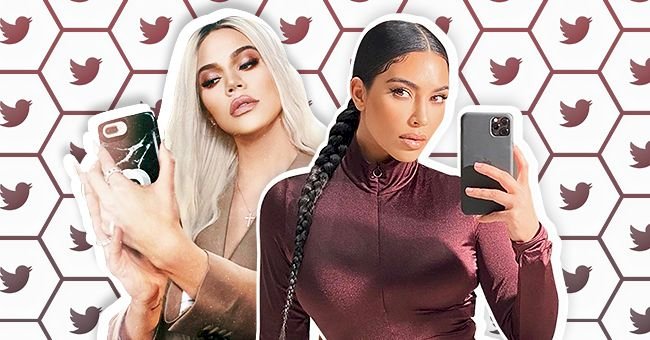 Epic Kardashian Twitter Clap Backs That Stunned Their Fans
The Kardashians have earned a reputation for never letting anyone walk all over them. Kim Kardashian was even dubbed the "Klapback Kween" for her tweets.
From slamming haters to protecting their family members, the Kardashian sisters are always ready to type a snappy response. Here are five times they used their platforms to clap back against criticism.
1. Kim K Defending Khloé
The day after the Tristan Thompson/Jordyn Woods cheating scandal broke, Khloé Kardashian attended a launch at PrettyLittleThing's LA headquarters. While many applauded Khloé for meeting her professional commitments, one Twitter troll questioned why she would show her face in public.
Big sister, Kim did not take the crazy comment lightly and jumped to Khloé's defense. She silenced the troll with a powerful come back that simply emphasized that Khloé was not going to lose her job over a man especially not with a daughter waiting for her at home.
2. Khloé Shutting Down Mom-Shamers
Khloé Kardashian revealed in 2018 that she was feeding her daughter formula in addition to breastfeeding. After a fan praised her for making the brave revelation, Khloé used the moment to shade mom shamers.
"Mad respect to @khloekardashian for opening up about supplementing with formula. I had to do that when I went back to work, and i was so embarrassed that I couldn't produce enough because I was away from jackson. Fed is best!"
3. Kim Slamming Lamar Odom For Shading Khloé
It's becoming quite clear that Kim K is a protective older sister. So it should be no surprise that she was up in arms when Lamar Odom, Khloé's ex-husband, claimed in an interview that he knew his marriage to Khloé was over "when she was on her second or third NBA player."
Kim was fuming and refused to let the snide comment slide. She hit back with an equally sharp barb tweeting, "Or second or third brothel" referring to Lamar's infidelities. The response even gained support from fellow celebs like Chrissy Teigen who showed her support in a tweet as well.
4. The Taylor Swift Debacle
One of the most controversial and public battles was the Swift/Kardashian feud that essentially appeared to be a he-said-she-said-argument between Kanye West and Taylor Swift. Kanye claimed he had Swift's blessing for the lyrics in his song "Famous" where he rapped "I feel like me and Taylor might still have sex. Why? I made that b**ch famous."
zHowever, Taylor adamantly denied agreeing to the lyrics and the situation became a full-blown argument. Until July 17, 2016, when Kim decided to step in. In a Snapchat, she shared a video that was captured by her reality show cameras allegedly proving Kanye's claim. The reality star then took to Twitter to share a now-infamous snake emoji-filled diss.
5. Kim's Response To Fans
While Kim fiercely protects her family, it doesn't mean they can get away with being shady either. When Kanye West took to Twitter in 2018 to share a series of tweets filled with wisdom, he may have gone a little too far. One of his tweets recommended getting "rid of everything."
Kim couldn't hold her quirky joke in and hit back with a cute "Wait… EVERYTHING?!?!?!" tweet. Chrissy Teigen even joined Kim's joke and the pair shared multiple tweets. While Kim was enjoying the banter, some fans took Kardashian West's tweets seriously. However, she quickly put a stop to the drama tweeting:
"For anyone who has absolutely no humor in their soul please know my tweets are a joke. So don't even try it."