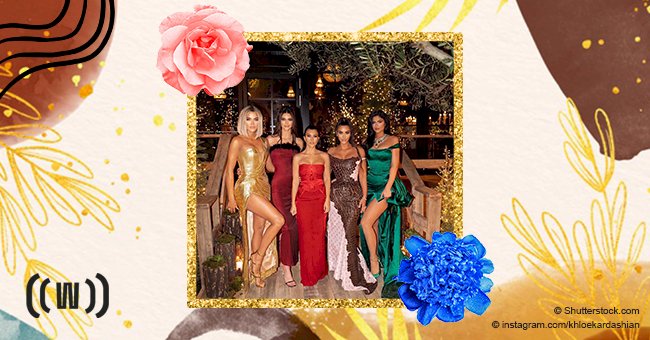 Exploring The Effects Of The Kardashians On Our Current Beauty Standards
They have taken over the beauty world after taking over the reality TV world, and we've been keeping up with it all, but that's getting increasingly harder to do.
The Kardashians have ruled the beauty industry for some years now, starting with Kylie Jenner's lip kits and most recently with Kim Kardashian's own cosmetics line. The Kardashian-Jenner sisters are always keeping us on our freshly manicured toes.
They have changed what beauty means to so many women and changed how women see themselves in the world. We're taking a look at it all.
In 2007, celeb gossip TV channel E! launched a reality show about a reasonably wealthy family living in Calabasas. Their late father was OJ Simpson's lawyer, their step-father was an Olympic athlete, and their sister was dating Reggie Bush, a pro sportsman with who she made a sex tape.
The family already had a quiet level of fame, but then Ryan Seacrest decided to create a reality TV show about them, and the family blew up. Since then, there have been multiple spinoffs of the show and many businesses that were birthed with the family's name on them.
The show made the family what they are today, even though they've decided that the last season will be released this year.
The Kardashian-Jenner sisters have been style and beauty icons for as long as their show has been on the air, with people everywhere trying to "Keep Up" with their style. However, when their bodies started to change, it got a bit more complicated.
The family claims that they have never gone under the knife for plastic surgery, except for Kourtney Kardashian's breast augmentation. They claim that they only get "enhancements" made to keep up with the times. Things like botox and lip fillers have been mentioned. They attribute their bodies to hard work in the gym, which is admirable but a little less than believable. FitTea can't be credited (and probably shouldn't be ingested) either.
That doesn't explain how their derrieres have expanded since 2007 or how all of their noses seem to have become smaller and sharper. Makeup artists cannot give you the "Kim Kardashian Look" without a blade and a scalpel. Unfortunately, contouring will only take you so far.
At first, it was easy for women to emulate the Kardashians' style, and it was even refreshing to note that they celebrated different types of bodies. Kim had a big butt, Kourtney was the short one, and Khloe was bigger boned than her tiny sisters. Now the sisters are all clones of each other, and nobody can keep up anymore.
Women worldwide are in the gym daily, eating and drinking certain things that the sisters have endorsed and are not getting to look anywhere near how the sisters look. It's disheartening and unfair to impressionable young women.
Kim Kardashian has now launched her own cosmetics line following the booming social media trend that followed her contouring technique. She had women from every age, race, and creed drawing 3s on their faces in the hope that they'd get her chiseled cheekbones.
Kylie Jenner had women believing that if they overlined their lips, they would achieve her signature pout, which she later admitted was lip filler. Khloe Kardashian is still claiming that her nose is the nose she's always had. Maybe Kim contoured it for her?
The sisters have successfully led women to believe that makeup, specifically their cosmetics brands, can fix just about any problem. This is a problem for women who spend top dollar to buy products that do not work magic on them.
Unless you have a serious bank account, you will never look like the Kardashians. The truth is, the Kardashians don't even look like the Kardashians.