Fall Fashion: How To Style Knits To Complement The Rest Of Your Style Aesthetic
Knits are undoubtedly cozy options for colder weather, and we all reach for them for optimum comfort. People with mothers and grandmothers who knit and crochet have tons of snug pieces to wear.
These warm wool items can have a thin line between being comfy and being frumpy. The differentiation is determined by good styling. We've found a few chic ways to style your knits, so you don't look like an old cat lady this fall.
Backward Cardigan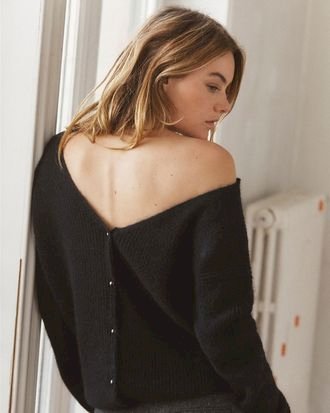 Poshmark.com
Back detail is always a lovely surprise in clothing items, and sometimes you can execute it yourself. Put your favorite cardigan on backward for a unique back flattering touch. There are also several revealing back detail sweaters available on the market.
Pair With A Short Skirt
Mini skirts are the perfect fall item for showing some skin. Thigh-high boots and stockings help your legs keep warm while you reveal your lovely stems. A heavy knit layer at the top evens out this pairing perfectly.
Cropped Cardigans and Sweaters
A cropped cardigan adds a chic french film vibe to an outfit. This youthful upgrade to the cardigan is a universally flattering item. Women of all ages look fabulous in a cropped sweater. It all just comes down to styling.
High waisted pants and skirts are a lovely match for cropped cardigans or sweaters. Dresses also make a great under layer for a cropped knit.
Wear With a Belt
An oversized jumper can make you look unkempt if not put together appropriately. It's all about balance with this style, so opt to pair a large knit sweater with some more fitted bottoms. Style your oversized knit item with a belt to add some shape to your waistline and give your piece a dressier look.
Style over a Slip Dress
Throw your cozy knit over a beautiful satin slip dress for a fashion-forward outfit. This layered look is an easy way to make your summer outfits fall-ready. This outfit pairing is popular among the street style fashion scene for its chic convenience.